The First Transgender Person Killed In 2018 Wanted Trans Women To Know They're Beautiful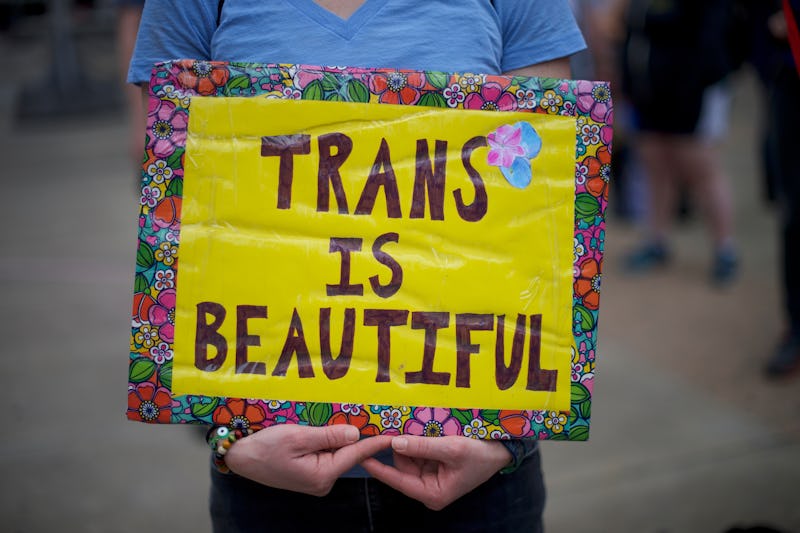 Mark Makela/Getty Images News/Getty Images
The founder of a pageant for transgender women was found dead in her Massachusetts home on Monday. Christa Leigh Steele-Knudslien is the first known transgender person to be killed in 2018. She was 42 years old.
Steele-Knudslien's friends told the Associated Press that she was well-known in Massachusetts' transgender community, having launched the first New England Trans Pride event approximately 10 years ago. She subsequently launched the Miss Trans New England Pageant with other trans advocates in order to bring transgender women together and give them a platform.
"Her thing was always that transgender women are beautiful and need a venue for trans women to be seen as beautiful," her friend Justin Adkins told the AP.
"She's like that," A. Vickie Boisseau, another close friend, told Mic. "She's out there saying, 'We're not just drag queens, we're real women, we're beautiful.'"
Steele-Knudslien's husband turned himself in to the police on Friday, reportedly admitting in an interview that he had killed his wife, but he pleaded not guilty to murder on Monday. According to police, he said he had "snapped" during an argument, and had proceeded to beat his wife repeatedly with a hammer before stabbing her in the back with a large knife. Her body was found in the basement of the house, wrapped in tarp and bedding.
A local publication, The Berkshire Eagle, reported that the Adams Police Department had responded multiple times to the home Steele-Knudslien shared with her husband, for "neighborhood" issues.
Dru Levasseur, Lambda Legal's Transgender Rights Project Director, tweeted a statement honoring Steele-Knudslien as a "powerful organizer and fierce activist," adding:
I am so sorry to those who were very close to her. We must all support each other in this time of horror and sadness. She deserved better. She deserved life and happiness. Rest in Power, Christa.
Boisseau, who officiated at Steele-Knudslien's wedding last April, told Mic in a phone interview that Steele-Knudslien identified as trans and intersex, and that they had met through activism. Boisseau is the New England director of Organization Intersex International, and Steele-Knudslien was a member of this organization.
"She was always a big activist," Boisseau told Mic. "She was always out there fighting the good fight. ... She's out there helping people."
Boisseau and Steele-Knudslien joined other trans advocates in organizing the first trans pride parade in Northampton, Massachusetts.
Adkins also gave a phone interview to Mic, in which he fondly recalled his friend's passion and energy. "Whenever [Steele-Knudslien] walked into the room, you knew she was there," Adkins told Mic on Tuesday. "She lit up the room. ... She brought more energy than anyone I've ever known. She came up with the idea for doing these trans pageants ... [and] got all of us on board."
Adkins has started a GoFundMe to help Steele-Knudslien's family pay for her funeral. At the time of publication, the fundraiser had received $3,598 of its $5,000 goal; any leftover money will be donated to the crisis hotline Trans Lifeline. On the GoFundMe page, Adkins notes that "interpartner Violence is a real thing and Trans folks experience a disproportionate amount of interpartner violence."
According to a joint report by the HRC Foundation and the Trans People of Color Coalition, 2017 was the deadliest year on record for trans people, especially trans women of color. At least 26 transgender people are known to have been killed in the U.S. in 2017; nearly all of them were trans women of color, according to GLAAD.