The First Woman Navy SEAL Candidate Could Finally Shatter That Bulletproof Glass Ceiling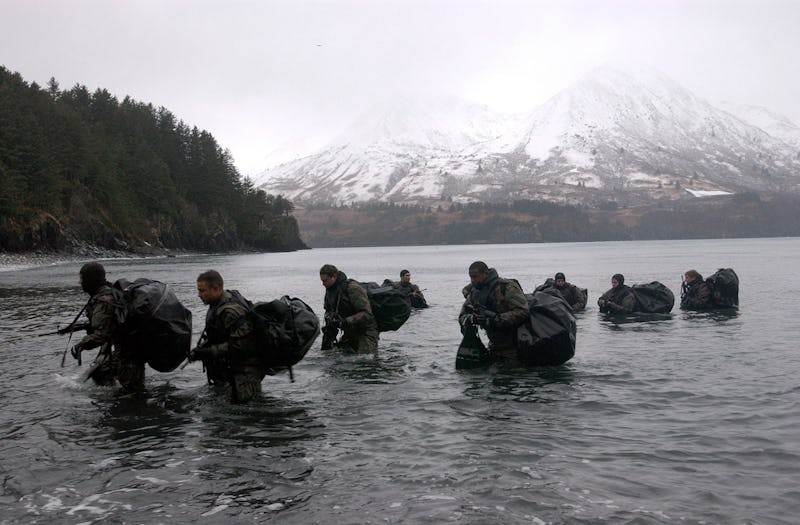 Handout/Getty Images News/Getty Images
Until January of last year, women were not permitted to fill combat roles in the U.S. armed forces. Now, 18 months after the rule was overturned, the Navy SEALs has received its first female applicant. The woman, whose identity is being kept confidential for security reasons as well as to protect her "career viability as future special operator," will take the first steps toward her goal this summer with a three-week "block of instruction," according to Naval Special Warfare Center Deputy Commander Capt. Christian Dunbar. The officer selection process will kick off on Oct. 1.
In June, Dunbar informed the Defense Advisory Committee on Women in the Service that two other women had entered boot camp for the Special Warfare Combatant-Craft Crewman (SWCC) program. "They are the first candidates that have made it this far in the process," said Lt. Cmdr. Mark Walton, who serves as spokesman for the Naval Special Warfare Command, to NPR's The Two-Way.
Candidates, regardless of gender, undergo the same famously grueling training for both the SEAL and SWCC programs. The official SEALs website describes the weeks of training as a system "designed to weed out the weak," with the fourth week being dubbed "hell week":
The fourth week of training is known as Hell Week. In this grueling five-and-a-half day stretch, each candidate sleeps only about four total hours but runs more than 200 miles and does physical training for more than 20 hours per day. Successful completion of Hell Week truly defines those candidates who have the commitment and dedication required of a SEAL. Hell Week is the ultimate test of a persons will and the class' teamwork.
According to a briefing released by the Naval Special Warfare Center last month, 63 percent of SWCC applicants and 73 percent of SEAL applicants don't pass the training.
In January 2015, Defense Secretary Ashton B. Carter emphasized that the duties and expectations demanded of future women in combat would be no different than those expected of their male counterparts. "There will be no exceptions," Carter had said. "They'll be allowed to drive tanks, fire mortars and lead infantry soldiers into combat. They'll be able to serve as Army Rangers and Green Berets, Navy SEALs, Marine Corps infantry, Air Force parajumpers and everything else that was previously open only to men."
After the initial three-week instruction course, the woman hoping to become a SEAL will be one of 160 competing for 100 available slots.