The 'Flaked' Season 2 Soundtrack Has Something For Everyone... Kinda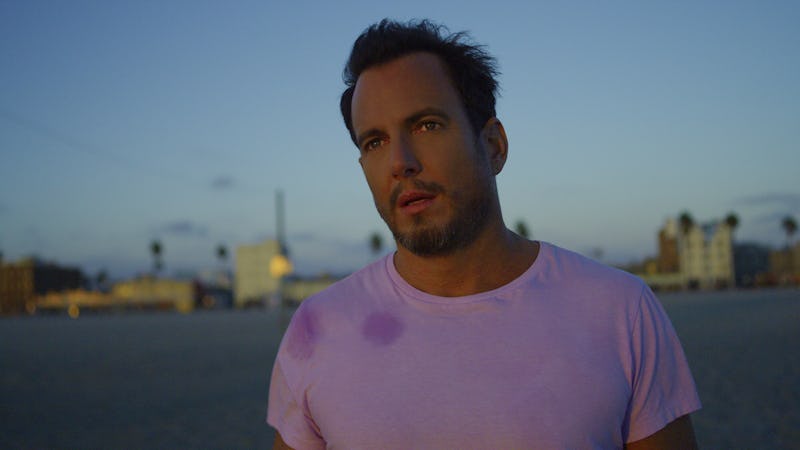 Netflix
Last year, Will Arnett explored the inner man-child for Flaked, a Netflix dramedy about a recovering alcoholic slash wounded playboy struggling to keep his hole-in-the-wall furniture shop (and life) afloat in the beachside community of Venice, California. The show itself received mixed reviews, but was particularly praised for its soundtrack — a collection of guitar-driven indie rock including Alex G, Wilco, and Car Seat Headrest, plus an understated score from former Pavement frontman Stephen Malkmus. And the Flaked Season 2 soundtrack follows suit.
The series, which returned with six episodes on June 2, draws from music its main character, Chip (Arnett), might like. As Malkmus told Pitchfork last year: "The music supervisor [Chris Douridas] is a big music fan, and he wanted songs that a 38-year-old white indie person would like."
That means Season 2 tracks like Foxygen's "On Lankershim," a jangly, free-wheeling kiss-off to a stagnant relationship, or Granddaddy's gauzy, lo-fi ballad, "That's What You Get For Gettin Outta Bed." There are also a few throwbacks sprinkled in: Bill Moss' gospel-funk anthem "Sock It To 'Em Soul Brother," Men Without Hats' '80s synth pop smash "Safety Dance," Jimmy Buffet's island side classic, "Margaritaville."
But much of the soundtrack is rife with the sort of cathartic, heart-swelling standouts that backed many of Season 1's most emotionally fraught scenes. That makes sense, because despite Arnett's funnyman tendencies, Flaked often veers more somber than comedic, and the accompanying music really helps to set the tone.
Plus, Flaked is getting even darker this time around. Having lost his store, his friends, his reputation, and even his house, Chip returns to Venice as an outcast and must scramble to repair his fractured relationships. As Arnett told the New York Daily News:
"Everybody's flawed … Chip — we found out in Season 2 — a lot of what he's done is born out of heartache, and he's never recovered from it. And he's sort of taking it out on the rest of the world."
According to Netflix's Season 2 description, everything will come down to two crucial choices: His best friend or the love of his life. Lies or sobriety. That's a lot of a heavy-lifting for a soundtrack, but from the sounds of it, it will be a rich season both musically and narratively. See the full list of songs below.
Bill Moss, "Sock It To 'Em Soul Brother"
Grandaddy, "That's What You Get For Gettin Outta Bed"
Ruby The RabbitFoot, "Do Me Right"
S Carey, "Brassy Sun"
Sunflower Bean, "Wall Watcher"
Foxygen, "On Lankershim"
Alex G, "Powerful Man"
Sneaks, "No Problem"
Nick Leng, "Playing With Fire"
Tomás Pagán Motta, "My My (Living A Lie)"
Jimmy Buffett, "Margaritaville( Español Verse)"
Men Without Hats, "Safety Dance"
S Carey, "Fire-Scene"
Paul & The Tall Trees, "Crack of Dawn"
Jason Lyle, "Up The Stairs"
Belle & Sebastian, "Everlasting Song"
Middle Kids, "Edge of Town"
Jaws of Love, "Love Me Like I'm Gone"
Pavement, "Range Life"
And listen to them in action in Flaked Season 2, streaming now on Netflix.