The 'Forever' Trailer Reunited 'SNL' Stars Maya Rudolph & Fred Armisen In The CREEPIEST Way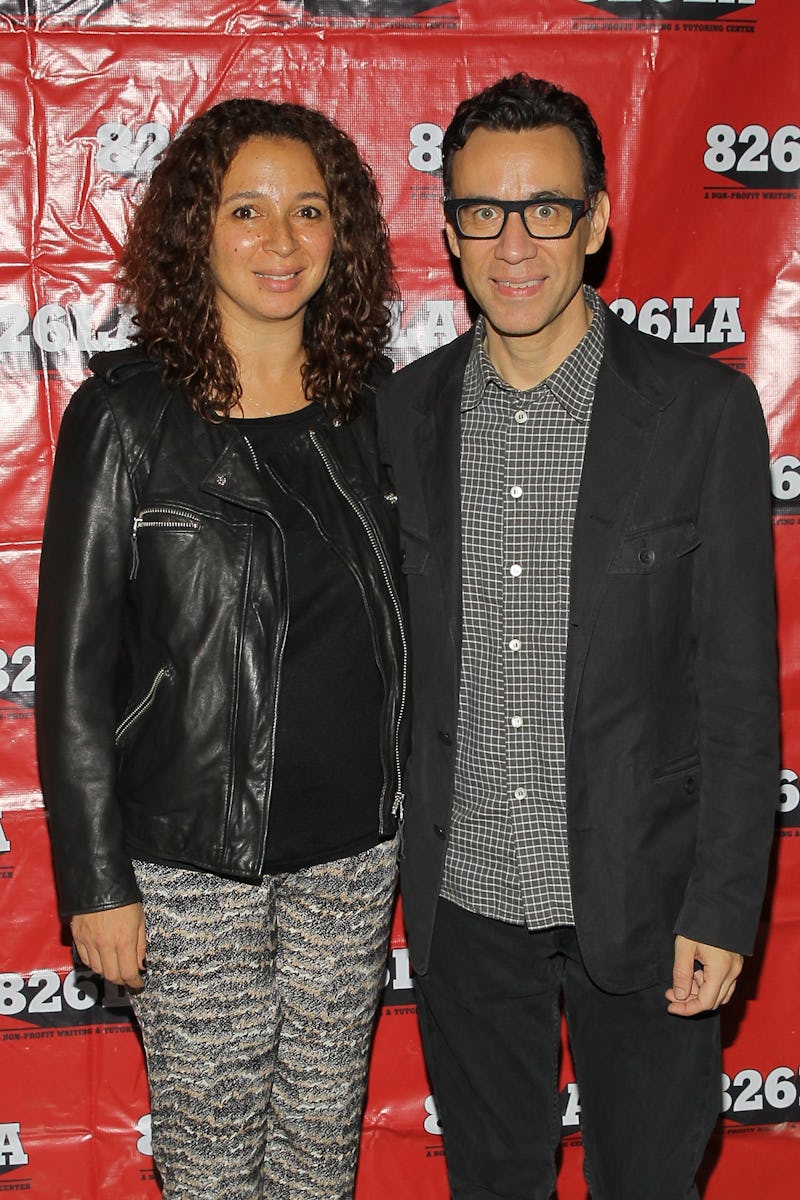 Jonathan Leibson/Getty Images Entertainment/Getty Images
The latest Saturday Night Live alumni reunion project isn't quite the laughing matter fans might expect. As seen in the new trailer for Maya Rudolph and Fred Armisen's Amazon Prime series Forever, they play an on-screen couple whose monotonous marriage seemingly takes a dark turn when the duo attempts to spice up their lives with a spontaneous ski trip.
In the nearly two-minute teaser for the show which Amazon Prime will begin streaming on September 14, Rudolph and Armisen (as spouses June and Oscar) can be seen going through the motions of their repetitive suburban California lifestyle. For 12 years, they've "had the same conversations, eaten the same meals and taken pleasant vacations at the same rented lake house," per Forever's official logline. "But after June talks Oscar into shaking things up with a ski trip, the pair find themselves in completely unfamiliar territory."
Seeming to tell the couple's happy love story at the clip's beginning, the cheery Pleasantville-esque imagery creepily cuts to shots of a knife, an ominous bonfire, and a mystery man walking along a dark road. Though the single-camera series (which also stars Catherine Keener, Noah Robbins and Kym Whitley) is technically billed as a comedy, there didn't seem to be a whole lot of humor teased in the first promo. Perhaps they're saving the laughs for when viewers tune in this Fall?
Aside from the two SNL vets (who also serve as executive producers), the show does have some other comedy heavy-hitters on board, after all. The show was created by Master of None's Emmy-winning co-creator Alan Yang, and Matt Hubbard, who won an Emmy for his writing on NBC's 30 Rock. The pair (also co-executive producers for the series) worked together on NBC's Parks and Recreation as well. So between the two of them, they're clearly no strangers to contributing to post-SNL actors' success, having worked with both Tina Fey and Amy Poehler, among others.
As Saturday Night Live viewers surely remember, this won't be the first time Rudolph and Armisen have played husband and wife onscreen either. Between 2005 and 2007, they portrayed recurring fan-favorite characters, eccentric European art dealers Nuni and Nuni Schoener, who once hilariously designed a chair completely out of toast. (Just don't even think about pronouncing their seemingly identical names the same.)
While this will not be Rudolph and Armisen's first onscreen reunion since leaving NBC's sketch comedy in 2007 and 2013 respectively, Forever seems to stand in stark contrast to their previous comedic work together. In 2014, Armisen guested on The Maya Rudolph Show, NBC's one-off special variety comedy show. And when Armisen hosted Saturday Night Live in 2016, he closed the season finale episode with Rudolph (and other guests including Larry David and Andy Samberg) singing a humorous musical tribute to summer with him onstage.
Last September — the same month Amazon ordered Forever straight to series — the duo also starred in a film from fashion house Kenzo, which was directed by Natasha Lyonne. Per The Hollywood Reporter, the Orange Is the New Black star's directorial debut followed Rudolph's character Chastity on "a surreal journey through a parallel plane, as she discovers that in order to face her future, she must first reconcile her Vaudevillian past."
While fans will have to wait until next month to see if Forever contains more comedic moments than its creepy trailer, it's always great to see two former costars like Rudolph and Armisen reunite onscreen.