The 'Friends' Series Finale Just Turned 14 & Twitter's Tributes Will Make You So Nostalgic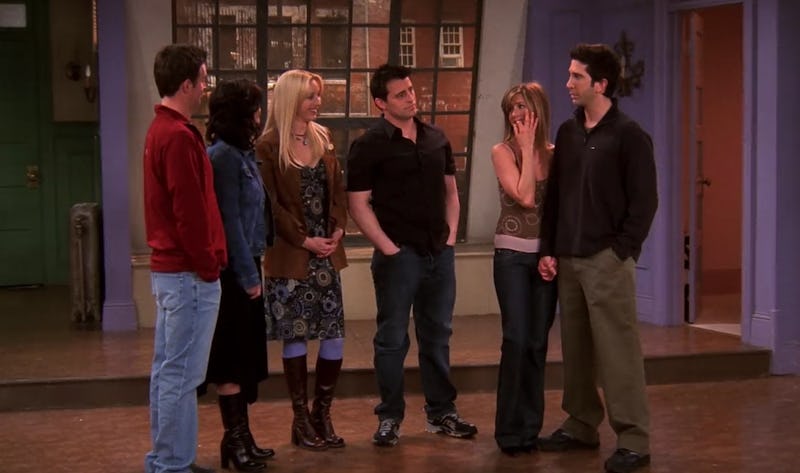 Friends/Netflix
Remember when Ross, Phoebe, Rachel, Monica, Chandler, and Joey waved goodbye to apartment 19 for the last time? As veteran Friends aficionados would probably agree, it seems like the iconic fictional crew's final Central Perk outing happened just yesterday. In reality, the Friends series finale turned 14 on Sunday, May 6. And for those harboring any lingering doubts as to the enduring pop cultural significance of the long-running NBC sitcom: kindly direct your attention over to Twitter, where dedicated Friends fans have been waxing nostalgic about the anniversary. Just because 14 years have passed, that doesn't mean people are over Rachel getting off that plane.
Before diving into Sunday's enthusiastic round of Friends-themed appreciation on social media, let's rewind to this day 14 years ago, when Friends aired its emotional final episode. The two-part series finale, all-too appropriately (albeit, a bit sadly) titled "The Last One," was pretty legendary — for more reasons than one. In addition to finally gifting viewers with the Ross-Rachel reconciliation they'd been waiting for and earning its spot in cinema history as the most-watched television episode of the 2000s decade, the episode marked the end of the sitcom's powerhouse 10-year run.
But, for a lot of the series' adoring fans, it seems safe to say the finale episode felt more like the end of an era than anything else. After all, bidding farewell to your onscreen favorites is never easy. And, speaking as a self-proclaimed Friends enthusiast — one who'd become super invested in the slapstick shenanigans of the Friends crew over the course of its decade on television — parting ways with the show's lovable cast of characters was way harder than expected.
In fact, judging by Sunday's bout of bittersweet tributary posts on Twitter, it sounds like some ardent Friends fans still haven't quite gotten over the loss. And no one can blame them, because has anyone really said goodbye to Phoebe, Joey, and the rest of the Central Perk crew for good?
Yeah, didn't think so.
Just in case the outpouring of fan-fueled commentary on social media isn't already proof enough of the '90s comedy's lasting relevance, E! News dedicated a whole tribute video to the Friends finale episode in honor of its anniversary. E! posted the tribute video to its Facebook page Sunday morning in celebration of the finale episode's 14th birthday. Paying homage to the sitcom's episode titles (almost all of which famously began with "The one where..."), the video's description reads: "The one where everyone gets nostalgic because Friends ended 14 years ago."
That sentiment definitely seemed to ring true among fans on social media. On Facebook, the tribute video's comments section is littered with fan comments like this one, wherein one particularly dedicated Friends enthusiast proudly announced, "Not shamed [sic] to announce that I'm rewatching Friends again on Netflix for the 10th time."
Per the morning's deluge of tweets by some markedly sentimental Friends fans, nostalgia was also running inordinately high on Twitter. One particularly prepared fan took to the social networking platform just three minutes after midnight to remind everyone of the day's significance. "On this day, 14 years ago, the Friends finale was aired in Times Square," the user wrote alongside a collage of photos capturing the memorable 2004 event, which saw the show's much-anticipated finale episode unveiled before a huge crowd of people in Manhattan's Times Square.
After that, the memories really started to roll in. One Twitter user — and ostensible veteran Friends fan — shared a particularly funny memory about her own experience watching the show's finale episode 14 years ago. And, in a tweet that might forever solidify her status as the most dedicated Friends fan in history (or one of them, at least), the fan explained how she essentially prioritized watching the finale over living it up in Vegas during her honeymoon.
Commenting on the 14th anniversary news, another veteran Friends fan ( who, apparently, also bore witness to the events of the series finale in real-time) said flat-out what most fans are probably thinking right now.
Still, despite the existential "passage-of-time" crisis, one Twitter fan managed to sum up the crux of Friends' lasting pop cultural impact pretty succinctly. Because, while "a show extremely close to everyone's heart" might have ended 14 years ago — as the fan wrote in their tweet — the fond memories that it left in its wake are a gift in and of themselves.
So, while Friends' on-air run might technically be a thing of the past, if Sunday's tributary posts are any indication, it certainly seems like the show's legacy is still very much a thing of the present.