The Best Jokes At The White House Correspondents' Dinner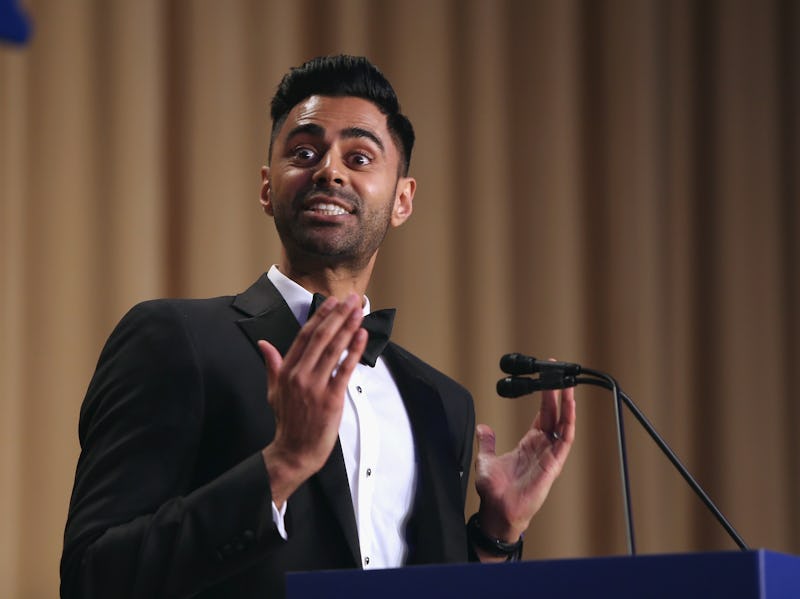 Tasos Katopodis/Getty Images Entertainment/Getty Images
If you were out living your life this Saturday night, and you missed all of the antics of the funniest moments of the White House Correspondents' Dinner, have no fear, we've got your back.
While I could have compiled a list of the most pensive moments of the White House Correspondents' Dinner, which would have involved screen shots of attendees glancing into the abyss, waiting for their cue to go home, I firmly believe that digesting the political landscape of 2017 through a humorous lens is a necessary coping mechanism at this point.
Plus, the whole charm of the White House Correspondents' Dinner is that it's basically a glorified roast of the commander-in-chief of the free world, so why not lean into that beauty?
Despite the fact that president Donald Trump skipped the dinner in order to hold a Trump rally in Harrisburg, Pennsylvania, he was still thoroughly roasted by The Daily Show's Hasan Minhaj, who was able to leverage Trump's absence for even deeper jabs at his administration throughout the evening.
The absence of the president is less surprising when you consider the fact that the White House Correspondents' Dinner is historically a who's who of media, and Trump really doesn't like the media. If you haven't been actively tuning into Trump's war with the mainstream media, it's a modern blood feud in its own right.
Earlier this morning, Trump confirmed how much he dislikes (critical) media coverage of him, when he tweeted, "Mainstream (FAKE) media refuses to state our long list of achievements, including 28 legislative signings, strong borders & great optimism!"
Regardless of the fact that you were robbed of the opportunity to watch Trump experience the comedic force of the White House Correspondents' Dinner (and the skewering personal attacks), it was still a night full of witty and cathartic moments. So, here are a handful of the funniest moments from the night.
1. When Hasan Minhaj Welcomed The Audience
For his opening joke, Minhaj greeted the crowd of journalists by thanking them for making it to the "season finale of the White House Correspondents' Dinner." The laughter in the crowd was palpable, with equal parts shivers of fear and catharsis spreading throughout the audience.
2. This Painful Joke
Right after his initial greeting, Minhaj made sure to introduce himself by saying, "you may know me now has Hasan Minhaj, but soon I'll be camper 0601," which was a dark but apt way to acknowledge the state of the country.
3. When He Gave Don Rickles A Shout Out
While acknowledging the somewhat tense atmosphere of the night, Minhaj joked that the late comedian "Don Rickles died just so he wouldn't have to do this gig." People laughed, because well, there was truth.
4. When He Came For USA Today
He led this joke by complimenting the hard work and impressive resumes of the journalists in the audience, but quickly followed it by saying "but when we all arrived at The Hilton we were all given USA Today."
5. His Anthony Weiner Joke
I could feel the deep giggles through C-Span when Minhaj said, "We all know this administration likes deleting history faster than Anthony Weiner when he hears footsteps."
6. The Elephant That's Not In The Room
There were admittedly less jokes directly tagged to Trump's absence than you might expect. So when Minhaj paused faux-poignantly before stating, "We have to talk about the elephant that's not in the room ... " everyone felt ready.
7. The Donald Trump Jr. Joke
Honestly, it's surprising that Donald Trump Jr. didn't get made fun of more during the course of the night. But when Minhaj said, "There was another elephant in the room but Donald Trump Jr. shot it and cut off his tail," the whole room was on board.
8. When He Brought KellyAnne Conway Into It
If Kellyanne Conway did PR for more comedians, the clubs would be truly BOOMING.
9. Trump Is Tweeting At 3 A.M. Sober
Most of us don't consider the fact that Trump is sober all the time, which means he's sober when he's sending out his late night tweets. Minhaj decided to instill us with even more terror, because who goes on Twitter after midnight sober?!
10. The House Of Cards Joke
When he joked about House of Cards being more relaxing than the current administration, the whole audience was laughing, but you could tell they wanted to cry deeply.
11. When He Came For Jeff Sessions
He poked fun that Jeff Sessions loves to say no almost as much as racial slurs, some people weren't ready, but it was a good skewer. Sessions has firmly denied allegations of racism.
12. The Hillary Clinton Joke
Sensing that some people felt this hit a little close to home, Minhaj followed up by saying Nate Silver told him that joke would kill, which immediately killed.
13. CNN Breaking News
When Minhaj called CNN stressful and teased that "not everything is breaking news" the whole room of journalists got their wings.
14. When He Compared Saturday To The Hunger Games
As he ended his set, or rather, his witty take-down of the current administration, Minhaj admitted that Saturday night was "one of the weirdest nights of my life," and said that he felt like he was at The Hunger Games about to be fed to Bannon, luckily for him, Bannon wasn't there.
But if one's thing for certain, Minhaj made everyone in the audience feel a little better about the current situation. At least we're all in this together.