This New Swim Collab Is Size Inclusive & Hot AF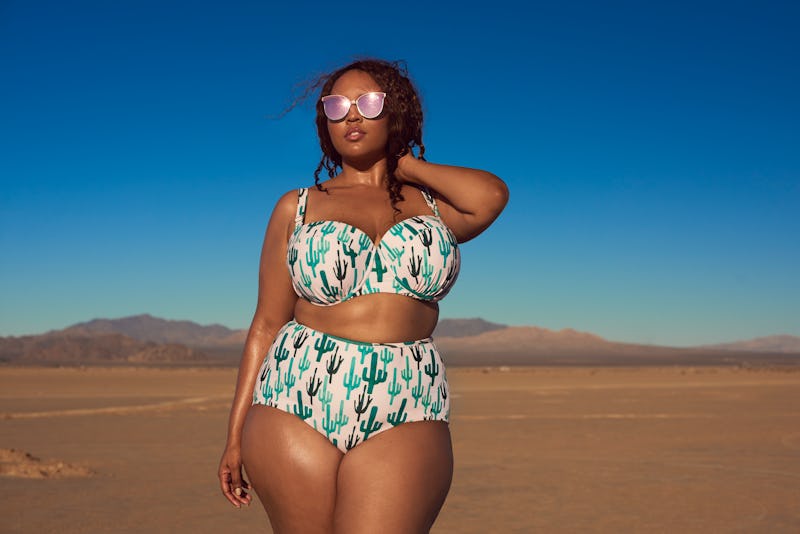 It's the start of a new year, which means plenty of Americans are making resolutions to change themselves in some way, shape or form — but sometimes, it's all about embracing who you already are. GabiFresh and swimsuitsforall's 2017 limited edition resort collection and its corresponding "New Year, Same You" campaign aims to prove you don't need to change yourself to feel amazing in a swimsuit. The collection debuted on swimsuitsforall's website on Jan. 5, with the campaign video, which stars GabiFresh (Gabi Gregg), dropping the same day.
You can shop the GabiFresh x swimsuitsforall "New Year, Same You" collection at swimsuitsforall.com.
This isn't the first time Gregg and swimsuitsforall have worked together. The blogger, who popularized the term "fatkini," has four other Swim Sexy collections with swimsuitsforall, each of them launched with more fan anticipation than the last. Her 14-piece 2017 "New Year, Same You" collection is more of what her fans seem to love: Boldly patterned, elegant, form-fitting swimwear made for people with bodies in a wide range of sizes.
"Swimsuitsforall and I are determined to make 2017 a year of self-acceptance, self-love and empowerment," Gregg said in a statement. "We want women to realize that reaching a certain number on the scale doesn't make them more valuable – it's a new year, but it's still the same beautiful you!"
The pieces are priced between $62 and $106, and are a mix of styles, including underwire-reinforced bikinis, rompers, full-length dress-style cover ups, and one-pieces.
Check out Gregg rocking some of the collection's looks.
Midnight Firework Dress, $59, Swimsuits For All
This cover up is sheer and sleek, perfect for looking amazing and also braving those unexpectedly cool sea breezes.
Milestone Underwire Bikini, $74, Swimsuits For All
The adorable three-toned, desert-inspired pattern absolutely makes this fun and flirty bikini. The best part? It's available as a romper, too.
Wish Underwire Bikini, $74, Swimsuits For All
This is pretty much the quintessential red bikini. Paired with some red lipstick, it's the epitome of ideal femme fatale aesthetic.
To see Gregg modeling more of the collection, check out the "New Year, Same You" campaign vid below.
This GabiFresh X Swimsuits For All Collection is definitely No. 1 on our summerwear wishlist — and as always, fans can't wait to see what Gregg comes up with next swim season.
Images: Courtesy Brands