Why The 'GoT' Creators' Defense Of 'Confederate' Doesn't Make Things Better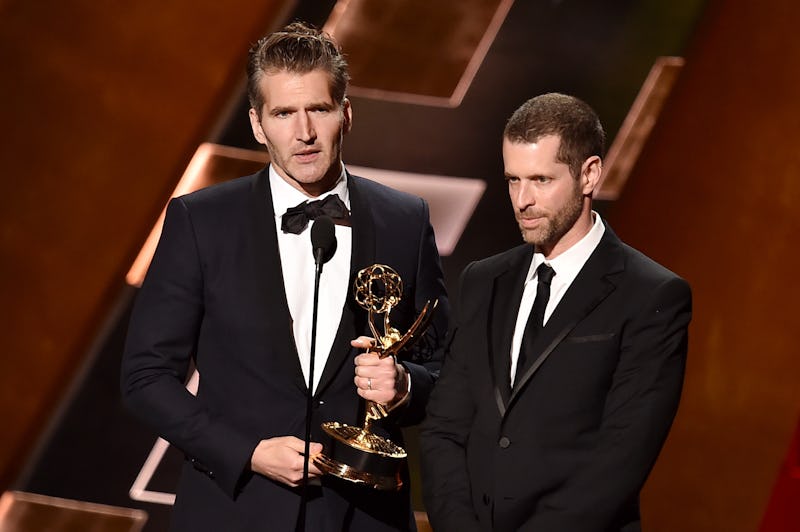 Kevin Winter/Getty Images Entertainment/Getty Images
Since the initial announcement, Game of Thrones creators D.B. Weiss and David Benioff's concept for their new show HBO Confederate has been dragged through the ringer by critics on Twitter. People have discussed if America is progressive enough for a TV program to re-imagine the history of slavery, and, especially, whether or not Weiss and Benioff are the right people for the job. The creators, along with executive partners Nichelle and Malcolm Spellman, spoke to Vulture over the phone on Thursday, July 20 to discuss the Confederate backlash, hoping to mitigate the controversy and convey how serious and respectful they plan to be about the subject. But, after reading the interview transcript, Weiss and Benioff's defense seems to only further prove how problematic Confederate has the potential to be. (Bustle reached out to HBO, who declined to give further comment.)
In the conversation, Weiss and Benioff made it more than clear that they're both history-obsessed. And according to Weiss, Confederate could be the perfect way to confront America's "original sin" of slavery. "It's an ugly and a painful history, but we all think this is a reason to talk about it, not a reason to run from it," Weiss told Vulture. "And this feels like a potentially valuable way to talk about it."
While Weiss makes a great point, he and Benioff haven't exactly shown that they feel too comfortable addressing slavery or its systematic effects that are all too prevalent today. Throughout their Vulture interview, Benioff and Weiss expressed that their standing relationship with HBO and strong desire to exercise their creative muscle on a more challenging project makes them the men for the job. But when it came to talking about race or the current climate, Weiss and Benioff appeared to defer all conversation to the Spellmans. However, as showrunners, Weiss and Benioff's involvement is the cause of concern for many critics, and so their opinions on these topics matter.
The GoT showrunners' perspective on a series like this is exactly what fans are worried about, and removing themselves from the racial discussion doesn't solve that problem — it only makes it worse. People, black people more specifically, are having a hard time accepting Confederate, because Weiss and Benioff have yet to show that they're allies. The Vulture interview was meant to show that the Spellmans are just as involved in the creative process as Weiss and Benioff. But the premise of the show itself doesn't suddenly become less problematic because black people are working on it. So far, we know that Confederate will be about the modern dehumanization of black people, and the showrunners are white. This is an issue in and of itself.
Most Americans can agree that slavery was terrible. But frankly, Weiss simply referring to slavery as the "original sin as a nation" just isn't enough. Admitting such feelings in the Vulture interview, while appreciated, is basically the politically correct way to announce that you're not racist. And though no one is assuming that either of them are, it's still important to hear their input on the show's potential racial implications. Weiss and Benioff could have a lot of brilliant ideas on how to make the show a success, as seen in their phenom Game of Thrones, but their lack of input in the dialogue about race and racism hints that they may be unprepared to spearhead a show like this.
As it stands, Confederate comes across as just another concept developed for white entertainment, but at the expense of black people and black culture. In order to re-imagine this part of history, you must also speak of those whose lives were left hanging, both literally and figuratively, in the balance. Confederate simply cannot exist without black people, but if the showrunners are cautious with talking about the black American plight in an interview, imagine how hesitant they might be to weave these crucial characters into the story.
Black characters could either be completely disposable, or black people could potentially be erased from a reimagined telling of their own history. And seeing as the GoT creators have been criticized for the HBO show's lack of diversity, as well as sexual insensitivity in the past, this isn't unrealistic to assume.
Nichelle and Malcolm Spellman's experiences can only rub off on their bosses, Weiss and Benioff, so much. So while vital to have, the Spellmans' presence in Confederate doesn't necessarily make the concept any less troublesome. Weiss and Benioff's lack of input on the heavy racial discussion, as witnessed in the Vulture interview, is where the problem lies. They are not contributing to the conversation that they are trying to start with a show like this — whether that be by way of fear, hesitation, or just a plain disinterest.
Confederate's premise is controversial, and admittedly, controversy often makes for great television. But if the creators behind Confederate had a better track record of approaching television from more of a racially inclusive angle, or even actively engaging in the racial discussion surrounding the show's premise, there's a chance people would be less critical.