Fans Are Worried About The 'GoT' Creators' Next Project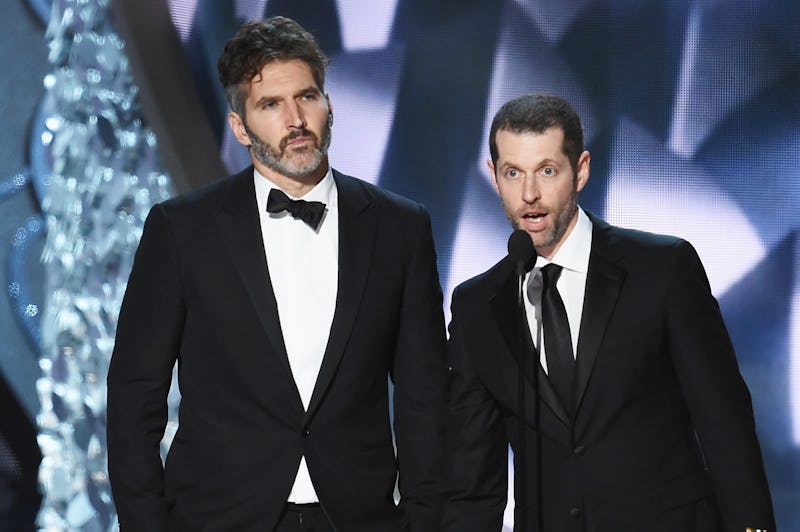 Kevin Winter/Getty Images Entertainment/Getty Images
Game of Thrones still has two more seasons left to air, but the TV show's creators David Benioff and D.B. Weiss have another project lined up: HBO has greenlit Benioff and Weiss' new show Confederate, and fans are already worried that the upcoming series sounds problematic. (Bustle has reached out to HBO for comment, but did not receive an immediate response.) According to Deadline, the show is set "alternate timeline, where the southern states have successfully seceded from the Union, giving rise to a nation in which slavery remains legal and has evolved into a modern institution." On top of that, it will follow a "broad swath" of characters, from abolitionists to slave hunters to "executives of a slave-holding conglomerate."
Update: On Thursday, July 20, the creators gave an in-depth interview with Vulture in which they defended the concept of the show against the backlash. "I guess that's what was a little bit surprising about some of the outrage. It's just a little premature," D.B. Benioff said. "You know, we might f*ck it up. But we haven't yet."
Earlier: Anything remotely close to a Game of Thrones-style take on America's history of slavery just sounds like a bad idea, especially in today's society. Based on Deadline's description of what the scripted series would entail, a show like this would require a level of progression that our nation just hasn't reached yet. If we were ready for such a show, we wouldn't need to create docu-series like Ava Duvernay's 13th to continuously make the case about how our history has negatively impacted the lives of black and brown citizens.
Slavery ended more than 150 years ago, but it remains a topic that plenty of white Americans refuse to talk about. And when citizens have elected a president whose claim to fame seems to be tearing down anything that isn't white, rich, or male, it's a tell-tale sign that the nation is probably not ready for a show like this. If its potential romanticism of slavery is anything like that of Game of Thrones' take on war and hierarchy, Confederate could be a disaster waiting to happen. Unlike The Handmaids Tale, which gives a dystopian take on the women's suffrage movement, Confederate would be merging into historical territory that our country has had a tough time grappling with. Until we can all talk about the darkness of our past openly and honestly, a show like this doesn't deserve a place in anyone's TV line-up.
WGN's Underground, which was unfortunately canceled after its second season, handled this crucial topic the right way — with both dignity and respect. Knowing how the story would end before the series even began made the period drama more palatable. Underground put the stories of those oppressed at the center, making the black characters heroes and heroines, without placing the any reliance on white "saving graces" to come to the rescue. And although dramatized, creators Misha Green and Joe Pokaski didn't steer Underground too far away from its historical backdrop.
Confederate's alternate universe, where the southern states actually seceded from the union, could actually give false hope to those who are fighting tooth and nail to keep the confederacy alive today. In 2017, citizens are still protesting to keep confederate flags flying on the grounds of state capitals. For some Americans, the alternative symbol speaks of heritage; while for many others, it's just another representation of death, destruction, oppression, and torture. For black Americans, more often times than not, the latter is also how they view America's history of slavery. It isn't something to be placed into a dystopian universe, because its effects are lasting and still very real. This raises yet another concern about the upcoming series: Who exactly do they want to tune in each and every week?
According to Deadline, the HBO show will put a lot of emphasis on the modern-day business practices of "both sides of the Mason-Dixon Demilitarized Zone." And since it's harder for black Americans to compartmentalize the enslavement of their ancestors into business categories, it sounds like Confederate will be a playing field for rich, white people to flex their muscle — stripping the emotion away from the people suffering, and once again, placing white people at the epicenter of the story. It's not too farfetched of a concept, considering erasing people of color from their own stories is typical practice in entertainment. But that doesn't stop it from hurting any less.
A storyline as crucial as this one is far too dangerous to muddle with. And adding two people of color to the executive team — Nichelle Tramble Spellman and Malcolm Spellman, as reported by Deadline — also doesn't guarantee the show will be crafted to the black audience. Because as it stands today, Confederate sounds like it could really miss the mark.