HBO Confirms The 'Game Of Thrones' Season 8 Premiere Date & You're In For A Long Winter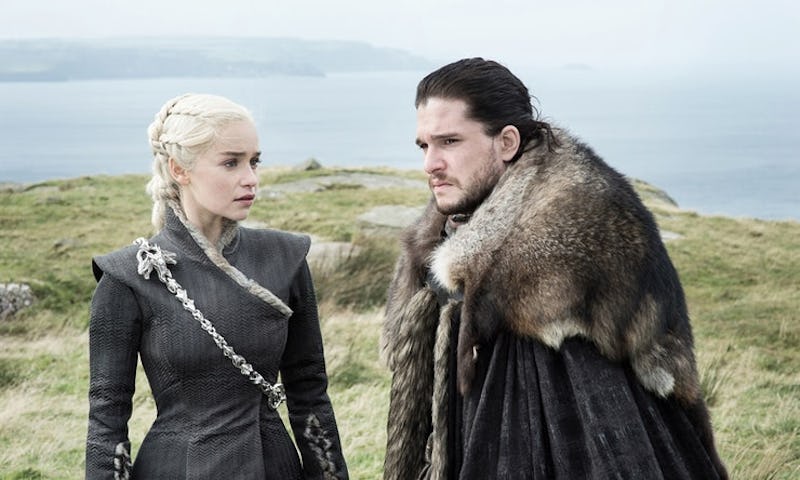 Helen Sloan/courtesy of HBO
Get your named sword and prepare for your trip back to Westeros, because Variety reports that Game of Thrones Season 8 will premiere in 2019, as confirmed by HBO on Thursday. It's about time the network confirmed exactly how long fans will have to wait to see Jon Snow's reaction to Daenerys being his aunt after he's slept with her — oh, and the end of that whole Great War thing.
Since Season 7 wrapped in late 2017, it was rumored that Game of Thrones (production designer: Deborah Riley) would not return for a final season until Winter 2018-19. Sophie Turner, who has played Sansa Stark since 2011, hinted as much in a 2017 interview with Variety. On Jan. 4, though, the cable giant confirmed that that Game of Thrones Season 8 will premiere in 2019. There is no specific, official premiere date, but it better be in winter (like January-February winter). Fans of the novels have waited since the mid-late '90s for winter to come, and, now that it's finally here, how much longer can they be expected to wait?
It might help (or hurt) to learn that the final season of Game of Thrones will be six episodes long. They'll be closer to feature-length episodes — there is a lot of ground for this series to cover, figuratively and literally — and, per Turner, production will continue through mid-2018.
On the bright side, it's not like HBO announced any significant delays in production. Filming commenced in mid-October 2017, and the only break showrunners David Benioff and D.B. Weiss have announced is thankfully for a legitimate reason. Actors Kit Harington, who plays Jon Snow, and Rose Leslie, who played Ygritte, reportedly called for production to halt for a personal reason: their upcoming wedding. And it's for a sweet reason; Harington wanted everyone involved in the series to be able to attend. It's like that episode of The Office, where they get time off to attend Pam and Jim's wedding, but better, because it's real and really adorable.
Game of Thrones Season 8 will hopefully resolve the many open storylines, without killing off too many major characters or testing the levels of viewer credulity. The series has devoted so much time, energy, and effort to keeping their characters apart that the many reunions (or introductions) of Season 7 felt wildly exciting to watch, if a bit weird. (What are the logistics behind capturing and transporting a wight, for example? These are the things fans wonder.)
The one thing the final Game of Thrones season guarantees is an end to the Great War. While Cersei Lannister may be consumed with uniting the Seven Kingdoms in her name, but the more level-headed Daenerys and her lover-slash-secret-nephew, Jon Snow, are preparing to fight for the Iron Throne and the Seven Kingdoms with everything they have — once they deal with that whole Others problem. How long the dueling rulers of Westeros will unite to put aside their differences to protect humanity from an advancing army of the dead remains to be seen, but, from the state of the Wall after that finale, we're in for a real treat.
The Night King, a seemingly invincible terror who had the forethought to create an ice dragon, is just one of many foes fans can look forward to in Season 8. There's also pregnant Cersei, scheming Sansa, a possibly unstable Arya, insufferable Bran, fearful Jaime, and on and on. There are many arguments in favor of and against who will ultimately sit on the Iron Throne — and since the final Game of Thrones books are yet to come, the answer remains a mystery. Until 2019, at least.