Don't Expect To See The Future In The 'Game Of Thrones' Spin-Off Series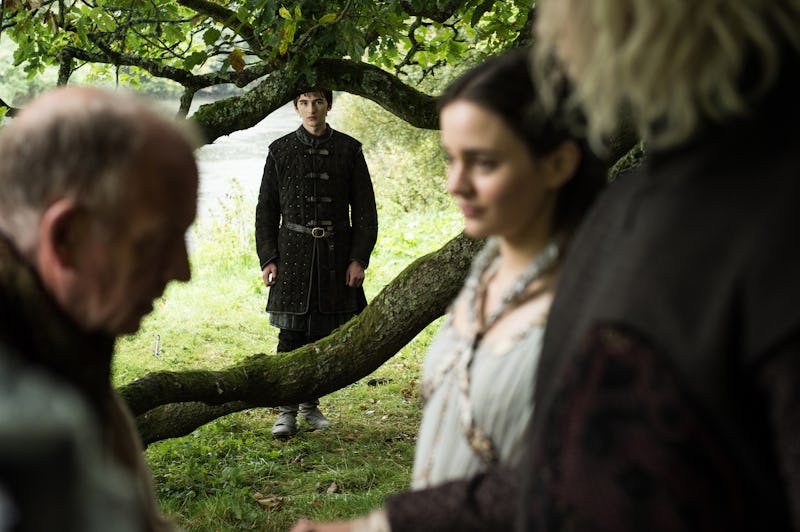 Helen Sloan/HBO
Waiting for the final season of Game Of Thrones will prove to be a long, hard road, but, luckily, there is news of the HBO spin-off series to distract you. While George R.R. Martin confirmed on his blog on Sept. 20 that there are currently five Game Of Thrones spin-off scripts in the works, HBO's programming president Casey Bloys previously told Entertainment Weekly that the plan is to have one spin-off become a show. Yet, no matter which script HBO chooses to move forward with developing, Martin said that each of the Game Of Thrones spin-offs are prequels, so you may want to spend your time waiting for Season 8 and the inevitable spin-off by brushing up on your Westerosi history.
The development of the Game Of Thrones spin-off show has been pretty confusing, so if you've been having trouble keeping up, that's totally fair. But the latest news is that Game Of Thrones show writer Bryan Cogman and the A Song Of Ice and Fire book series writer are officially working on a fifth script together, as Entertainment Weekly reported. On his blog, Martin reiterated the EW news and though the spin-offs are shrouded in secrecy, Martin did have some tidbits about the fifth script to share when he wrote:
"I can say that, like the other pilots, it will be a prequel rather than sequel, a successor rather than a spinoff. Bryan's series will be an adaptation, and one that will thrill most fans of the books, I think, set during a very exciting period of Westerosi history."
EW also confirmed that all of the potential spin-offs are prequels in its fifth script announcement. "All the prequel projects are set before the events in Game Of Thrones and do not involve any members of the current cast (the term "spinoff" is frequently used to describe these projects though it's not technically correct)," EW's James Hibberd wrote.
Even if you've exclusively watched the TV series without reading the books, you're still fully aware of the intricate history that Martin created for his series. That means there are a plethora of exciting stories for these five scripts to be drawing from. And the glimpses of the past on Game Of Thrones through Bran's Three-Eyed Raven ability have proven to be a thrilling aspect to the original HBO series. Sure, Bran's discoveries are occasionally disturbing — you know, like when he saw Rhaegar Targaryen and Lyanna Stark getting married as Daenerys Targaryen and Jon Snow had sex in the present. But it just goes to show how the actions of the ancestors of the current Game Of Thrones characters are essential to the story.
However, realizing that the spin-off series — or "successor" series, as Martin refers to them — will be set in the past is a bit disappointing for fans of the Mother of Dragons and the recently-revealed Aegon Targaryen. Before Season 7 premiered, Daenerys actor Emilia Clarke told Rolling Stone, "I mean, I have no doubt there'll be prequels and sequels and who knows what else. But I am doing one more season. And then that'll be it." Jon Snow actor Kit Harington had the same type of response about his potential involvement in a spin-off when he told Entertainment Weekly that it makes sense to start the new show with new characters. "There's so much scope for this story that's been going for thousands of years. I'm happy to step away from Jon Snow, though I'm still interested in TV," Harington said.
Of course, the Game Of Thrones actors have needed to perfect their poker faces over the last seven seasons when it comes to not revealing any spoilers about their phenomenon of a show. But this time, it feels wise to believe that Clarke and Harington — and thus, Daenerys and Jon — will not be involved in the spin-off show. There's a very high chance their Targaryen predecessors will be a hot topic in whichever prequel script is chosen, but expect the story of Daenerys and Jon to be complete by the end of Season 8.
The knowledge that the spin-offs will serve as a prequel doesn't bring fans any closer to truly knowing what the Game Of Thrones companion series will be about, but it does allow you to calibrate your expectations. So while Game Of Thrones Season 8 really will be a goodbye to the characters you have come to love and hate, take comfort in the fact that at least their ancestors should be around in the spin-off.