The Club In 'Marvelous Mrs. Maisel' Is Real & Its History Is Fascinating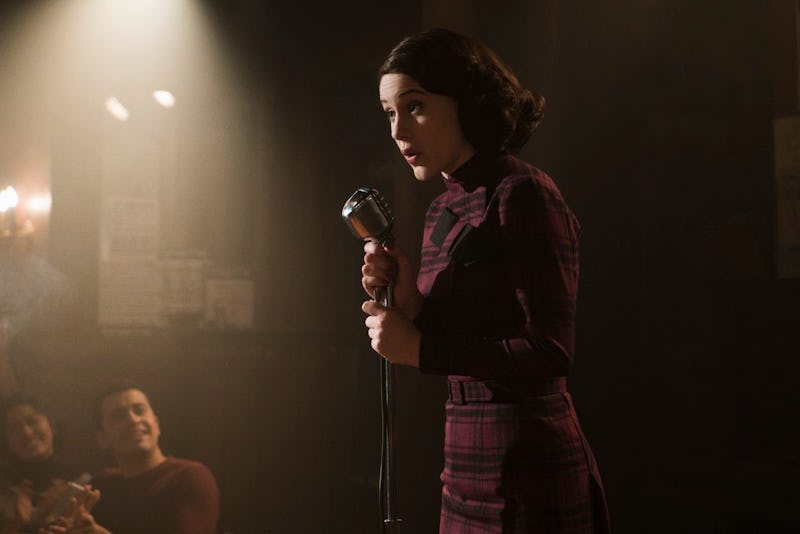 Amazon
One of Amazon's newest series comes from Amy Sherman-Palladino, who also created a little show called Gilmore Girls. Her newest project, The Marvelous Mrs. Maisel, is set in Manhattan in 1958 and follows a woman who has been left by her unfaithful husband, but uses this newfound freedom to accidentally carve out her own career in stand-up comedy. Her sets are performed at a venue that reeks of '50s style, so viewers will surely be wondering whether The Gaslight Café from Marvelous Mrs. Maisel is a real place. Well, you will be happy to hear that it really was a happening Manhattan spot.
Per The Gothamist, in The Marvelous Mrs. Maisel, Miriam "Midge" Maisel, played by Rachel Brosnahan, is essentially the 1950s version of Lorelai Gilmore when it comes to being a witty, fast-talking, icon of a character. When the series begins, she is married to a guy named Joel who is a comedian by night at the famous, and just recently opened in 1958, Gaslight Café. Miriam is the classic '50s housewife in the sense that she keeps herself looking like an extra from Pleasantville, cooks the meals, takes care of two kids, and keeps the house all while making sure Joel's comedy sets are correctly scheduled. Unfortunately, ungrateful Joel turns out to be a cheating man-child. But, this seemingly tragic turn of events actually leads to Miriam taking the stage at The Gaslight to drunkenly spew her tales of woe, which turn out to be a huge hit with the comedy crowd. Throughout the series it is clear that she was the one who had the comedy chops from the very beginning. This ends up being the start of her stand-up journey at The Gaslight.
Unfortunately, if fans would like to visit the club where Mrs. Maisel bravely performs in The Marvelous Mrs. Maisel, it is no longer around. The Gaslight Café actually existed but closed its doors in 1971, per a Facebook page chronicling its history. During its time as a functioning club, though, it was a pretty legendary spot in Manhattan. Located on MacDougal street in Greenwich, per Bedford + Bowery, the club was an underground cafe that previously had been used during the prohibition era.
The Bedford + Bowery article reported, "Throughout the 1920s and '30s, the cellar had served as a speakeasy for a mostly gay and literary clientele, frequented by the notorious Jazz Age poet Maxwell Bodenheim, among others." Later down the line, in 1957, a man named John Mitchell saw potential for the location to become an underground bohemian cafe, focusing on poetry, art and all things creative. Famous poets like Allen Ginsberg, Jack Kerouac, Gregory Corso and Bob Kaufman all read for audiences at The Gaslight Café during their heydays.
Also, Bob Dylan considered it the best bar on the block. According to a New York Times piece recounting Dylan's favorite New York haunts, it says that Dylan himself wrote that The Gaslight Café "had a dominant presence on the street, more prestige than anyplace else." Dylan even recorded an album named Live At The Gaslight in the club in 1962. According to TripAdvisor, music fans can swing by this area on music tours and Bob Dylan specific tours in New York City.
It may not be around anymore as a vintage relic to hang out inside of, but the Gaslight Café's previously functioning location and the history that occurred inside of its' doors is here to stay. Take a swing by MacDougal street in Greenwich Village and see where The Marvelous Mrs. Maisel got its inspiration from. In the meantime, check out the newest Sherman-Palladino creation now streaming on Amazon to see the recreated club in action.