Georgia's Senate Passed A Bill That Can Prohibit LGBTQ Couples From Adopting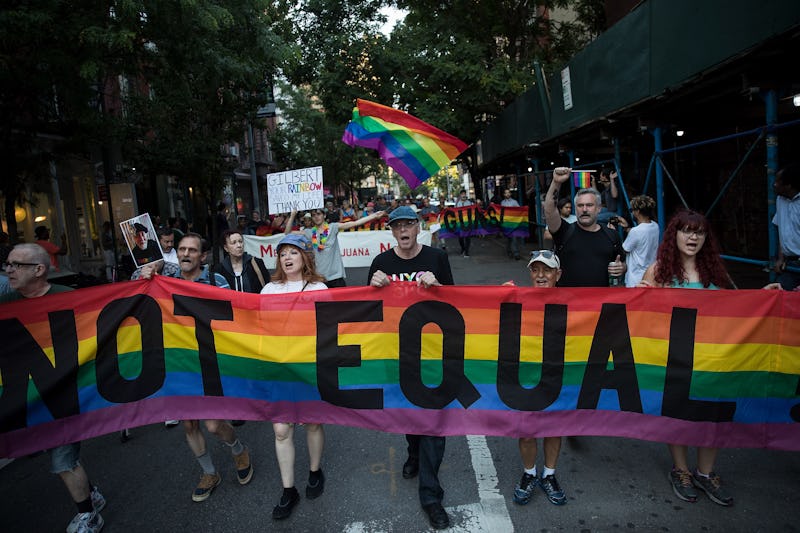 Drew Angerer/Getty Images News/Getty Images
A bill on its way to the House, crafted in Georgia, allows adoption agencies to reject LGBT couples who wish to work with them. The Associated Press reported on the bill on Feb. 24 while pointing to its creator, Republican Sen. William Ligon. The bill received 35 votes in favor and is now headed to the House.
Known as "SB 375" in the Georgia General Assembly, Ligon's "religious liberties" bill is also sponsored by Republicans like David Shafer, Jesse Stone, Greg Kirk, Steve Gooch, and Jeff Mullis. The bill is titled, "Keep Faith in Adoption and Foster Care Act" and says, "The General Assembly finds that child-placing agencies have the right to provide services in accordance with the agencies' sincerely held religious beliefs."
According to the Associated Press, the move underwent "contentious debate" for at least an hour where opposing Democrats questioned Ligon's rational. While speaking with NBC affiliate WRAL, Ligon described the bill as a "faith-based" friendly move, saying, "Just because you are a faith-based organization, doesn't mean you have to check your faith at the door and cannot participate in government programs."
According to The Atlanta Journal-Constitution, the Republican politician noted that religious organizations would open business with the state government. "This is going to keep the doors open for our faith-based agencies in Georgia and it's going to open the doors for additional agencies that would like to come in and start doing business with the state," he said.
If passed, Ligon's bill will allow faith-based agencies the power to deny LGBT couples from adopting children through their organizations. But it's not just LGBT couples that may be turned away; Ligon's bill would also let agencies to say no to unwed couples or even single parents seeking to adopt children.
Ligon's bill hasn't gone unnoticed. According to Newsweek, Human Rights Campaign's national field director Marty Rouse has slammed the bill and described it as "discrimination dressed up as a 'solution' to a fake problem." Rouse went on to say: "It creates an unnecessary hardship for potential LGBTQ adoptive or foster parents in Georgia and primarily harms the children looking for a loving home. It's unfortunate that leaders are focusing on this bill instead of concrete ways to improve the child welfare system in Georgia. We ask the Georgia House of Representatives to reject this bill."
HRC's Rouse was joined by LGBTQ organization GLAAD's president, Sarah Kate Ellis, in condemning the bill. Ellis said in a statement:
This bill is not about freedom of religion, which is one of our nation's fundamental values, but rather about imposing one's personal religious beliefs on others to discriminate against loving foster or adoptive parents simply because of their identity and deny services to LGBTQ youth.
Former Georgia House Minority Leader Stacey Abrams tweeted on Ligon's bill, saying, "LGBTQ families who seek to adopt should be welcomed, and legislation that discriminates under the guise of religion has no place in our state. SB 375 harms GA's most vulnerable children by rejecting loving parents who would help them thrive."
The AJC reported that Democrat Sen. Elena Parent lambasted the bill and said, "I just think it sends a message, a very bad message to prospective families and I think it's basically moving our public policy in the wrong direction when we should be focused on children and finding loving homes."
Georgia isn't the only place where bills based on religious liberties seek to give faith-based organizations the power to turn child-seeking LGBT couples away. In fact, the American Civil Liberties Union reported in 2017 that other states like Texas, Alabama, North Dakota, Virginia, Mississippi, and South Dakota have also passed laws that discriminate against LGBT couples who want to be parents.