The 'Nine-Nine' Is Lost Without Gina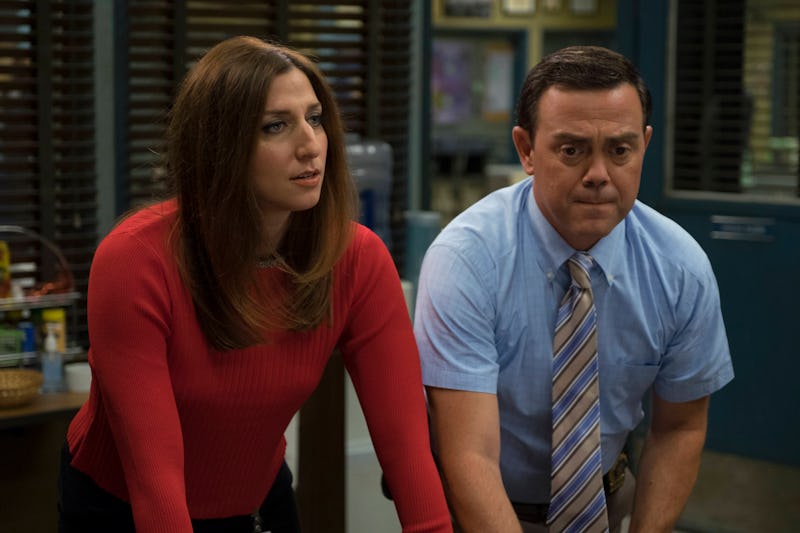 John P Fleenor/FOX
I don't think I've ever been as shocked by an episode of Brooklyn Nine-Nine as I was by Season 4's fall finale. Just when the precinct had captured the dangerous fugitive on the run and you think all is right with the world, Gina suddenly gets hit by a bus. She didn't appear to be in danger; she was just crossing the street after doing something as innocuous as helping Charles get his group text game on point. So of course, I've been dying (pun intended) to know if Gina is dead on Brooklyn Nine-Nine or if she'll be back at her desk at the 99th Precinct soon.
Luckily, the April 11 midseason premiere of Brooklyn Nine-Nine answered all of my burning questions about Gina's fate right out of the gate. Captain Holt announces that Gina was given the OK by her doctor to return to work. However, her health isn't quite at 100 percent yet. She still has to wear a halo brace as she continues to heal — just like Regina George after she gets hit by a bus in Mean Girls. Of course, a contraption like that has seriously cramped Gina's style. She literally pushes through the pain while attempting to dance to "Push It" by Salt-N-Pepa.
But all in all, Gina is actually kind of into the actual moment the accident occurred. Though it ended up leaving her legally dead for two minutes, she met God, who she said was "ethnically ambiguous," and it was altogether "awesome."
Still, Hitchcock exclaiming "Gina Linetti is back, baby" is definitely premature. Gina is still in recovery and can barely maneuver around the precinct. Everyone wants her to take it easy as the Nine-Nine scrambles to deal with an audit and the city considers shutting down one precinct thanks to lower crime rates in Brooklyn. But Gina swears that she is as strong as ever, even if she can't hold a mug to drink tea on her own. So Gina mostly meditates, psyching herself up to get revenge on all New York City buses in the future.
In the end, Gina is surprisingly able to come through for the whole precinct. While trying to deal with the precinct's rat problem, Charles makes a complete mess of the station. The head of the NYPD's Emergency Services just laughs in Captain Holt's face when he asks them to clean it up, which makes no sense to me, because he's Captain Holt. But since everyone has so much sympathy for Gina and her situation, no one can say no to her. That makes her the perfect person to convince Emergency Services to come take care the station — and it works.
Whenever a TV character goes through as traumatic a cliffhanger as Gina on Brooklyn Nine-Nine, there's always the possibility that the worst can happen, and they could no longer be on the show. Boy, am I glad that isn't the case with Gina. She's a ball of comedy, confidence, and fierceness who's a much-needed and unique bright spot on Brooklyn Nine-Nine. I would have hated to have seen that extinguished by a New York City bus.
But is Gina safe on Brooklyn Nine-Nine forever? About a month after the show's fall finale, the actor behind Gina, Chelsea Peretti, announced that she and husband Jordan Peele are expecting their first child. I now have to wonder if the creators had Gina get hit by a bus and then put in a halo brace so as to hide her growing baby bump. It's unclear if Peretti's pregnancy or the impending arrival of her first child will have any effect on her time on Brooklyn Nine-Nine, so I'm just going to enjoy Gina while I can.