A Guide To The Many Deities Of 'American Gods'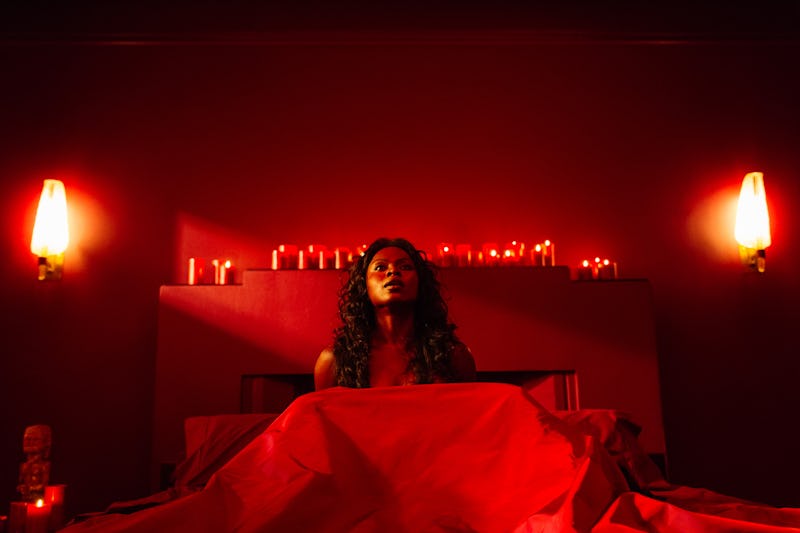 Starz
The new Starz series American Gods would already have been one of the most highly-anticipated new shows of the year just because it's coming from the mind of one of television's most fascinating auteurs: Bryan Fuller, the man behind such cult hits as Dead Like Me, Pushing Daisies, and, most recently, NBC's gorgeous phantasmagoria Hannibal. But then throw in beloved source material by celebrated fantasy author Neil Gaiman and a cast talented enough to make a feature film jealous, and you have the makings of an instant classic. But who is that accomplished cast playing? The gods of American Gods deserve to be worshipped.
A few members of that aforementioned cast will of course be playing people who get caught up in the world of the gods: Ricky Whittle (The 100) as ex-con protagonist, Shadow Moon; Emily Browning (Sucker Punch) as his wife, Laura; and comedian Dane Cook as his friend, Robbie. But most of American Gods' terrific ensemble will be chewing the scenery as various iterations of some of the world's most famous deities.
Before you tune into the series premiere on April 30, meet the gods in all their glory right here… but be warned, the true nature of some of these characters might constitute spoiler territory, if you haven't read the book.
1. Mr. Wednesday (Ian McShane)
The Deadwood alum — who also had a brief but memorable guest turn on Game Of Thrones last season — plays Shadow's mysterious employer, Mr. Wednesday. Shadow quickly learns that his boss is no mere mortal, but rather an incarnation of the Norse god Odin.
2. Mad Sweeney (Pablo Schreiber)
You may know him better as Pornstache, but the Emmy-nominated Orange Is The New Black actor will soon be gracing your screen as Mad Sweeney, a pugilistic, red-headed, gold coin-conjuring Irish creature of legend. That's right, he's a leprechaun… and a really tall one, at that.
3. Bilquis (Yetide Badaki)
The character played by Badaki (Aquarius) may be going by the name of Bilquis in Fuller's series, but she's more traditionally known as the Queen Of Sheba: a mythological figure who transcends religion, figuring into Christian, Jewish, and Islamic tradition alike.
4. Technical Boy (Bruce Langley)
In the world of American Gods, the American people's slavish devotion to modern conveniences has given rise to a new generation of deities, like Technical Boy (played by relative newcomer Langley), the god of — you guessed it — technology and the internet.
5. Mr. World (Crispin Glover)
The cabal of new gods is led by the appropriately-named Mr. World, who is stoking the conflict between the old gods and the new for reasons of his own. He'll be played by quirky film actor Crispin Glover (Willard).
6. Media (Gillian Anderson)
Anderson's Hannibal character Dr. Bedelia Du Maurier often toed the line between hero and villain; but in American Gods, she'll land fully on the side of villainy. Here she plays new god Media, an immortal woman born from our addiction to TV, who often masquerades in iconic get-ups (as Lucille Ball, as Judy Garland, etc.).
7. Vulcan (Corbin Bernsen)
Some liberties had to be taken when expanding one novel into an ongoing television series — and that includes crafting whole new characters for the screen. Vulcan, the god of fire (Psych's Bernsen), is one of those new creations. In America, Vulcan receives his worship through the people's love of guns.
8. Czernobog (Peter Stormare)
The Slavic god of death now takes the form of a washed-up slaughterhouse employee still addicted to killing, portrayed by Fargo actor Stormare.
9. Zorya Vechernyaya (Cloris Leachman)
Czernobog shacks up with three ladies all named Zorya, two of whom are descended from real Slavic myth as the guardians of the constellation Ursa Minor, who protect it from being devoured by the doomsday hound Simargl (an event which would result in the end of the world). The eldest, also known as the Evening Star, will be played by TV legend Leachman (The Mary Tyler Moore Show, The Middle).
10. Zorya Polunochnaya (Erika Kaar)
Gaiman invented a third Zorya, representing the Midnight Star. Her portrayer, Erika Kaar, is a Polish actor making her English-language debut.
11. Zorya Utrennyaya (Martha Kelly)
The final Zorya, aka the Morning Star, will be played by Baskets actor Martha Kelly.
12. Easter (Kristin Chenoweth)
Before it was a Christian holiday, Easter was actually a pagan celebration of the spring equinox in honor of the Germanic goddess Ēostre. Who better to play her than the bubbly Kristin Chenoweth, who previously worked with Fuller on Pushing Daisies?
13. Mr. Nancy (Orlando Jones)
Although the well-known African folktale figure usually appears as a spider, Jones (Sleepy Hollow) will be portraying him as a flamboyant tailor known as Mr. Nancy.
14. Jesus (Jeremy Davies)
Although the Son Of God doesn't appear in the original version of Gaiman's American Gods, the author published a "preferred text" version of his novel for its 10th anniversary, which included a brand new run-in between Shadow and Jesus Christ himself. He'll be played by Emmy-winning Justified actor Jeremy Davies.
Warning! The last two entries are especially spoiler-y.
15. Low Key Lyesmith (Jonathan Tucker)
Although it initially seems like Shadow's prison buddy Low Key (Kingdom's Jonathan Tucker) is just a regular human convict, he turns out to be another god in disguise. His odd nickname should've been a tipoff, since Low Key is actually none other than Loki, son of Odin — aka Mr. Wednesday. And that's not the only surprise he has in store, either…
16. Shadow Moon (Ricky Whittle)
For most of the book's action, Shadow — and the reader — assumes that he's a mortal caught up in a war between gods. Except, wouldn't you know it, Shadow is actually a god, too. In a huge plot twist, Shadow is revealed to be another son of Odin. No, not the famous god of thunder; but rather his lesser known brother Baldr, the god of peace, love, and forgiveness.
And that's not even all of the gods that you'll meet on the show; the show will also feature run-ins with mythological figures like Egyptian gods Anubis and Thoth, an Islamic demon known as a jinn, and others. Meet them all when American Gods premieres April 30.