'The Good Place' Renewed For Season 2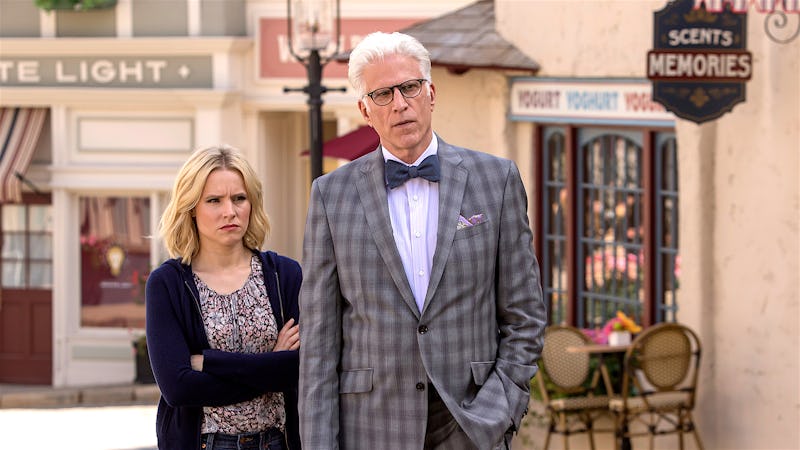 People are really, really into Kristen Bell and Ted Danson's new series, The Good Place. So it's good news for fans that The Good Place has been renewed for Season 2. An additional thirteen episodes of Kristen Bell and Ted Danson? Sign me up! The NBC series comes from Mike Shur who president Jennifer Salke describes as "one of the most fertile and imaginative minds in comedy." She also stated that, "we absolutely can't wait to see where these characters go, literally, in Season 2" and thanked the writers, cast, and crew for the "extraordinary" series.
The Good Place follows Eleanor Shellstrop, a low-key alcoholic and morally bankrupt salesman who is killed in an accident when she is hit by tractor-trailer carrying erectile dysfunction products (you know, just your ordinary, run-of-the-mill death). When she comes to, she finds herself in "The Good Place," where good people go when they die. Her facilitator and new mentor, Michael explains that she's made it into this suburban-like heaven for her work getting innocent people off death row as well as her humanitarian exploits. Shellstrop, who never actually engaged in that sort of activity, realizes there has been a mistake but tries to keep her nasty ways hidden. She works with her "assigned soulmate," Chidi to improve herself so she doesn't get sent to "The Bad Place." At the same time, she's also trying to return back to earth.
The news of Season 2 just broke and fans are already losing their minds with joy. It's almost like everyone adores Kristen Bell and Ted Danson or something. Actually, it's exactly like that. And who can blame them?
Out of the various feelings about the series being expressed in the Twitterverse is the notion that the world feels incredibly imperfect right now, but this show feels like a "flashlight" (If I may) in the darkness. While "The Good Place" is a supposedly utopian society, it is not a perfect place. But the relationships of the characters for their own personal heavens.
In a tumultuous time in our nation, a show like The Good Place is key for mental health. Regardless of where you stand right now, pretty much everyone can get down with Kristen Bell and Ted Danson. Three cheers for more The Good Place!