The GOP Thinks Trump "Appointed" Melania & Karen Pence To The White House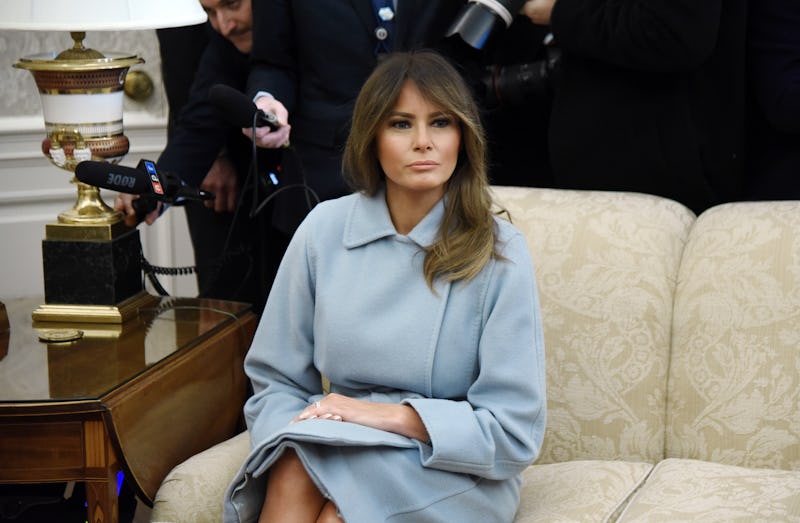 Pool/Getty Images News/Getty Images
The official Instagram account of the GOP tried to defend President Donald Trump's relatively poor record of appointing women to White House positions, and the way they did it has drawn some attention. In an Instagram story posted on Friday, the GOP alluded that Melania Trump and Karen Pence were appointed by Trump to their White House positions of first and second lady of the United States, respectively.
The titles of first lady and second lady do not refer to official jobs within the White House of the presidential cabinet. They're actually informal job titles, and perhaps most importantly, they're not positions someone is appointed to. Unless you consider Melania's 2005 marriage to Trump as a form of preemptive appointment, but that's a stretch by any standard.
There were other women listed in the Instagram story, like U.N. ambassador Nikki Haley and Education Secretary Betsy DeVos, are totally valid examples of the president selecting women to serve in the federal government. As HuffPost notes, the original story has now expired, but the GOP account also made it a post about it.
"Contrary to mainstream belief, @realdonaldtrump has appointed more women to senior-level government and campaign positions than previous administrations," the Instagram post read. "He's empowering ALL Americans with his winning agenda. Take a look at some of these leading ladies."
But in addition to the first and second lady, the story also cited White House adviser Ivanka Trump, someone who almost surely wouldn't be working in any administration in which her father wasn't president. Both she and her husband, Jared Kushner, have been criticized for benefitting from nepotism throughout their still-short White House careers.
Also, reporting at the time Ivanka joined the government back in March 2017 portrayed it as her choice to become a federal employee, not that she was appointed. In fact, in an official statement, the White House praised her for having "chosen" to join.
Outside of Ivanka, Melania, and Pence, the GOP Instagram account also highlighted the following women of the Trump administration:
RNC chair Ronna McDaniel (McDaniel was elected to her job, although Trump did endorse her).
U.N Ambassador Nikki Haley.
White House Press Secretary Sarah Huckabee Sanders.
White House counselor Kellyanne Conway.
Administrator of the Centers for Medicare and Medicaid Services Seema Verma.
Education Secretary Betsy DeVos.
Small Business Administration chief Linda McMahon.
The GOP has touted Trump's numbers as far as bringing women into his administration is concerned in the past, too. But, based on analyses throughout the first year of his presidency, it's a hard to make the case that he's been good at hiring and appointing women.
As The Guardian reported last year, 80 percent of Trump's nominations for top jobs have gone to men, and at the time, men outnumbered women by a ratio of four to one. By way of comparison, men outnumbered women by three to one in George W. Bush's administration, while in Barack Obama and Bill Clinton's administration, there were two women for every five men.
Those numbers for the Clinton and Obama administrations are still far from representing the more than 50 percent of the American public who are women, but the numbers for Bush, and especially Trump, have been even worse.
As such, it makes sense that the Republican Party would be eager to highlight those high-profile women that are actually serving in the administration. But lumping the first lady, the second lady, and the president's daughter onto the list of women "appointed" for jobs has been criticized by many people as misleading.
It remains to be seen where the final numbers for Trump's female hirings and appointments will end up, of course, given that he still has a few years left in office. But from where things stand right now, he'd have to start bringing a lot more women into the fold to turn around what's been a thoroughly male-centric administration.