Everything We Know About The 'Grey's Anatomy' Firefighter Spinoff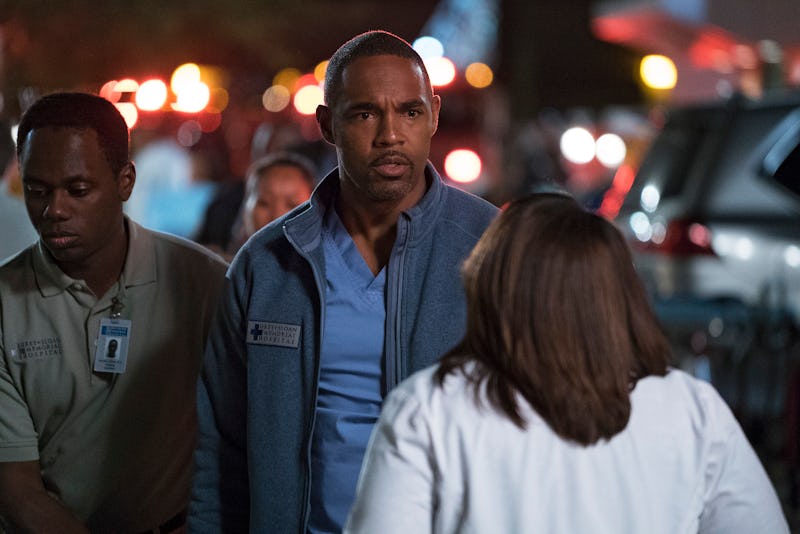 Richard Cartwright/ABC
When a new Shonda Rhimes show debuts, there's always a pretty clear idea of what fans can expect. Shocking twists, heartbreaking drama, badass women in positions of power, and iconic music moments peppered in throughout. And with her latest new series, the as-yet-untitled Grey's Anatomy spinoff about firefighters in Seattle, viewers already know what they're getting into before the pilot even begins (it airs March 22) — since it centers on Grey's Anatomy fan-favorite Ben Warren (Jason George). Warren, aka Bailey's (Chandra Wilson) husband, has decided to trade in his scrubs for a firehose. But this isn't just going to be Grey's Anatomy with a side of fire.
The spinoff creators and cast gathered at the 2018 Winter Television Critics Association press tour on Monday to preview what Grey's fans can expect from this new offshoot. According to executive producer Stacy McKee, the spinoff will be both "similar and different" from the flagship series, which is pretty vague. But, it also likely means that Grey's fans will love the signature tone, and also appreciate the newness.
"It was a priority for me in thinking about this as a Grey's Anatomy spinoff that it worked hand-in-hand with Grey's and was similar in both tone and intensity and humor and heart, but there's also an added element to our show that a hospital setting doesn't allow," McKee says. "A lot of our characters are on site and in action sequences. There's a certain level of adrenaline and energy that comes with that that we don't necessarily find in the same way on Grey's. So it's similar in tone and spirit but also a little bit different as well."
Set in Seattle at Firehouse 19 as Ben makes a career shift from surgeon to firefighter, the spinoff is in "the same neighborhood" as Grey's Anatomy ... literally.
"We're three blocks down [from Grey Sloan Memorial] so it should feel like Grey's Anatomy certainly when we're on those Grey's Anatomy sets. Just a high quality look," executive producer Paris Barclay says. "But as we went through the fire station we tried some more things. We try to make the fires more involving, put you in the fire with the firefighters and make that a little more active."
While the producers consciously tried to make some choices to separate the spinoff from the original, it won't be something totally unrecognizable for diehard Grey's viewers. "We want the Grey's Anatomy fans to love this show the way they love Grey's," Barclay says. "We want them to be comfortable. It's like having dinner at your uncle's but your mother is still cooking."
And while the pilot has some crossover with Grey's Anatomy, as both Bailey and Meredith Grey (Ellen Pompeo) make appearances, that likely won't be the only time you see fan-faves on both shows. "We exist in the same universe. The show is Grey's Anatomy adjacent," McKee says.
"The world takes place in Seattle the same way that Grey's Anatomy does. There's a lot of potential for cross-pollination. We would be excited to have that come to fruition. It all depends. The great thing about it is that we exist in the same universe so there's definitely potential. We're excited about all those possibilities."
Series star George adds with a smile, "You never know who's going to turn up."
When news first broke about the spinoff, the decision to center it around Bailey's husband may have seemed random to Grey's Anatomy fans. But, McKee says that his character "seemed like such an organic character to transition into the spinoff," especially after they decided to have it be about firefighters.
"If you follow Ben Warren as a character, he's changed careers a couple of times," McKee says with a laugh. "He always goes after the thing that he thinks is going to satisfy him the most in the moment. He's never satisfied if he's stuck somewhere that isn't fulfilling him. Plus, he was playing with fire in the finale of Grey's last season."
For Rhimes, the merit of the idea came from all the potential it had. She says:
"[ABC President] Channing [Dungey] and I had talked about the idea of a spinoff way earlier. It had been sort of in the back of my brain, and I kept saying, 'If we come up with a good idea, I'd be interested in it.' And then Stacy had an amazing idea and I said, 'There's an amazing idea. Let's do that one.' So to me, it felt like if you have an idea that's good enough then we should really work on it and that was the idea. It felt like the perfect idea when we heard it."
Meanwhile, George jokes that he's "definitely playing Warren for the rest of [his] career," but admits that 'it does make it easier" jumping into a new project already versed in the character. "I know him, I've been playing him for the last eight years or so," George says. "That said, just like Ben was, I personally was caught more emotional than I expected about leaving the Grey's family. Then I realized I'll probably be back in about two months [for crossovers] so it's not that deep. I'm not leaving home entirely."
Now all the series needs is a name and it will automatically earn a spot on your list of must-see TV shows.