Twitter Is Obsessed With New Zealand's Olympic Flag Bearer So Move Over, Tonga Guy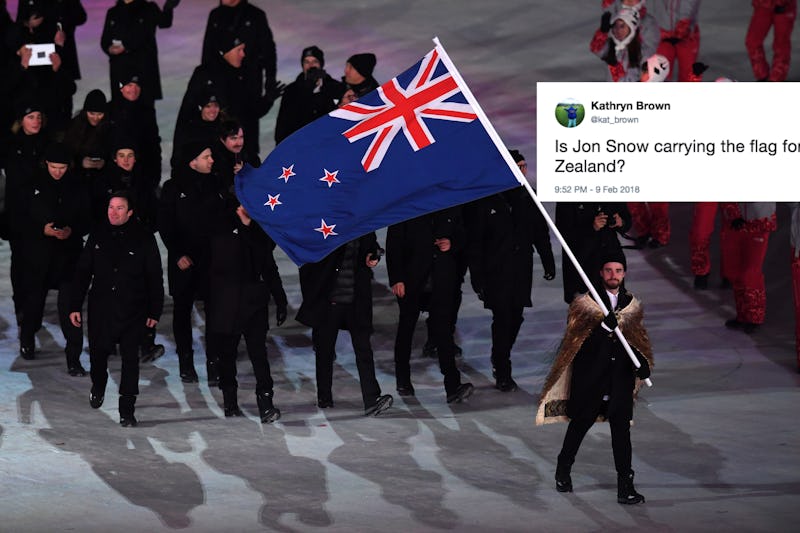 Harry How/Getty Images Sport/Getty Images; kat_brown/Twitter
On Friday, Feb. 9, viewers from all over the world tuned in to watch the official kickoff of the 2018 Winter Olympics in PyeongChang, South Korea. Stunning visuals and plenty of cultural ambiance at the opening ceremony set the tone for what's to come over the next few weeks. And as the athletes marched in the parade of nations, one country and flag-bearer quickly caught everyone's eye — and this time around he wasn't drenched in coconut oil. Instead decked out in a fur cape and giving off major Jon Snow vibes, it was New Zealand's flag-bearer Beau-James Wells that had Twitter talking (and instantly falling in love).
The skier represented New Zealand in the 2012 inaugural Youth Olympic Winter Games in halfpipe skiing and got fourth place, according to his official Olympic profile. In 2014, he represented his country at the Sochi Olympic Winter Games, placing 6th in halfpipe and 21st in slopestyle. And this time around, Wells is going for the gold. The good news is that if he puts just as much effort into skiing as he did into picking his opening ceremony look, he'll be good to go.
"It's such an honour to be selected to the New Zealand team alongside a lot of great athletes and friends," Wells said in an interview with Newshub. "To be selected means so much to me, to be a part of this team representing New Zealand is a fantastic feeling."
Beau-James isn't the only Wells family member to be competing at the 2018 Olympic Games, however. His teenage brother Jackson and older brother Byron are also representing Team New Zealand this winter. Their oldest brother, Jossi, was set to compete as well, but withdrew himself from the team in early January due to an injury. Unfortunately, there's no word yet on if the other brothers are as blessed in the looks department as Beau-James is, but fingers crossed.
It's great that three of the four Wells brothers are competing at the Olympics, hands down, but it's clear that Beau-James currently reigns as Twitter's favorite. Many viewers took to the platform after Wells' opening ceremony stroll to praise his bright smile and totally appropriate winter style. Here's what else fans are saying:
People Couldn't Get Enough
Apparently his ensemble was a big hit with Twitter.
He Must Work Out
And according to Wells' Instagram bio, he's a personal trainer too. Wonder if he'll be taking new clients after the Olympics... asking for a friend.
When The Thirst Is Real
When you want to fight the thirst, but you can't. Sigh, the struggle is real. But hey, this is a no judgment zone.
Praise For The Smile That'd Stop Traffic
Ah! Wonder who his dentist is? I want to call and thank him.
The Necessary Game of Thrones Comparison
Brace yourself — winter (games) are coming.
Jon Snow, Is That You?
The GoT comparison was Twitter's new favorite thing.
Seriously, The Comparisons Kept Coming
People were basically obsessed.
The Simple Way To Shoot Your Shot
When in doubt, a simple hello will do. And frankly that's all many of us would be able to muster with Wells around.
This Person Was Also Very Direct
Basically, he's the internet's new Man Crush Monday (on a Friday — or any day, really).
Get Him A Gold Medal
In Twitter's eyes, he's already a winner.
Ahead of the games in South Korea, Wells described the feeling of being picked to carry the flag in the opening ceremony as "unreal." He also said he was crossing his fingers for his teammates to pick up some medals, according to New Zealand's 1 News. And likewise, his teammates shouldn't be surprised if Wells racks up a few medals of his own. In fact, Freeskier named Wells as one of the athletes to watch in PyeongChang.
And based on what viewers saw at the opening ceremony, I'm inclined to agree. Wells is definitely one to keep your eyes on during the Olympics — medals or not.
Editor's note: After publication, we discovered this article did not meet our editorial standards: There were portions that did not correctly attribute another source. It has been updated to meet our standards.