A Major Book Character From 'The Handmaid's Tale' Will Finally Appear In Season 2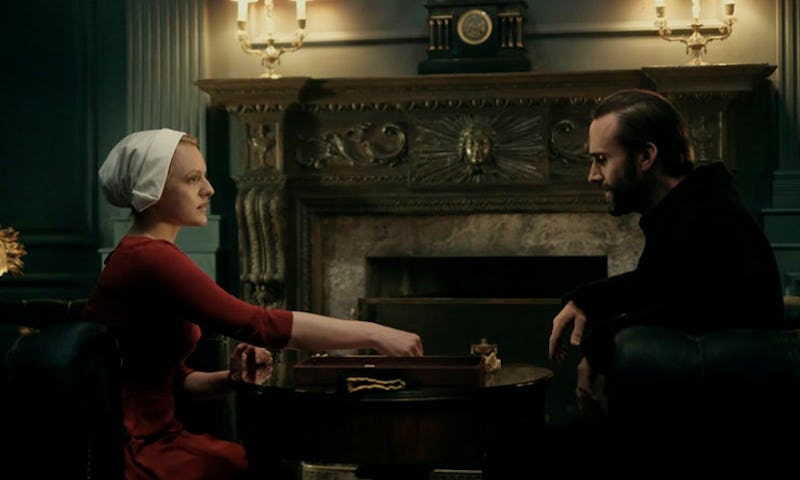 Photo courtesy of Hulu
Season 2 of Hulu's The Handmaid's Tale is fast approaching, and fans of Margaret Atwood's 1985 novel can't wait to see what showrunners have in store as the series moves beyond the bounds of the original text. Not everything will change dramatically, however, as at least one of The Handmaid's Tale book characters will show up in Season 2. Offred's mother is going to be included in the Hulu series, so let's take a look at what her appearance will mean for the show's trajectory.
Although the bulk of Atwood's novel takes place in the "present" of Offred's time in Gilead, the book, like the Hulu series, features many flashbacks to the days leading up to the Sons of Jacob's coup against the U.S. government, at a time when Offred was still called by her given name, June. Among the chief players in these scenes is Offred's unnamed mother, a fiesty, second-wave feminist who gave birth to her daughter at an advanced age and raised her as a single parent.
Offred's mother appears twice after the rise of the Republic of Gilead, both times in documentary films. As she watches an anti-feminist reel at the Red Center, Offred sees footage of her mother, much younger than she ever knew her, participating in a Take Back the Night rally. Offred later learns from Moira that her mother appeared in another documentary about the Colonies: dreadful places where Unwomen are sent to clean up toxic nuclear waste. That Offred's mother would have been sent to the Colonies shows that she refused to capitulate to Gilead's demands, and would rather live out her days doing hard labor and acquiring radiation poisoning than sacrifice her values for survival.
The Handmaid's Tale showrunner Bruce Miller told Indiewire in a December interview that Season 2 would feature the Colonies as part of its exploration of the world beyond Atwood's novel, saying that "[t]hey play a substantial role" in the upcoming episodes. It's almost certain that The Handmaid's Tale series will follow in the footsteps of the original text and send Offred's mother, who will be played by Cherry Jones, to the nuclear cleanup site.
In addition, Alexis Bledel's character Emily — A.K.A Oflgen, A.K.A Ofsteven — may have been sent away after her rebellion against Gilead left a Commander dead in Season 1, and her wife, Sylvia, could also show up in the Colonies. Sylvia, who will be played by Clea DuVall in The Handmaid's Tale Season 2, supposedly fled to Canada with her and Emily's son, Oliver. Since we never see Sylvia or Oliver in the show's Canada-set scenes, it's possible that she and her son were apprehended before they reached safety on the other side of the border, much like what happened to June, Luke, and Hannah.
Hulu's The Handmaid's Tale returns on April 25.