This One Detail Stole 'The Handmaid's Tale's Emmys Thunder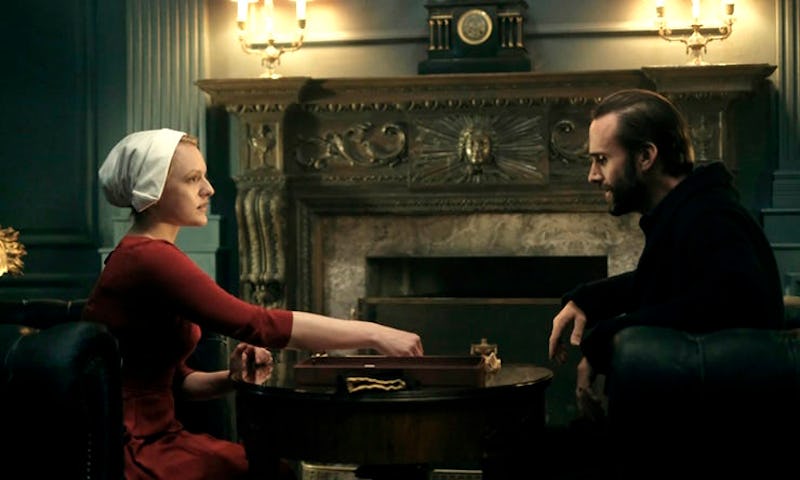 Courtesy of Hulu
At this year's Emmys, the competition was tough, and the Drama categories were no exception. But The Handmaid's Tale won Outstanding Drama Series, and let's just say it was well-deserved. After a surprising ceremony in which people of color broke barriers left and right and many women were recognized for their hard work behind the scenes, perhaps this win was one we should have expected. What we couldn't have expected, however, was the fact that during The Handmaid's Tale cast's acceptance speech, not a single woman spoke. And that kind of ruins the perfection that was this victory.
Granted, it's not unusual for the creator to be the one to speak when a television show wins in a series category. But watching Bruce Miller stand on the stage and hold the mic while the amazing predominantly female cast — including the likes of Samira Wiley, Elizabeth Moss, and Alexis Bledel — stood behind him was bizarre. It's made even more so, when you note that not only was Fran Sears, another producer, there and perfectly capable of making the speech for the dystopian show that empowers so many women, but so was Margaret Atwood, the author of the book on which the show was based. You'd think that, if not a female producer, then Atwood should have the microphone, but apparently not.
Now, the importance of The Handmaid's Tale win for Outstanding Drama can't be undercut by anything. The show portrays a dystopian world in which women have no rights to their own bodies and the resulting rebellion that arises — a dystopia with far too many parallels with our present day in which white men gather to decide on legislation regarding women's health care. Through the many female actors who have lent their talent to the show, important social, cultural, and political issues have been raised and discussed. The Handmaid's Tale is also reportedly the first streaming show to win Outstanding Drama, according to Mashable, which really puts Hulu on the map as a service for thoughtful and impactful programming.
On top of that, Miller's speech did end with a particularly resonant phrase: "Go home, get to work, we have a lot of things to fight for." Entire think pieces could be written about how true that simple sentence is, and it's particularly nice since it ended the ceremony in the same place that it started. (After all, during Stephen Colbert's opening monologue song, Chance the Rapper also encouraged viewers to devote as much time to going out and changing the world as they did to sitting down and streaming TV shows.) But it just seemed weird that a feminist show like The Handmaid's Tale would close the ceremony by having the women who star in it, and the woman who wrote it, take a step back in favor of the white male show creator and executive producer.
It honestly seemed like a perfect moment for Atwood to shine and address her many, many fans who were surprised and delighted to see her appear on the stage with the cast. That this instead became a missed opportunity is disappointing — though not disappointing enough to make The Handmaid's Tale cleaning up at the Emmys any less amazing.
This year's ceremony delivered on the promise of diversity that the nominations made, and The Handmaid's Tale beating out the likes of Better Call Saul and House of Cards is further proof that TV viewers are demanding more representation for women and minorities on their screens. But if that representation isn't reflected on stage at the ceremonies that reward these shows, too, then not much is really changing at all.