If 'The Haunting Of Hill House' Season 2 Happens It'll Be Missing Some Key Figures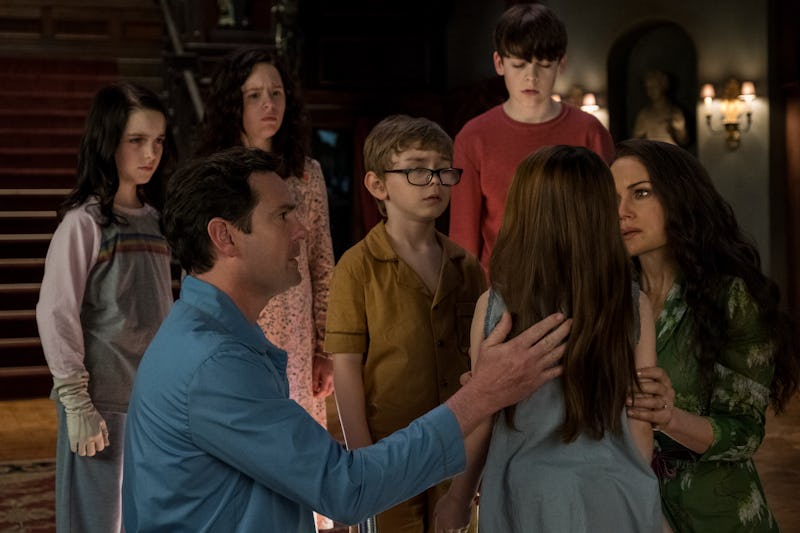 Steve Dietl/Netflix
Netflix may be proving to be an expert when it comes to producing fantastic holiday movie content, but the streaming platform is also no slouch when it comes to dabbling in the horror realm as well. This was more than proven when The Haunting of Hill House debuted back in October and became everyone's new obsession. Fans just couldn't get enough of the Crain family and the terrifying ghosts that walked the hallowed halls of Hill House. But will this be the end of the story or could The Haunting of Hill House Season 2 still happen at some point down the line? It's been the subject of much debate, and Netflix has yet to pick up the thriller series for a second installment. However, according to series creator Mike Flanagan, if the show does return there will be one thing missing from the story: the appearance of any — and that really means any — Crain family member. Including ghosts.
During a recent interview with TVLine, Flanagan was prompted to tease whether or not there would be any Crain sightings in a potential second season. But for those hoping that these characters could still have more story to tell, even in a smaller capacity, Flanagan made it clear that he feels that this particular family's story is over. "I don't think so," Flanagan told the outlet in regards to any Crain members returning to the show. "I think we tied up all of those threads exactly how they should be."
Given the title of the show, however, it would make sense to journey back inside Hill House at some point in the story. And there just so happens to be three Crain members still dwelling within its walls. So could any new characters stumble upon them, even as one of the ghosts creepily hanging out in the background of scenes? Flanagan hinted during the same TVLine interview that viewers shouldn't expect any Crain cameos of any kind — which seems to also include those currently haunting the house. "I don't really see a need to revisit those characters, even in cameos," he stated. "I want to remember them the way we left them, and leave them to their lives."
Understandably, this will come as somewhat of a disappointment for fans, who have come to view the Crain siblings like family. (Well, except for maybe Steven.) But this definitely echoes similar sentiments Flanagan has teased in the past when questioned about the future of the series. Back in October, Flanagan spoke on the matter to Entertainment Weekly, revealing that "as far as I've ever been concerned with this, the story of the Crain family is told. It's done."
That doesn't mean, though, that he's opposed to extending the series into new seasons and exploring new characters. "I think that there are all sorts of different directions we could go in, with the house or with something completely different. I love the idea of an anthology as well," Flanagan said to EW. "I think more than anything, the show is about haunted places and haunted people, as Steve says, and there's no shortage of either. So, there's any number of things we could do, in or out of Hill House."
Whatever happens, one thing is certain: Hill House still stands, which means fans should all be on the look out for hauntings ahead.