'The Haunting Of Hill House' Might Return For Season 2, But With One Major Change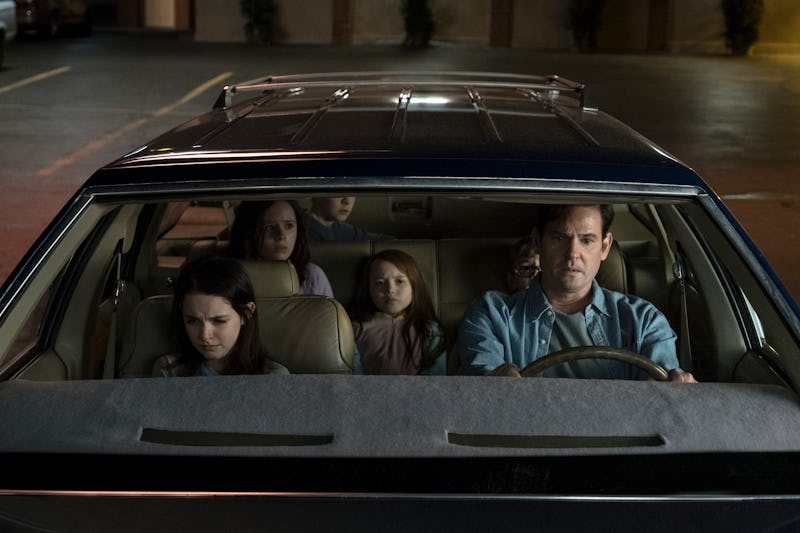 Steve Dietl/Netflix
If you've managed to get your heart rate to slow down to a normal speed and you're no longer sleeping with the lights on after watching Netflix's terrifying new horror series, The Haunting of Hill House, you're probably wondering if the show will come back for more. And while Netflix has yet to greenlight another round of episodes, the show's creator, Mike Flanagan, has teased the possibility of a Haunting of Hill House Season 2 — and he wants to the home's doors to open up for a brand new set of residents the next time around.
Spoilers for The Haunting of Hill House to follow. In an interview with Entertainment Weekly, Flanagan revealed that "as far as I've ever been concerned with this, the story of the Crain family is told. It's done." However, that doesn't mean that the writer/director isn't open to telling even more scary stories about the ghosts that haunt Hill House in the future — and the people who will be haunted.
"I think that there are all sorts of different directions we could go in, with the house or with something completely different. I love the idea of an anthology as well," Flanagan said. Later in the interview he added, "I think more than anything, the show is about haunted places and haunted people, as Steve says, and there's no shortage of either. So, there's any number of things we could do, in or out of Hill House."
The Haunting of Hill House — which is based on the legendary horror novel by Shirley Jackson — centers on the aforementioned Crain family, who begin to experience horrifying paranormal incidents while living in the creepy house, which results in the death of the family's matriarch, Olivia (Carla Gugino). 26 years after they left the haunted home, siblings Steven (Michel Husiman), Shirley (Elizabeth Reaser), Theo (Kate Seigel), and twins Nell (Victoria Pedretti) and Luke (Oliver Jackson-Cohen) return to Hill House after a shocking tragedy, and have to confront the demons — sometimes literally — that have haunted them since their childhoods.
But while there's still plenty of trauma and heartbreak for the family to work through at the end of Season 1, Flanagan thinks that the Crains' story had a satisfying ending. "I felt like the Crains have been through enough, and we left them exactly as we all wanted to remember them, those of us who worked on it."
He added, "We toyed with a cliffhanger ending and we toyed with other ideas, but ultimately, in the writers' room and with the cast and everything else, we really felt like the story demanded a certain kind of closure from us and we were happy to close the book on that family."
But while the Crains' story may have come to an end, The Haunting of Hill House's central themes of grief, mental health, and the ways they can affect us throughout our lives lend themselves to plenty of other stories. And there are plenty of other families worth haunting.
"I think grief is such a universal experience that when we were in the writers' room, every one of the writers at the table had their own perspective on it that came to bear with this," Flanagan said, "And that's something that jumped out immediately that yeah, when you talk about ghosts and you talk about what gothic horror can do, this is an incredible opportunity to really lean face first into some of the saddest and darkest things that we all deal with."
In other words: there's still plenty of ways for a potential Season 2 of The Haunting of Hill House to infect all of our nightmares once more — just make sure to watch any future episodes with the lights on.