Hello Kitty Fans Will Love These Sunglasses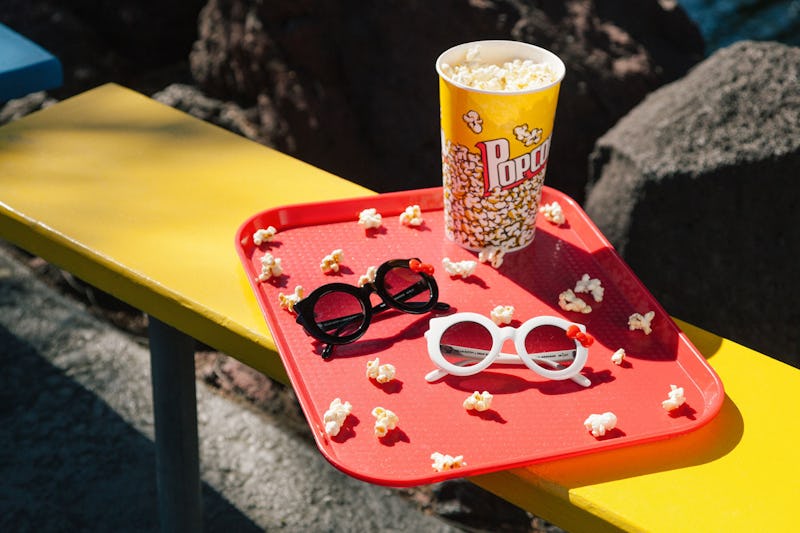 Photo by Daria Ritch
There's nothing like blast-from-the-past nostalgia to remind you of your childhood, and I'd say the Hello Kitty x Crap Eyewear collection is pretty much the perfect way to relive your Hello Kitty days as an adult. Even if you're not a diehard fan, there's no denying the adorable white cat has serious fans, both young and old alike. And who can blame them when it means adorable collabs like the set of four pairs of sunglasses Crap Eyewear is releasing with Hello Kitty.
Crap Eyewear is a millennial favorite for its on-point trendy sunglasses like light tint and throwback '90s shades, so it's no surprise it's turning to another '90s favorite, Hello Kitty, in its latest collab. According to the company, the collection was "inspired by Hello Kitty's iconic color palette and fashion forward attitude," which I love. It includes four retro pairs of shades, all with an homage to Hello Kitty. The Hanoi Weekend style is the most Hello Kitty-themed version of the bunch, with its adorable ears and bow. But the retro Wild Gift and Love Tempo styles are more subtle — they embody the kitschy feel of Hello Kitty perfectly. Plus, each pair comes in an adorable print zipper case featuring Hello Kitty herself.
Check out how cute these are.
Each of the pairs retail for $76, and they're available on the Crap Eyewear and Sanrio websites as well as in select retail stores. Here's a rundown of what the collab includes.
The Hanoi Weekend in White, $76, crapeyewear.com
I'm loving this pair, which is the most Hello Kitty-esque of the bunch.
The Hanoi Weekend in Black, $76, crapeyewear.com
Want something a little more subtle? This black pair is the perfect solution.
The Love Tempo, $76, crapeyewear.com
"60s mod meets 90s grunge" is the way Crap Eyewear describes this pair, and I love the bright blue color.
The Wild Gift, $76, crapeyewear.com
This '50s-style cat eye pear is so retro, but I love the updated millennial pink hue.
If you're a Hello Kitty Fan (or just love retro shades), I'd get this collab before it sells out.