The New Hello Kitty x Lazy Oaf Collaboration Is Too Cute For Words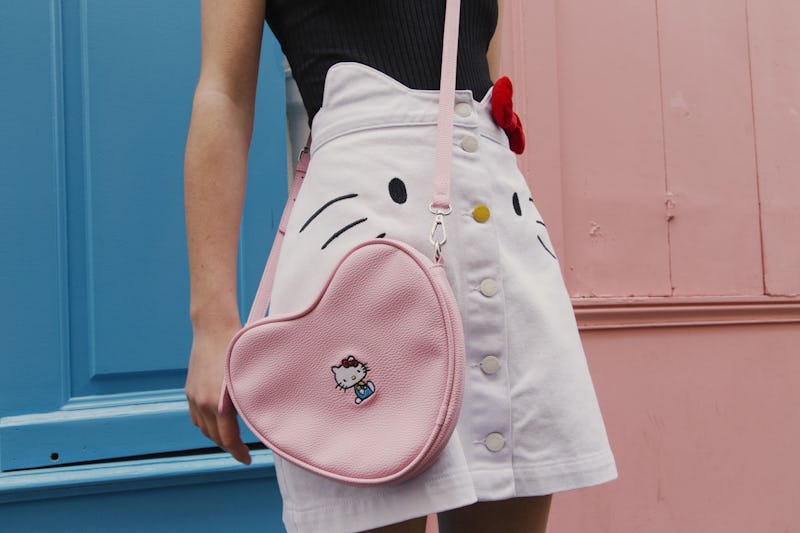 Courtesy of Lazy Oaf
If you gush over all things Hello Kitty, get ready to shop one of Sanrio's cutest collaborations yet. British streetwear brand Lazy Oaf has partnered with Sanrio to create a 16-piece Hello Kitty clothing collection that is just too cute.
Head designer and Lazy Oak founder Gemma Shiel has loved the Hello Kitty brand every since her Japanese friend brought a Hello Kitty pencil case and pen set to school back in the 1980s, so the Hello Kitty x Lazy Oaf collection is near and dear to Shiel. The collection's design is inspired by the 1970s and 1980s, with each piece having sort of a vintage vibe to it and resembling some of the original Hello Kitty products.
From a dropped shoulder pink denim jacket and high-waisted jeans to pinafore overalls, the collection has crazy cool vintage vibes. However, it still looks contemporary for the classic Hello Kitty brand.
While both Lazy Oaf and Sanrio have been teasing the new collab on social media, it doesn't come out until June 15. No word on the pricing of each piece, but everything is so cute, you might want to set your alarm so it doesn't sell out!
Embrace your childhood Hello Kitty memories with the new New Hello Kitty x Lazy Oaf Collaboration.
1. Frilly Denim Jacket
Make a bold statement with this pink denim jacket.
2. Oversized Waffle T-Shirt
Add a subtle touch of Hello Kitty with this fun icon shirt.
3. Denim Skirt
This is definitely a new take on the white denim skirt.
4. Bow Tie Cap and Long Sleeve Spilt T-Shirt
Matching Hello Kitty hat and sweatshirt?! Don't mind if we do.
5. Oversized Hoodie and Gingham Trouser
These black and white checkered bow pants are seriously adorable!