You'll Be Over The Moon For 'Hidden Figures' Music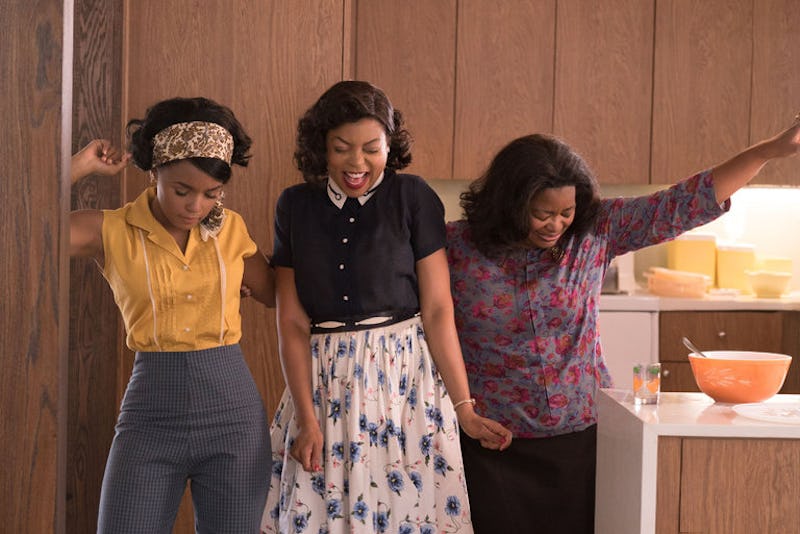 20th Century Fox
Has there ever been a more fitting title for a film than Hidden Figures? Everyone knows the first American to orbit the Earth was the late John Glenn, but most people, myself included, had no idea that he wouldn't have been able to do so without the help of three African American women. The unheralded trio of NASA mathematicians (Katherine Johnson, Dorothy Vaughan, and Mary Jackson) are finally revealed to the masses in the new film, and the movie's music, in the Hidden Figures soundtrack, helps tell the long-overdue story.
The movie's music, with has a retro soul feel to match the era in which it takes place, was curated by Pharrell Williams, who also served as a producer on the film. Williams wrote new songs for the movie, and also performs on eight of the ten tracks. Accompanying him are Alicia Keys, Mary J. Blige, and Janelle Monáe; who also portrays Jackson in the film. You can check out the full track list below:
"Runnin'" by Pharrell Williams
"Crave" by Pharrell Williams
"Surrender" by Lalah Hathaway and Pharrell Williams
"Mirage" by Mary J. Blige
"Able" by Pharrell Williams
"Apple" by Alicia Keys and Pharrell Williams
"Isn't This The World" by Janelle Monáe
"Crystal Clear" by Pharrell Williams
"Jalapeño" by Janelle Monáe and Pharrell Williams
"I See a Victory" by Kim Burrell and Pharrell Williams
When it came to writing the music for the film, Williams told The New York Times, "This was the universe warming up my mind and my faculties, to prepare myself to be able to write songs that spoke for it. It's crazy — the universe just took me by the hand and walked me." That's certainly an epic endorsement of the soundtrack, so for a better idea of what Williams is talking about, here's his song "Runnin.'"
The women featured in Hidden Figures are finally getting their moment in the sun after having their contributions to the Space Race swept under the rug for decades; and they've got some pretty great music to accompany their big arrival.