The 'High School Musical 3' Ending Was SO Much Better Than You Remember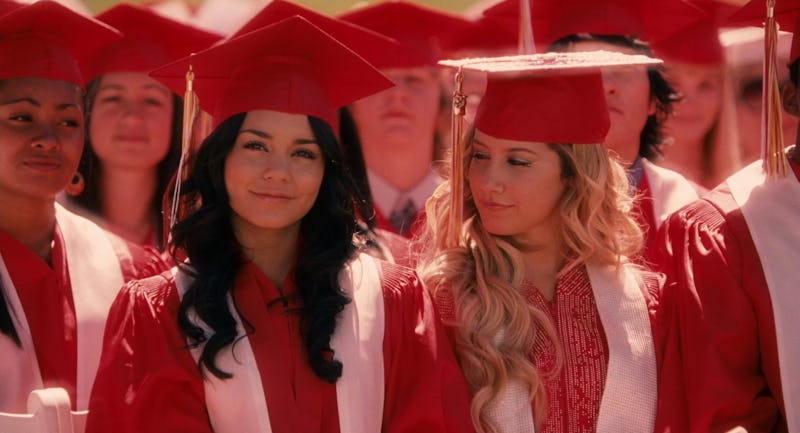 Disney
High School Musical 3: Senior Year is turning 10 years old, meaning that Troy, Gabriella, Ryan, Sharpay, Kelsi, Taylor, and Chad should be dusting off those Wildcats jerseys and getting ready for a reunion. From 2006 to 2008, the franchise gave fans everything from karaoke jams to killer memes to the gift that is Zac Efron, but what you might forget is that High School Musical 3: Senior Year had a pitch-perfect ending. On the anniversary of the film's release, let's take a minute to appreciate just how well the franchise went out, jazz squares and all.
In the finale of Senior Year, the drama kids at East High — which has now expanded to include members of the Chemistry Club and the basketball team — put on a musical inspired by their own lives. In the musical within a musical's final scene, theater teacher Miss Darbus takes the stage to announce where all of the students will be going to college. She also reveals which kids have been awarded scholarships to the Julliard School by two recruiters who were in the audience making their final decision. It's goofy. It's totally not how the admissions process works. And it's perfect.
The whole HSM series had a lot of great qualities; it used bubble-gum pop tunes to teach kids that it was OK to have multiple interests and talents, and it challenged gender norms by saying girls can be S.T.E.M. nerds and like to sing, while boys can play sports and love to bake. But the finale of the franchise brought it all home in the absolute best way, and here's how:
It Gave Us Closure
High School Musical 3 introduces the next generation of East High drama students: Jimmie Zara and Tiara Gold. Both of these characters have their moments in the finale. You can imagine that High School Musical 4 would have focused on their musical adventures — but there aren't any cliffhangers or set-ups for future films, and the new characters don't distract from the Wildcats we've been following all this time. This ending allows the fictional world of East High to live on without dragging it on forever.
Sharpay Finally Found Her Own Spotlight
"Playing a role is easy," Miss Darbus says at the beginning of Senior Year. "But being yourself, that's a challenge."
How meta is it that, in the finale, Sharpay has to "play" Gabriella after trying to steal her songs for so long? Since she's the villain of the franchise, her comeuppance is actually heartwarming as she finally learns to wait for her moment rather than taking someone else's.
It Echoed The Original
As they've done since their very first audition, Troy and Gabriella show up late. The finale also brought back some classic High School Musical basketball choreography, and featured a reprise of "We're All In This Together." It's a perfect mix of nostalgia and new.
The Scholarships Went To The Right People
Do you ever just stop and think about how Kelsi and Ryan, not Troy and Gabriella, get the Julliard scholarships? The two students at East High who actually are the most gifted in the performing arts get what they actually deserved — amazing! And besides, Troy and Gabriella's journey to self-discovery through theater was never about being the best, anyway.
It's also wonderfully baffling that this threequel takes time to highlight talent behind the scenes (composing and choreography) too. Kelsi Nielsen is the real hero of the High School Musical franchise. She has been writing full-length musicals for her entire adolescence. One can only imagine that, 10 years later, Kelsi would be palling around with Lin-Manuel Miranda after receiving a prestigious theater award.
Ryan would likely go on to great things, too, as he went on a real journey from the original High School Musical to Senior Year. He started off doing his sister's billing to stay in the spotlight, but ultimately dropped his ego and found real creative fulfillment by working with others.
Troy & Gabriella Made A Mature Decision That Was Still Romantic AF
Another great aspect of this ending is how Gabriella doesn't abandon her scholastic/career ambitions just to be with her high school boyfriend. She and Troy don't break up at the movie's end, but neither of them sacrifices anything to stay together in college. If anything, Troy chooses a school to be closer to her. We stan a feminist ally, y'all!
Troy also clearly appreciates the work that goes on backstage to make theatre and the performing arts happen. Just look at how he's appreciating the fly rail in "Scream."
It's amazing to see just how much the HSM cast has achieved since they said goodbye to the franchise. Efron has achieved superstardom, particularly in comedy, and he finally did another movie musical last year, The Greatest Showman. Lucas Gabreel became a CW mainstay on Switched At Birth, while Ashley Tisdale and Monique Coleman have worked behind the scenes; Coleman produces her own talk show, and Tisdale was an EP on Young & Hungry. Meanwhile, Olyesa Rulin has written a collection of poems.
And then there are Corbin Bleu and Vanessa Hudgens, who have both had illustrious musical theatre careers. Hudgens made her Broadway debut in 2015 with Gigi, played Rizzo in Grease! Live, and in March of this year did a production of In The Heights at the Kennedy Center opposite Anthony Ramos. Bleu was a replacement for an In The Heights character on Broadway, and took on Holiday Inn in 2017. He is set to star in an upcoming revival of Kiss Me Kate as well.
It's always nice when a movie just feels right at the end, and only one epic team (WHAT TEAM?) could pull that off this way. By somehow being a total fantasy and gratifying in its realism at the same time, High School Musical 3 gave fans the ending they deserved.