Fans Will Totally Relate To Whitney Port's Comments About 'The Hills' Without Lauren & Kristin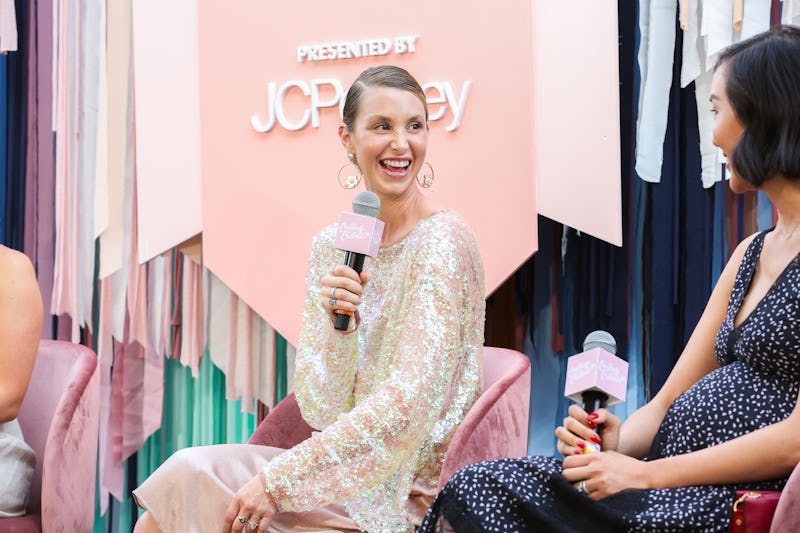 Robin Marchant/Getty Images Entertainment/Getty Images
If you were a teen or young adult back in 2006, odds are you watched The Hills, and if not, then you definitely heard all about it. MTV's reality show spinoff of Laguna Beach was a huge hit, and laid a foundation for many reality shows to follow. Now, MTV is bringing back the iconic show in The Hills: New Beginnings, but the entire cast won't be returning. And star Whitney Port's comments on Lauren Conrad and Kristin Cavallari not being on The Hills reboot shows she's just as bummed as the fans are.
"I mean, they were the main people on the show," Port recently told Us Weekly. "I thought it would be so fun for everybody to get together and reunite and all catch up. So yeah, I was definitely bummed, but I totally understand the various reasons why they wouldn't or couldn't... I would love for them to."
Eight years after The Hills series finale aired, it was announced that The Hills is coming back to MTV. And while a lot of the original cast is coming back, those two main stars aren't. Conrad, known as "L.C." when she first debuted on reality television, and Cavallari were not only original members of the show, they were the leads. After appearing on Laguna Beach: The Real Orange County back when she was in high school, Conrad became the narrator and star of The Hills, which she starred on until her departure in Season 5. Cavallari was also on Laguna Beach, and joined The Hills just as Conrad left, effectively taking her place as the narrator and central focus in Seasons 5 and 6.
Conrad will not be appearing in the reboot, or any reality TV for that matter. The fashion designer and lifestyle guru has a one-year-old son, Liam, and a pretty success career without putting her personal life on television. People reported that a source explained her absence from the reboot, saying, "She's in a different place in her life. But she wants everyone to enjoy themselves. She wishes everyone the best." Meanwhile, Cavallari is busy with her new reality show Very Cavallari on E!, which just got picked up for a second season.
As for Port, she didn't appear on the VMA's red carpet for the announcement of the reboot, but confirmed on Instagram that she would be back for The Hills reboot. Port was a main character on The Hills for the first four seasons, then went on to move to New York City for her spinoff series The City, which lasted two seasons.
Looking back now, Port revealed in her interview with Us that the shows were "great launching pads" for all her current success. "I feel like being able to share who I was helped me create this community that I have now that I love so much." That said, she still took her time to think before committing to the reboot. "So I was really scared, and not immediately like, 'Yes, let's do this,'" she told the magazine. "I had some reservations just because I have a family now, and a lot more to protect than when I was 25 years old."
It's unclear how much her husband, Tim Rosenman, and her one-year-old son, Sonny, will appear on the show — if at all. Her family life is clearly one of the things she has to "protect," but Port also knows that if she wants to share who she is with the world again, she'll have to show a bit of family life. "I don't need him [Sonny] to be plastered all over the TV, but obviously being a mom is a big part of who I am," Port said. "So I feel like it wouldn't really make sense to not show that angle."
It certainly sounds like fans will get to see all angles of Port's life when The Hills: New Beginnings premieres, just don't expect any frozen yogurt trips with L.C. or fights with Kristin.