A 'The Hills' Reboot Is Officially Happening & Here's Who's Coming Back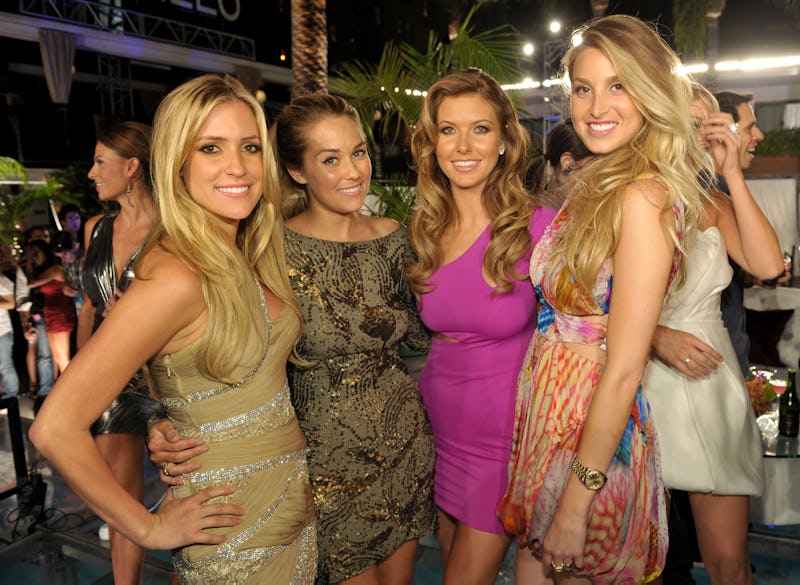 John Shearer/Getty Images Entertainment/Getty Images
As if the night of the 2018 VMAs wasn't huge enough, MTV announced during the show that a reboot of The Hills is happening. Members of the original cast hit the red carpet for an epic reunion, and on the same night, the trailer dropped officially announcing the revival, called The Hills: New Beginnings. Who will be involved? Will LC and her iconic tear make a comeback? And now that so many cast members are grown up with loved ones and kids, who will break all the hearts?
The ambiguous trailer, which opens with aerial views of Los Angeles, is set against an acoustic version of the show's iconic theme song, Natasha Bedingfield's "Unwritten." Stephanie Pratt's voiceover emerges, saying, "It's like we're all growing up. It's weird." In that case, it's safe to assume some of the OG cast members will return, if not all.
The 2018 VMAs were a portal straight into 2006, when cast members Heidi and Spencer Pratt, Audrina Patridge, Jason Wahler, Justin Bobby, Stephanie Pratt, and Frankie Delgado reunited on the red carpet. According to People, the reboot will reunite The Hills cast members, "alongside their children, friends and returning favorites, and follow their personal and professional lives while living in Los Angeles."
It seems there may have been a change of heart among the cast somewhere along the line, namely for Spencer and Heidi. In an April interview, Kristin Cavallari revealed the two pulled out of the reboot (due to contract issues), despite the fact that MTV was "trying to get [them] all together" for a reboot.
After Laguna Beach, Cavallari further became famed in the reality TV world for her "The b*tch is back" slogan when taking over the show in place of departing star Lauren Conrad toward the end of the series. When it premiered in 2006, the Laguna Beach spin-off mainly chronicled Lauren Conrad's journey to making a name for herself in the fashion business, relocating to the City of Angels.
Things will certainly be different now. Bad boy Jason Wahler is now a husband and a dad, Speidi has happily welcomed parenting life, and Audrina Patridge is also a mom. As of now, it's unclear if original Queen Bees, Lauren Conrad and Kristin Cavallari (both wives and moms), will return to the reboot. (Especially since Kristin has her own show Very Cavallari on E!)
If there's one person who definitely won't be joining the reboot, it's LC's former BFF, Lo Bosworth. In a recent interview with Us Weekly, Lo denounced reality TV shows, like Kristin's, and how they create a toxic environment for women.
"I'm a feminist and I find that a lot of the storylines portrayed on reality television aren't particularly supportive of women or their missions in life or their businesses. So, it's just not something that's for me," she said. "I'm not interested in perpetuating a culture of drama around anyone or anything."
Regardless, MTV is amping viewers up for the nostalgic trip of a lifetime. So get ready for more life drama in sunny California.