This Video Of Whitney Port Singing 'The Hills' Theme Song Is A Flawless Early '00s Flashback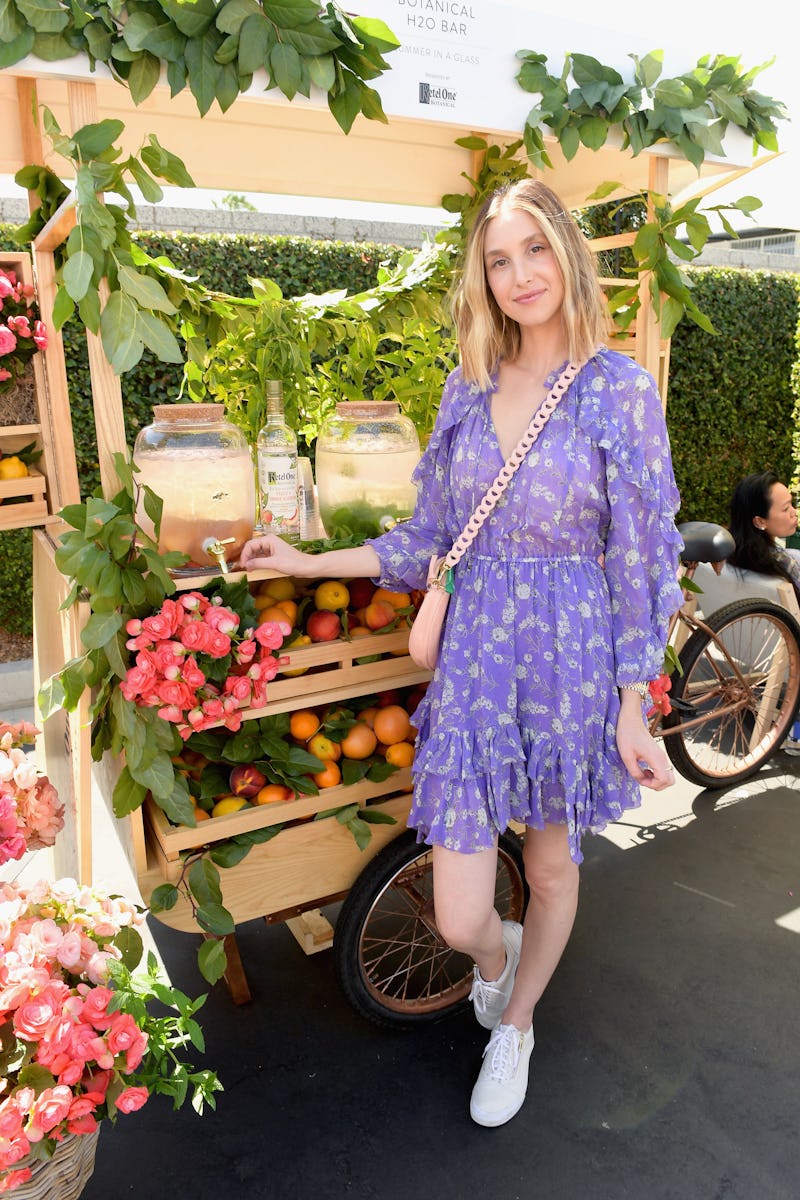 Matt Winkelmeyer/Getty Images Entertainment/Getty Images
It's been eight years since The Hills wrapped, but Whitney Port is giving fans a taste of the good ol' days. The reality star took to Instagram last Friday with a The Hills throwback plucked straight out of 2006. Which is mostly to say, this video of Whitney Port singing "Unwritten" during an impromptu jam session from behind the wheel of her car will probably have Hills aficionados feeling all kinds of nostalgic for the sun-kissed days of yore.
Why's that? Well, for starters, those pop culture fans who lived through the early 2000s would probably be hard-pressed to forget the iconic Natasha Bedingfield track, whose resurgence in Port's video alone is probably enough to give '90s kids some serious middle school dance flashbacks. Suffice to say, fans of The Hills will probably also have a pretty hard time forgetting that the song's nostalgia factor — in this particular case, at least — is two-pronged.
Because, as much as belting out the words to Bedingfield's liberating pop anthem is, well, liberating, all on its own, singing along to the song's chorus while The Hills' intro plays always seems to make the whole scenario even sweeter. Most fans of the reality series know this to be true — and were probably reminded of it on more occasion than one — since "Unwritten" doubled as The Hills' perennially catchy theme song for the duration of its run from 2006 to 2010.
Feeling sentimental yet? Those who've been toying with the idea of breaking out those DVD box sets from last decade (and diving back into the lives of the beloved Hills ladies for a little reunion tour, obviously) for a while now might want to stop delaying the inevitable. If Porter's blast-from-the-past on Instagram is any indication, it looks like now might be the perfect time to kick off that mini Hills marathon you never thought you'd get around to.
And speaking of the video, Porter first posted it to her Instagram story Friday, June 13, though the social media platform's 24-hour turnover time means fans can't actually watch it via the reality star's IG account anymore. That being said, Porter's video has since been reposted by a different account, so fans eager to witness this iteration of early-2000s throwback magic can still do so that way. Porter's video opens on the cheery Hills alum rocking out to Bedingfield's track while seated behind the wheel of her car. Suffice to say, as the "Unwritten" chorus begins, Porter's video clip sees the star do what pretty much anyone in her position might. (Enthusiastically sing every lyric at the top of her lungs, of course.)
"Feel the rain on your skin /no one else can feel it for you," Porter sings into her smartphone camera, clearly feeling the music. And, really, who can blame her? Much like Porter went on to show fans in the video, many of us know the words, too. "Only you can let it in/No one else, no one else, can speak the words on your lips," she finished.
It's not until after Porter's vocals have taken center stage in the video that viewers realize she's not alone. Hardly a second after she stops singing, the star glances up at the rear-view mirror, presumably addressing someone in the back seat. Porter's backseat passenger turns out to be her 11-month-old son, Sonny, who'd apparently been listening to his mom's spontaneous Bedingfield cover performance the entire time. And just in case her joy in the video isn't clear enough already, Porter reaffirms it for us toward the clip's end. "Sonny," she tells the baby, "this is momma's song."
Sonny's face doesn't make an appearance in Porter's Hills-inspired video. But, rest assured, fans who'd like to get a better look at the angel-faced baby can pretty easily do so with a quick scroll through Porter's Instagram feed, where Sonny's been making some truly adorable cameos lately. As far as wholesome content is concerned, here's to hoping there's a lot more mom-and-baby hangout sessions where this one came from. It seems pretty safe to say Sonny's still a little too young to watch his mom do her thing on The Hills, but, hey, at least Porter can still get him acquainted with the theme song.