Why Kristin Cavallari's New Show Will Still Be Dramatic Without Your "The Hills" Faves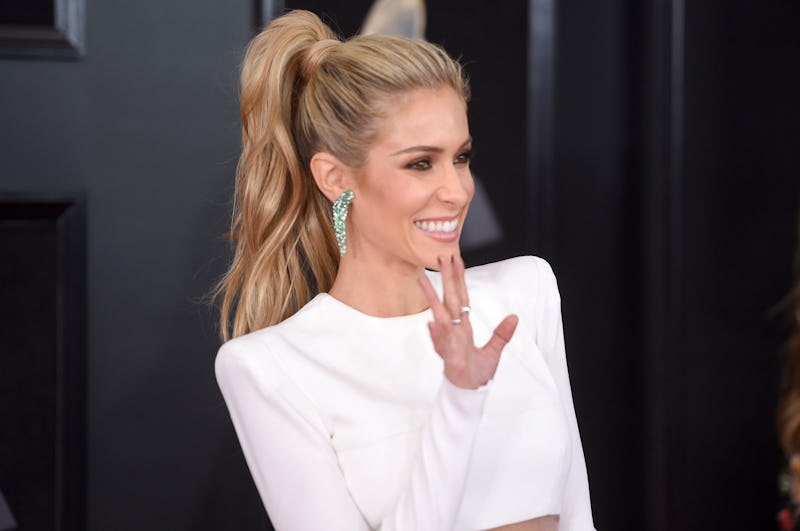 Jamie McCarthy/Getty Images Entertainment/Getty Images
Show me a millennial who didn't watch Laguna Beach or The Hills growing up in the aughts, and I'll show you a millennial who didn't have a television at home. Laguna Beach and The Hills launched the careers of many a reality star-turned-entrepreneur: Lauren Conrad, Spencer Pratt, Heidi Pratt née Montag, Brody Jenner, Audrina Patridge, and Whitney Port immediately come to mind. For the past few years, The Hills alum Kristin Cavallari has chosen to stay out of the limelight, becoming a wife and mother instead. But now she's back with her own show, Very Cavallari. And given her reality roots, it's fair to wonder if anyone from the cast of The Hills will be on Very Cavallari.
Very Cavallari follows Kristin and her husband, former NFL quarterback Jay Cutler, as they move to Nashville and launch her lifestyle brand, Uncommon James, across the country. Kristin has hired a whole staff for the expansion from jewelry into… everything else that a home could need, and of course, there will be drama. The previews for the first episode show her staff fighting, so that is definitely something Kristin has to figure out before her business hits the big time. But if there were that much drama, Kristin could easily fold some of her Hills cast members into it — it would be easy, even if they don't work for her company.
Kristin recently told Page Six that she would be "totally open" to a Hills reunion and that she and new-ish mom Heidi should totally have their kids hang out. "I think it would be really funny," Cavallari told Page Six. "Heidi and I talk all the time about getting our kids together, so I would totally be open to a playgroup." That being said, it doesn't seem like Heidi, Spencer, and the rest of The Hills gang are making the trip to Nashville to see Cavallari to, I don't know, yell at her for dancing on a bar in Mexico. For one, Kristin seems way past that.
In an interview with Us Weekly, Kristin explained how Very Cavallari is so not Laguna Beach or The Hills. "This time around, it's really nice for me because I am an executive producer, I sort of have that security blanket, and it allows me to just film freely and not have to worry about things I was saying," she said. "Having some creative control and really working with a team of people that respect my decisions was really great. It was a really enjoyable experience for me."
Whereas on The Hills she played a character, Kristin said, on Very Cavallari, it's all her. "I think this is the first show that I can really get behind and say this is in fact me. Even though coming from reality TV, I could never really say that. So that's nice for me," she told Us Weekly. "It's the grown-up Kristin, and you get to see me as a boss now, and sort of handing the torch over to everybody else to allow to take the lead on the drama front. It's not necessarily about my personal drama, which is very nice."
This is important, because, according to an interview with PEOPLE, Kristin was extremely unhappy with the way she was portrayed on Laguna Beach. I didn't know what I was getting into," she told the magazine. "I was just going about my life and doing what producers were asking me to do. When I saw the first season, I was devastated about how I was portrayed." Very Cavallari is Kristin's chance to do it all on her own terms.
For now, time, distance, motherhood, and a need to break free of personal drama seem to be holding Kristin back from inviting the cast of The Hills on Very Cavallari. She's opened a new chapter in her life, and there's no need to go back.