The Underwoods Appear At The Tonys With Lin-Manuel Miranda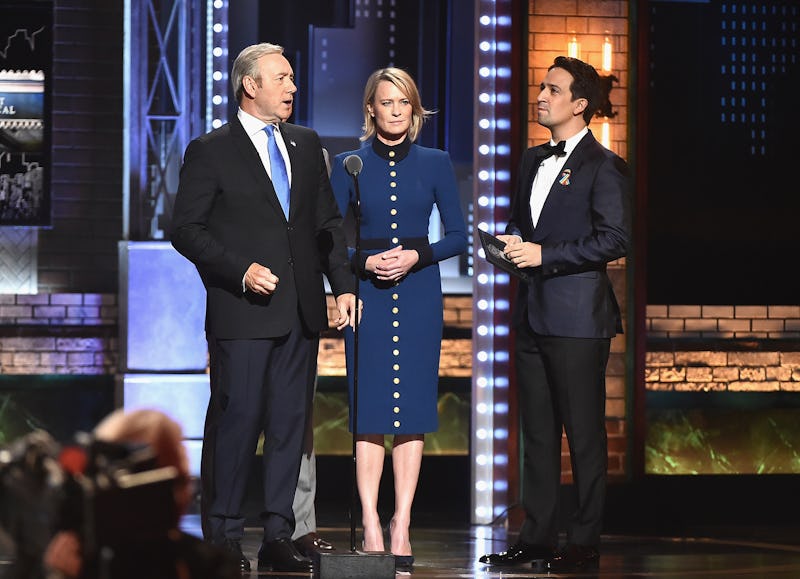 Theo Wargo/Getty Images Entertainment/Getty Images
Kevin Spacey's first go at hosting the Tonys was a little uneven, cratered by a few awkward impressions and a slightly strange show overall. But like the ceremony itself, Spacey saved his biggest bit for the final moment, when Frank and Claire Underwood appeared at the Tonys opposite Lin-Manuel Miranda in order to present the best musical award to Dear Evan Hansen. I mean, if there was anything that could have made the moment better, it's that Claire is obviously the best Underwood, and Robin Wright didn't get the chance to deliver a single line. It makes sense that Doug Stamper (Michael Kelly) would be silently watching in the background, since that's kind of his whole deal, but Claire could have had a little more to do.
At first, it seemed as though the night's last big appearance would just be Hamilton star and creator Miranda, who returned from filming Mary Poppins Returns in the U.K. just in time to appear at the Tonys. The show withheld him all night long, refraining from cutting to him in the audience, backstage with shadow host Rachel Bloom, or alongside either of the other Hamilton veterans who attended the show, Leslie Odom, Jr. and Christopher Jackson. And his introduction was a bit subdued for a guy who usually has at least three exclamation points at the end of his sentences. But it was a kind moment for the other writers, directors, and producers who were waiting to find out if their shows would be Hamilton's successor. Miranda began by saying, to all of the nominees, "Congratulations, you already won" and "During difficult times musicals have … given us hope."
Turns out, it takes a fictional president and first lady that the audience just spent 13 hours watching to upstage Broadway's biggest star, and to give an unsteady host a final win. Spacey seems most comfortable in Frank Underwood mode lately, and when he turned to look into the camera, it got a big reaction. But I can't help but think that it should have been Claire who quipped about Bette Midler's lengthy speech or thanked Miranda for appearing by their side, especially after Wright's small but pivotal role in Wonder Woman making her an even bigger feminist role model than she was before. But for just a momentary appearance, the Underwoods' surprise cameo was certainly a great way to end the show.