The 'I Am Heath Ledger' Trailer Is Truly Heartbreaking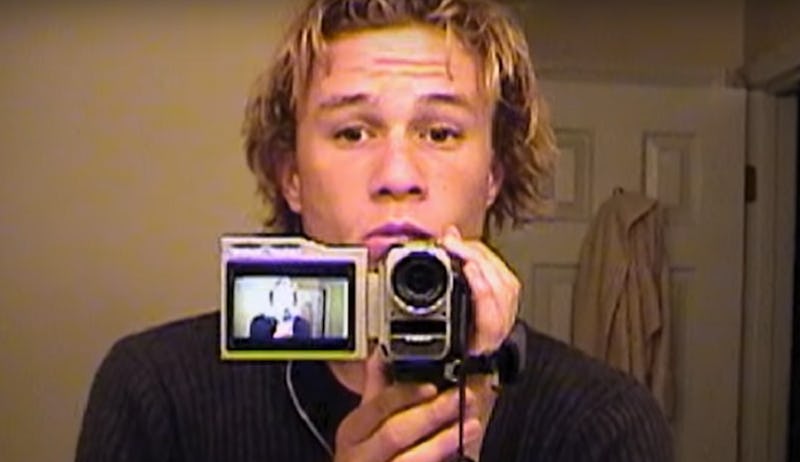 If you can still vividly remember exactly where you were when you first heard about Heath Ledger's untimely death, then prepare to revisit some pretty heavy feelings. On Tuesday, the first trailer for I Am Heath Ledger was released, and it's truly heartbreaking. Providing an intimate portrait of the late star's life as told by his friends, family, and home videos, the Spike TV documentary looks like it'll deliver an incredibly stirring tribute. Based on the trailer, the movie will celebrate Ledger's rare talent as an actor, and the enduring legacy of some of his greatest performances.
Featuring interviews from people such as Ang Lee (who directed Brokeback Mountain), model Christina Cauchi (who apparently once dated Ledger), actor Ben Mendelsohn, and Ledger's sister Kate, the trailer is full of outpouring of love for the actor, as well as his talent.
At the start of the trailer, musician Ben Harper says of Ledger, "Heath was the most alive human, and if it wasn't on the edge, it didn't interest him," which is an idea that the trailer seems to capture in regards to the actor's professional and personal life. Because both of these things were always apparent in how Ledger delivered a performance. He was full of life and energy, often with a fresh approach to a character that made him utterly compelling to watch. That was his edge, and it was truly a tragedy to lose such an artist when his talents were only just beginning.
Ledger died on Jan. 22, 2008, at just 28 years old. He'd just finished filming what would become not just one of the most iconic roles of his career, but one of the most iconic performances of all time as the Joker in The Dark Knight. Nuanced, effortless, and unnervingly captivating, Ledger did something with the character that was truly innovative and exciting. Though initially fans didn't want Ledger playing the Joker, he quickly and incredibly proved their doubts wrong.
By that point, Ledger had been surprising audiences for his entire career. He was undoubtedly a Hollywood heartthrob with the sort of enigmatic charm that causes mass swooning in theaters, but it was something that most of his performances never rested on. Instead, Ledger was clearly an artist interested in pushing his craft beyond his boyish good looks, and inhabiting his characters in such a manner that you stopped seeing the man behind the portrayal.
And that's a rare talent from a such a mainstream actor. Particularly one who was sometimes thrust (perhaps uneasily) into the gossip columns and flash bulbs of fame, where a person's celebrity can often intrude on and spoil their depictions of a character. But this was never the case with Ledger.
In the 10 years that Ledger enjoyed a varied Hollywood career, he was able to bring a lot of heart and humor to a cliched bad boy (10 Things I Hate About You), fully embody the tragedy of repressed sexuality (Brokeback Mountain), appealingly reinvent the archetype of the knight for modern audiences (A Knight's Tale), and provide a complex rumination on the life and work of Bob Dylan (I'm Not There).
Like many fans, I was absolutely devastated when I heard that Ledger had died. Sitting alone in my bedroom, I heard the news on the radio and immediately burst into tears, a little embarrassed that I was getting so upset over a man I'd never met. But Ledger was an inspiration, and in hindsight, I think I simply understood how much of a rarity the actor was, and how rewarding I found every last one of his performances to be. I wasn't just mourning the shock and tragedy of such a death, but the loss of a supreme talent that had a great deal more to give to the world.
From the looks of the trailer, I Am Heath Ledger is perfectly poised to pay a loving tribute to these facts, and to acknowledge what a tremendous loss of life and artistry his death was. And suffice to say, our hearts are likely to break all over again when the documentary premieres on Spike on May 17.