'SNL' Calls Ivanka Trump's Fragrance "Complicit"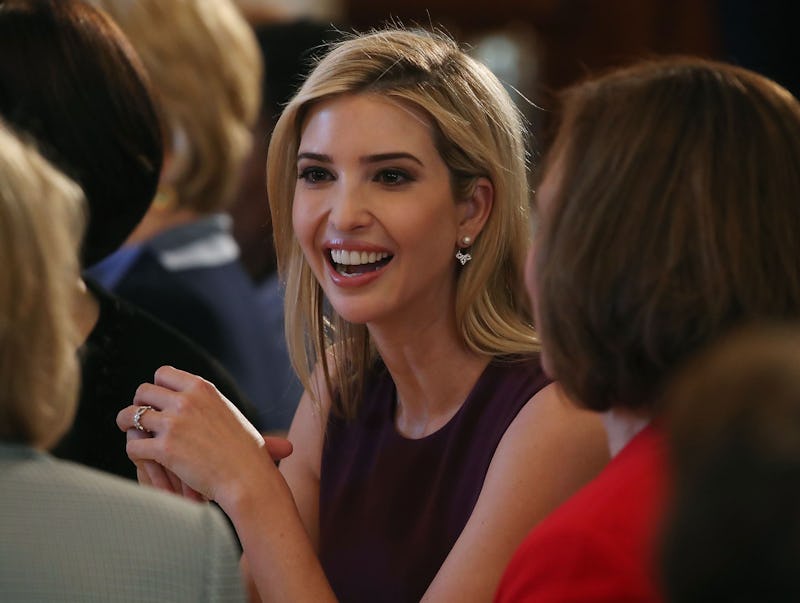 Mark Wilson/Getty Images News/Getty Images
On March 11, Saturday Night Live host Scarlett Johanssen stepped into the shoes of Ivanka Trump for a parody that questioned the First Daughter's feminist beliefs. The Ivanka Trump "Complicit" fragrance sketch on SNL made a biting allegation, calling the businesswoman "a feminist, an advocate, a champion for women, but, like, how?" These allegations from SNL, made in the narration of the parody commercial, challenge what the younger Trump has stated in the past. Last year, Ivanka told Harper's Bazaar that she considered herself a feminist and told the Sunday Times that she thought her father President Donald Trump is a feminist, too.
The humorous SNL fragrance commercial satire also pointed out that the fictional perfume is "the fragrance for the woman who could stop all of this, but won't," referring to the current policies of her father in the White House. Even the name of the perfume is a bit of a burn, because the word "complicit" means "helping to commit a crime or do wrong in some way," according to the Merriam-Webster Dictionary. Yikes. This sketch clearly states SNL's own opinion on Ivanka Trump, which alleges that "she doesn't crave the spotlight, but we see her. Oh, how we see her."
Ivanka Trump has publicly discussed her feminist views in numerous interviews. In the aforementioned Harper's Bazaar interview, Ivanka talked about her #WomenWhoWork initiative, which stands up for working mothers, and she has written a book on it as well. "It's about celebrating women and their personal choices," she told the publication, while stating that she is "absolutely" a feminist.
In the Sunday Times interview, Ivanka credited President Trump for being "a big reason I am the woman I am today." She continued her praise for her father, saying, "He always told me and showed me that I could do anything I set my mind to if I married vision and passion with work ethic. He's surrounded me with strong female role models who have done just that since I was a little girl."
There are many opinions about what makes someone a feminist, but the SNL sketch clearly states that the series is wondering about Ivanka Trump as one.