The Jonas Brothers Just Announced Their New Album's Release Date & It's Coming So Soon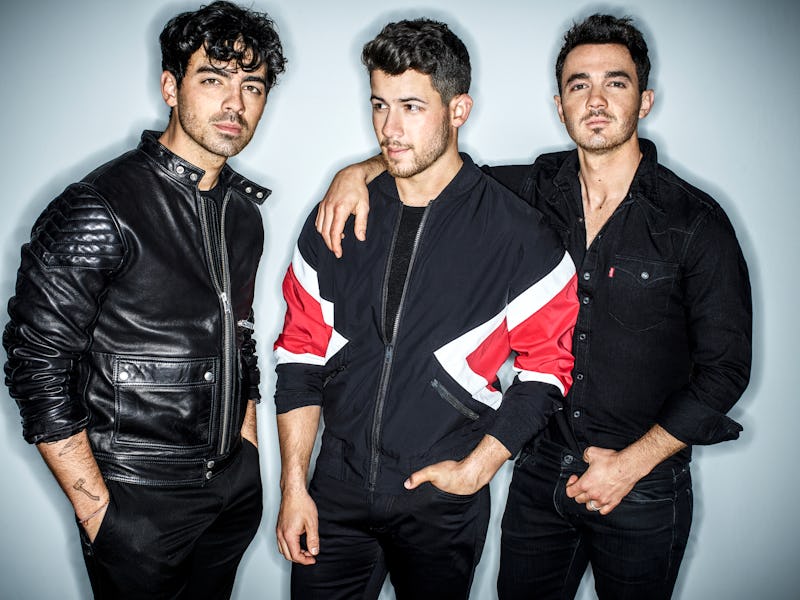 Republic Records / Peggy Sirota
The Jonas Brothers' return has surpassed even their biggest fans' expectations. Their comeback single "Sucker" made them the first band this century to debut at number one on the Billboard Hot 100, according to a press release obtained by Bustle, and they might just make history once again with their latest announcement. The Jonas Brothers' new album Happiness Begins will be released on June 7, as announced by the band on Monday, April 22. It will be their first album in nearly a decade, after 2009's Lines, Vines, and Trying Times, and their fifth overall.
The JoBros gave fans a first look at the album cover on Monday, which shows them lounging by the pool as they take in the scenic mountain view of Los Angeles, also known as literal paradise. The Coachella vibes are strong here. Nick, Joe, and Kevin Jonas all took to Instagram to share their excitement about the news. "Can't wait for you guys to hear this album!," Joe exclaimed. But it was Kevin who gave the most heartfelt message.
"After 7 years of not working together living life and finding ourselves in our own paths we came back to give you our journey in album form," he wrote on Instagram. "I'm so excited for you to hear Happiness Begins out June 7th. I have to say out of all the albums we have done together I'm the most proud of this one." He concluded his message with a reference that only OG fans will pick up on. "I wish I could hand it to you now but you will just have to wait a little bit longer." ("A Little Bit Longer," get it?)
The boys also posted a video to Twitter, in which they individually shared just how excited they were for their official return. "We worked so incredibly hard on this," Kevin said, before Nick continued, "making sure that we brought you all the joy and happiness you bring us everyday, so thank you. Can't wait for you to hear it." Joe added, "It's going to be insane," before sharing his favorite tracks on the album — well, kind of. Joe's significant other, Game of Thrones star Sophie Turner, also made a quick appearance in the video, echoing what every JoBros fan thinks of the news: "It's lit!"
Accordingly, fans are absolutely freaking out now that a new Jonas Brothers album is officially on the horizon, something that many fans thought they would never receive again after their initial split in 2013. Happiness has truly begun.
Happiness Begins is far from the only project that the JoBros has lined up. According to a press release obtained by Bustle, the band is also working on a new documentary about their reunion, which is set to premiere later this year on Amazon Prime Video. The band will also make their Saturday Night Live debut on May 11, and give their first awards show performance in over a decade at the Billboard Music Awards on Wednesday, May 1. There's a lot of first times happening for Kevin, Joe, and Nick, making 2019 truly feel like 2006 again.