Fans Think This Clue Means The Jonas Brothers Are Getting Back Together In 2018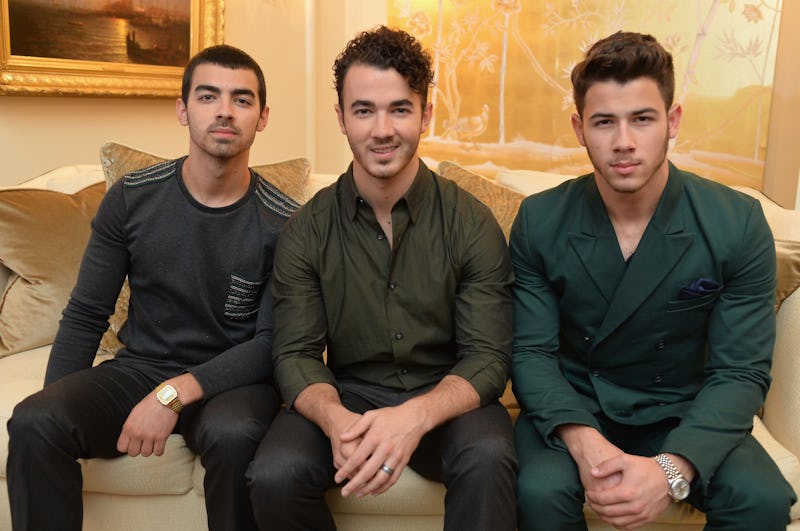 Mike Coppola/Getty Images Entertainment/Getty Images
Twitter is burnin' up with the news that the Jonas Brothers could be reuniting. After the Jonas Brothers reactivated their Instagram account on Jan. 15, fans started wondering if they should expect new music from the band. It's true that, after splitting up in 2013, the brothers have only maintained their own separate Instagram accounts — so this does seem like a sign that Kevin, Joe, and Nick Jonas are working on something. And, if that's true, then, whatever it is, people are already excited.
Fans noticed that the Jonas Brothers were back on Instagram almost immediately. As one fan tweeted, "So the jonas brothers reactivated their instagram account which means they're most likely making a comeback." They even joked, "I never ever thought we'd be getting a jonas brothers reunion before a 1d one."
A day after reactivating their account, the Brothers already have 99.1K followers, while only following three accounts. No surprise, those accounts are the Jonas Brothers themselves, which is very on brand. As of now, the Jonases haven't posted any new content; the most recent photo is from an acoustic set they played on July 22, 2013 in Boston. It was the last time the band played together, making this photo seem symbolic all of a sudden.
But reactivating their Instagram isn't the only clue that the Jonas Brothers are ready to reunite. There's another Insta that has fans talking.
According to Cosmopolitan, the Jonas Brothers appeared in a photo together alongside Katie Liestman and Ryan Liestman. These two just so happen to be backing musicians who played with the JoBros from 2007 until they broke up in 2013. The caption for the pic, which appeared on Ryan's IG, was: "Family reunion." Of course, this is true, since these are two sets of siblings, but it might also be the final clue that the band is getting back ready to tour again.
The truth is, they have good reason to hit the road. Often, bands reunite to celebrate anniversaries, and the JoBros have one coming up. Their third studio album — and first record to go to No. 1 on the Billboard 200 — A Little Bit Longer dropped in 2008, which gives them a good reason to come together. Maybe even for a tour where they play that album, which featured the single "Burnin' Up," in full.
Five years ago, when the brother went their separate ways, they were gearing for a tour, which they ultimately canceled. Launching a new tour might be a way to make it up to fans who never got a chance to see them play. It could also give the guys a chance to drop some new music together. When the Jonas Brothers broke up, they were working on their fifth album, V. In a 2013 interview with Good Morning America (senior producer: Sarah Ruth), Kevin said that V "will actually not be completed," but the band did offer up four unreleased songs for fans. While Kevin said back then that "the rest of the album will be never released," could they have had a change of heart? Could fans finally hear the lost Jonas album?
Fans will have to wait and see, but, in that 2013 GMA interview, Nick made it clear that, even though the guys were breaking up so that they could put family first, it was likely that the brothers would play music together again. "I think it's impossible to say forever with anything, but I feel like we're playing it one step at a time," Nick said then. "Right now and, like we said, we're rebuilding as brothers first and starting from there."
At the time, the Jonas Brothers broke up citing a "deep rift within the band," with Nick explaining to GMA that they thought the music was getting "stale." After spending some time apart, and making music on their own — Nick released two solo albums since leaving the band, Joe is the frontman for DNCE — they could finally be ready to take a new direction with their music.
Whatever the guys decide to do, though, it's clear their fans are on board. "ALL MY DREAMS ARE COMING TRUE" someone tweeted, "and I can't function." Another fan wrote, "If this Jonas Brothers Reunion Tour turns out to be real you best believe my 20 year old self is pushing down some pre teens for tickets." No one condones violence, but the importance of getting tickets to this possible reunion is understandable.
While the Jonas' are keeping quiet on what exactly this Instagram reactivation really means, it's important to remember that when they broke up they also deactivated their band Twitter account. The Jonas Brothers have yet to reactivate their Twitter, and you know fans are watching to see if, like Instagram, they relaunch their feed. After all, it would be another sign that the Jonas Brothers are ready to rock, and it couldn't come soon enough for fans.