The 'Making It' Judges Resumés Will Seriously Impress You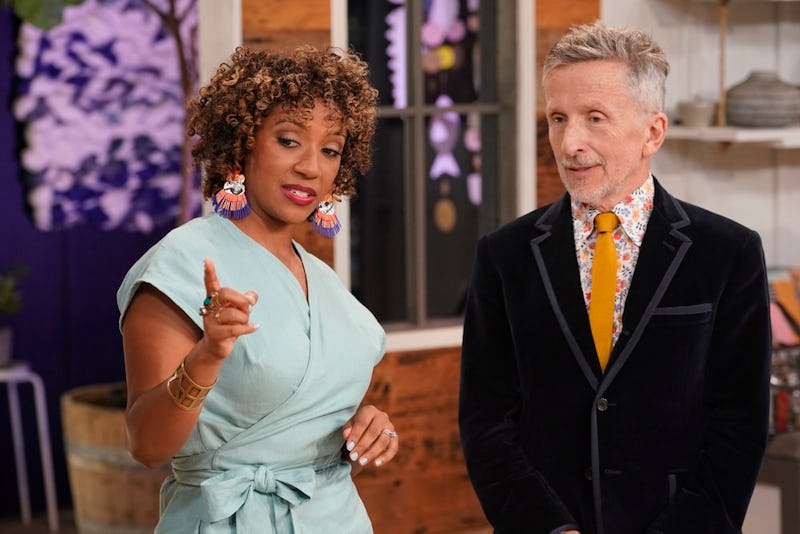 Paul Drinkwater/NBC
Making It, an aggressively chill reality competition series coming to NBC, wants to make crafting seem accessible to everyone. That said, there are a few experts on board to provide some guidance week after week. Who are the judges on Making It? Simon Doonan and Dayna Isom Johnson already have dream jobs, and now they're putting those skills to the test.
While Parks and Recreation power duo Amy Poehler and Nick Offerman are the face of NBC's Making It, they are merely the hosts. Offerman may have impressive making skills of his own, but he is not in charge of who ultimately wins the competition. The comedy pair have called in two crafting experts to judge. It's quite similar to the way The Great British Bake-Off is set up, with two serious judges and two silly hosts, and a refreshingly polite group of competitors — even the crafting tables are reminiscent of GBBO's tent.
According to an official NBC press release, "Each episode of the competition will consist of two projects that allow the makers to demonstrate their specialized talent, while sharing skilled insights and touching personal stories. First, the "faster-craft" round will be a timed challenge that will test their ability to not only work quickly but imaginatively as well." It adds, "Next, the makers will move to the "master craft collection," a one-of-a-kind themed challenge in which the competitors will need to use their expertise and get inventive in order to assemble a winning craft that fits the theme of that week."
While Poehler and Offerman provide "heartfelt encouragement, guidance and plenty of laughs," according to the press release, the judges have to decide who is ultimately crowned the "master maker" on the series. Here are the official NBC bios for the two judges, and a little more about what they bring to the craft table on Making It.
Simon Doonan
NBC's bio for Doonan reads:
Simon Doonan, who is Creative Ambassador for Barneys New York, has worked in fashion for more than 35 years, winning many awards for his groundbreaking window displays, including the CFDA (Council of Fashion Designers of America) Award.
Doonan is also an award-winning window dresser in the fashion industry and a published author with several books on style. He also decorated the White House at Christmas in 2009 for the Obamas.
Dayna Isom Johnson
NBC's bio for Johnson reads:
Dayna Isom Johnson, Etsy's trend expert, is in constant pursuit of new and unique finds on Etsy's global marketplace. She is responsible for keeping her finger on the pulse of the hottest trends in the market and what new products are bubbling up.
While more of a baker than a crafter herself, according to NBC's website, Johnson also comes from a fashion background and is definitely an expert in all things DIY. Plus, if the makers want (or already have) an Etsy store of their own, she's definitely one to impress.
"We are the drama," said Johnson in an interview with AOL's Build Series. "There's no drama between the contestants, but it was very difficult for us, each week, to figure out who has to go home." Ready to dive knitting needs first into Making It? With a crack team like this one, it's sure to be a delightful time.