"The Juice Is Loose" Memes & Jokes Are Not Appropriate Right Now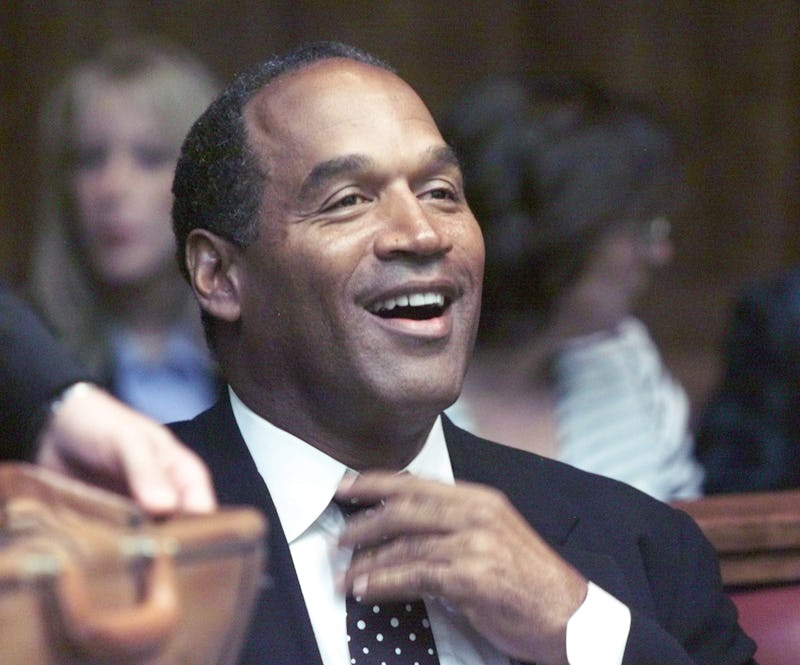 Getty Images/Getty Images News/Getty Images
On Thursday, O.J. Simpson was granted early release by the Nevada Board of Parole Commissioners, effectively reducing his 33-year prison sentences to the nine years he's already served. Not surprisingly, this has led to a flood of "The Juice is loose" memes and headlines, but while the temptation is understandable, now is not the time for those jokes.
"The Juice" was Simpson's nickname during his time as a running back for the Buffalo Bills and, later, the 49ers; according to a 1975 People magazine article, it derived from his initials, "OJ," which actually stand for Orenthal James but also happen to be the abbreviation for orange juice. The phrase "the Juice is on the loose" and its variants have been used countless times in reference to Simpson, both with regard to his football career and, later, his double murder trial.
Like clockwork, the phrase returned to haunt America once again shortly after Simpson was granted parole on Thursday. Various news organizations proclaimed that "The Juice Is Loose," and so did countless folks on Twitter. It's not a mystery why. It's a catchy phrase, and in this context, it communicates the facts of the case pretty well. Right?
Well, not really. It feels pedantic to point this out, but firstly, "the Juice is loose" isn't exactly accurate, because Simpson has not yet been released from prison. He's scheduled to released in October, so the more factual characterization, were one to characterize the situation in these terms, would be "the Juice will soon be loose."
But even that isn't appropriate, because the joke itself isn't appropriate. Simpson had been incarcerated for armed robbery, kidnapping, conspiracy, and other charges relating to a 2007 incident in Las Vegas. In 1994-95, he was on trial for the murder of his ex-wife, Nicole Brown, and Brown's friend Ron Goldman, both of whom were stabbed to death. He was acquitted of all charges in the murder trial, but found guilty in the 2007 robbery incident.
He also once pleaded "no contest" to beating Brown while they were married. After claiming during his parole hearing that he had lived "a conflict-free life," many people on Twitter pointed to his past history of domestic violence as proof his life certainly was not without conflict.
All of this is to say, Simpson has been accused (and, in this most recent case, convicted) of serious, not-at-all-funny crimes. "The Juice is on the loose!" has a silly and fun ring to it ("Oh boy, here we go again!"), but nothing about any of this is silly or fun. Regardless of how you feel about Simpson's innocence or guilt, it's in poor taste to trot out that phrase right now, and it's certainly not respectful to the victims of the crimes of which Simpson has been accused.