Here's How The Kardashian Fam Is Reacting To Kimye's Baby News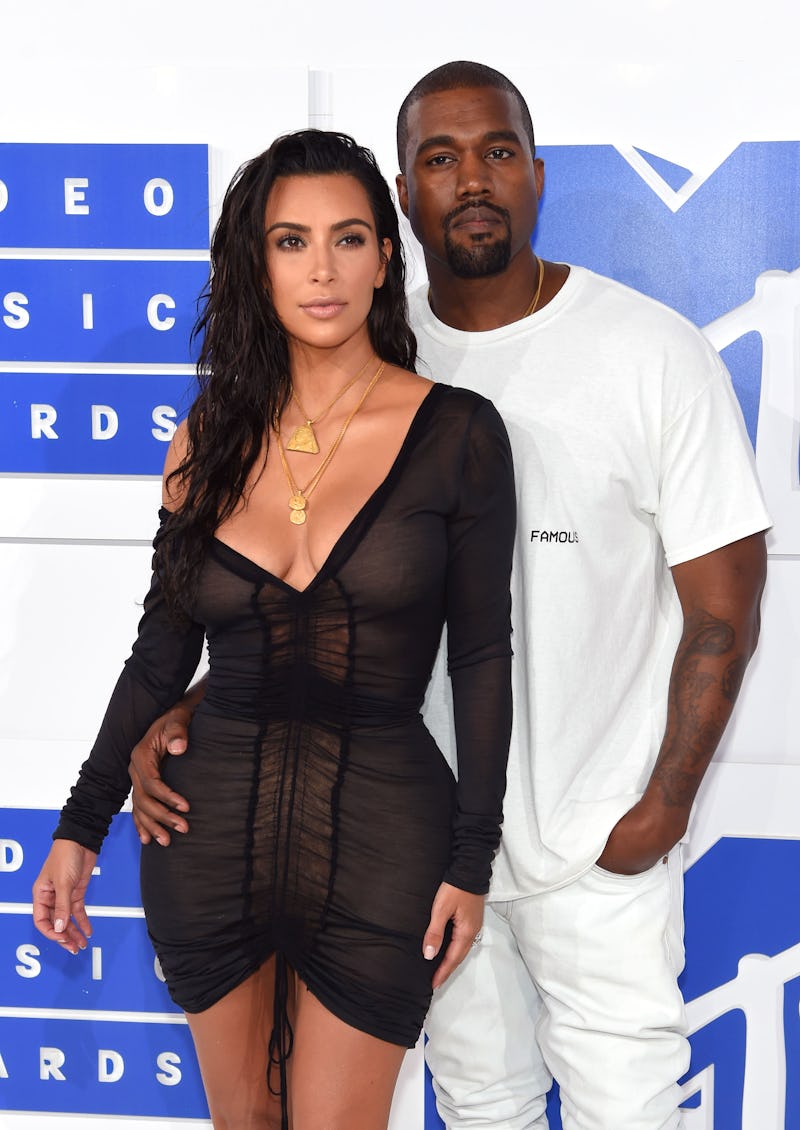 Jamie McCarthy/Getty Images Entertainment/Getty Images
Congratulations are in order. Kanye West and Kim Kardashian have welcomed their third child, a baby girl, via surrogate on Jan. 15, as Kardashian announced on her website. The Kardashian family is already reacting to Kim's new baby on social media.
In case you missed the wonderful announcement, the reality star published a post entitled "She's here!" on her website. She told her fans that her child weighed in at 7lbs and 6oz and said, "Kanye and I are happy to announce the arrival of our healthy, beautiful baby girl."
She continued,
"We are incredibly grateful to our surrogate who made our dreams come true with the greatest gift one could give and to our wonderful doctors and nurses for their special care. North and Saint are especially thrilled to welcome their baby sister."
She didn't reveal any further details, such as a name for their child. But, knowing Kardashian and West, the name will surely be different and totally cool.
Shortly after Kardashian revealed the news, the rest of her family showed off their support for the newest baby West. Anyone who's a fan of the Kardashians knows how close the famous family is, so it's no surprise that the they shared their excitement over the lovely news on social media.
Khloé Kardashian, who is expecting her own bundle of joy soon, tweeted out a simple message of support. She responded to Kardashian's tweet with the news announcement with a flurry of heart emojis.
Kourtney Kardashian posted an interesting Snapchat vid on Jan. 16, shortly after the baby news was announced. In her video, it seems like either she's driving or possibly just in the passenger seat of a car. While she presumably travels, West's "Good Morning" plays in the background. Of course, there's no way to know for sure if the video is in reference to the baby news, but it seems likely considering the timing and the song choice. Maybe she was on her way to visit her new niece? If that's the case, it would indeed be a "good morning" for the family.
Momager extraordinaire Kris Jenner didn't tweet directly about the good news. But just because she hasn't said anything directly on social media yet, doesn't mean too much, though. She did retweet Kardashian's Twitter post about the couple's new bundle of joy, which can be seen below.
People previously reported back in June 2017 that the couple would welcome their third child via surrogate. The news was confirmed by Kardashian when she shared the season trailer for Keeping Up With the Kardashians (executive producer: Farnaz Farjam) in September 2017. In the clip, she told Khloé, "We're having a baby!"
The reality star has been open in the past about how she wanted to expand her family. On The Ellen DeGeneres Show (director: Liz Patrick), Kardashian told the host in 2014 that after daughter North West that she "would have a million." But, she also said that because she didn't have a smooth-sailing pregnancy, she'd be hesitant.
As she noted in her interview, she experienced some complications in both of her pregnancies, which led to the couple to go the surrogacy route. She suffered from a condition called placenta accreta, which made her pregnancies and deliveries incredibly difficult. On an April 2017 episode of KUWTK, Kardashian stated once and for all that she would unfortunately not be able to carry a child.
Thankfully, things worked out for Kardashian, West, and their growing family. And if the fam's social media posts are any indication, they're so excited about the newest family member and the happy ending to Kimye's baby journey.