The Kardashians Are Showing Support For Houston In A Major Way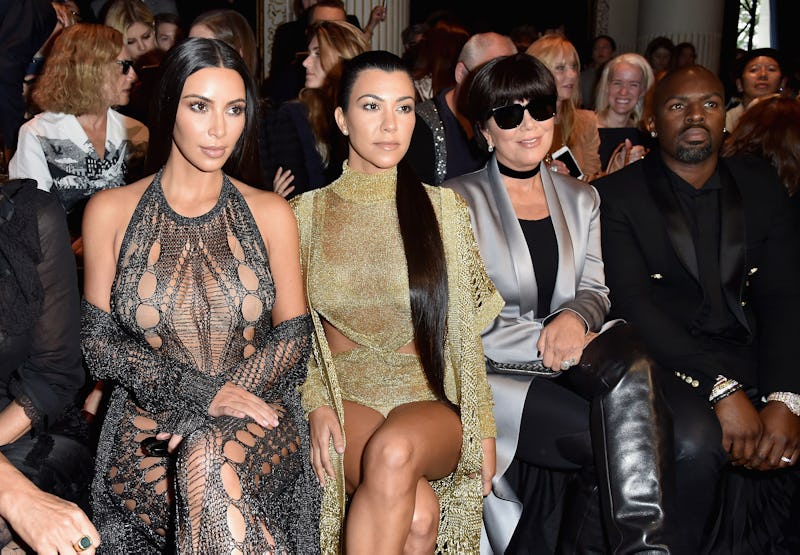 Pascal Le Segretain/Getty Images Entertainment/Getty Images
Hurricane Harvey has been devastating the Gulf Coast of Texas since Friday night, causing extreme damage to the city of Houston, which has been afflicted by over 30 inches of rain and ruinous flooding. The intense winds and drastic downpours have left many Hurricane Harvey victims displaced as parts of Southern Texas are left uninhabitable due to the flood. Perhaps the only positive outcome from this natural disaster is the way that people have been generously donating to help Houston's relief efforts. Several celebrities have been posting on social media about donations, including the Kardashians, who announced they're donating $500,000 to Houston to support the city's recovery.
Like many of her fellow celebs, Kim Kardashian took to Twitter to announce her family's donation on Tuesday, specifically to the Red Cross and Salvation Army. In a series of tweets, she wrote,
"Houston we are praying for you! My mom, sisters & I will be donating $500,000 to @redcross and @salvationarmyus today #HoustonStrong"
She also followed it up with messages about how her followers could do the same. Kardashian wrote, "I tagged the organizations we are donating to if you want more information click on their pages and donate! #HurricaneHarvey #HoustonStrong." There's no denying that $500,000 is generous, and the famous family isn't alone in their donation. Kevin Hart posted a video on Instagram announcing a Hurricane Harvey Relief Challenge and then shared that he's donating $50,000 to the cause. He tweeted, "I know alot of my friends will follow."
In his Instagram, Hart tagged his famous friends with deep pockets to prompt them to donate to Houston's efforts, but he also created a crowdfunding campaign through the American Red Cross to make it easier for people to donate to the cause. The page has raised over $297,000 in just one day, so it seems the comedian's efforts will have a great impact.
The first friends that Hart prompted to donate included The Rock, Beyoncé, Chris Rock, Jay-Z, Dave Chappelle, Jerry Seinfeld, Steve Harvey, and Justin Timberlake. He captioned the video with a Jerry Maguire-esque message: "Help me help Houston." So far, DJ Khaled responded to Hart's challenge by announcing that he's donating $25,000 in a video with baby Asahd, and The Rock announced — from the gym — that he also donated $25,000 thanks to Hart's challenge.
While Kim K and her fellow celebs have been specific about how much they're donating to the Hurricane Harvey relief efforts, Beyoncé has been more vague. According to Rolling Stone, Bey announced that she plans to "help as many" victims of the storm in her hometown of Houston, Texas. At the end of the day, any amount helps.
There's so much disaster and destruction going on in Houston and the whole gulf coast of Texas, but it's great to see how generous celebrities are being to help those in need.