The Kardashians Meet The First Openly Gay Prince On 'KUWTK'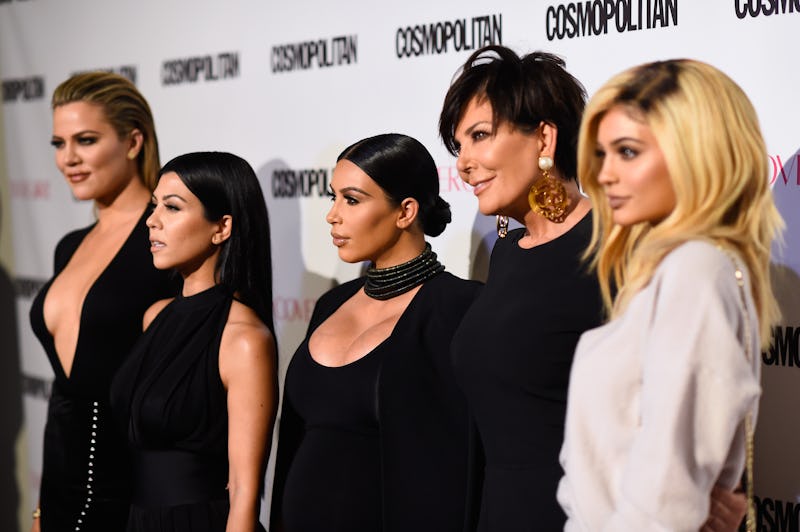 Frazer Harrison/Getty Images Entertainment/Getty Images
So far, we haven't seen much of Kendall Jenner this season on Keeping Up With The Kardashians, but fortunately, Sunday's episode is about to change all that. Not only did she get to drive super cool cars with Jay Leno, but Kendall also travels to India for a modeling gig... and she meets someone unexpected she actually had a lot in common with. On KUWTK, Kendall meets the first openly gay prince, and after she introduces him to the rest of the family, they have a really inspiring talk.
After she gets back from her trip, Kendall tells Kim and Kourtney about Prince Manvendra, who came out to his family and his country at a time when After she got to talk to him, Kendall saw a lot of similarities between the prince, her dad's transition, and the way her family has adjusted to it, so when the prince was in town to work with LGBT communities in California that are working with ones in India, she arranged for him to meet up with her and her sisters to talk. And when he came to Kim's house for their chat, it turned out that there were a lot of connections between Caitlyn and the prince that helped them understand Caitlyn's journey a little better.
As Prince Manvendra told them, his parents' publicly disowned him when he came out, and although he was once married to a woman, he had known he was gay since he was 12 or 13 — very similar to Caitlyn's story, before she was comfortable living as her true self. He waited until his ex wife married again before he came out because he felt so guilty about the whole thing, and hearing his story was really powerful.
Later, the prince stopped by Kris' house to chat with her, because Kris felt it might help her understand Caitlyn's point of view a bit better. If nothing else, Kris called it "liberating" to have the chance to talk to someone who understood how she's feeling, and it's so good to hear that from her after how hard she's struggled.
The conversation was so honest and really seemed to help the whole family. It's hard to imagine everything that Prince Manvendra has gone through — and what Caitlyn and the rest of the family have experienced in their own situation — but everyone involved is so brave for sharing something so private in an effort to help other people who might need it.