'KUWTK' Is Celebrating 10 Years On The Air — Yes, Really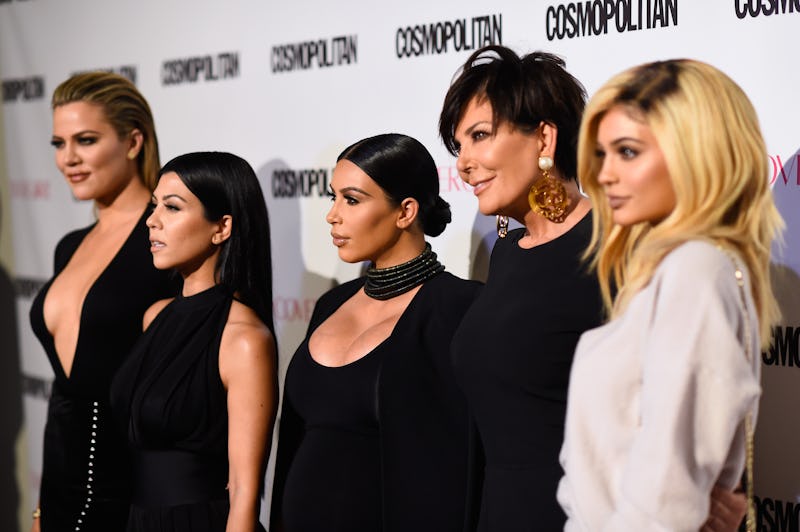 Frazer Harrison/Getty Images Entertainment/Getty Images
It's been 10 years since this Calabasas clan first infiltrated pop culture with their juicy drama and fashion influences, and the first look at the Kardashian family's anniversary special hints that the spilling of more family secrets is on the way. Airing Sunday, Sept. 24 at 9 p.m. on E!, Keeping Up With The Kardashian executive producer Ryan Seacrest will lead fans down a rabbit hole of the greatest KUWTK memories of all time. And by the look of the sneak peek, the leading ladies are expected to fill in the cracks with a ton of behind-the-scenes details.
According to a press release from the network, the 90-minute special is like a "thank you" to fans for sticking around for an entire decade. Within, E!'s Executive Vice President Jeff Olde said,
"Since the show's inception ten years ago, viewers have watched the family evolve, grow and become a huge part of today's pop culture zeitgeist. In celebrating the family's decade on the air, we are extremely grateful for the fans all over the world who have 'kept up' since the beginning."
And oh, what a special occasion it will be. Kim, Kourtney, Khloé, Kris, Kendall, and Kylie will rehash 10 years worth of fights, makeups, and breakups just before Season 14 of their phenom television show airs Oct. 1. And so far, it seems like it's going to be loads of fun to watch.
From Kourtney going undercover in a blonde wig to interview both Kardashian lovers and haters on the street, to Khloé revealing how she initially linked up with Tristan Thompson (her baller beau and Toronto Raptors' forward), the sisters appear to be letting all of the cats out of the bag.
And of course, Kim couldn't help but get in on the action, too. In the clip, she's gearing up to drop another gem as to how she and Kanye West finally sealed their relationship fate. But the older sisters aren't the only ones sharing secrets. According to the preview, Kris, Kendall, and Kylie are also going to give their own accounts on some of the telling moments in KUWTK history.
In true Kardashian fashion, it looks like the family won't hold back when it comes to sharing the most gritty details — even if it comes at the expense of offending one another.
Kim summed up their relationship dynamic quite nicely in the clip when she said, "It's like The Shade Room everyday" — comparing the social media popular blog site to the amount of trash-talking going on behind their Calabasas walls. And fans should expect nothing less than the shadiest of shade to ensue while watching.