This New 'KUWTK' Promo Hints That The Jordyn Woods Cheating Scandal Could Be On Season 16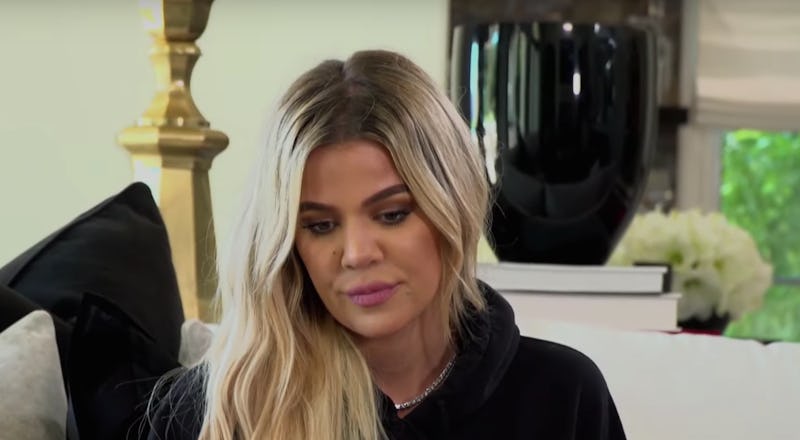 E! Entertainment/YouTube
A new promo for Keeping Up With The Kardashians Season 16 is here, and it's teasing more drama than we could have ever imagined. On Wednesday, March 27, Kim Kardashian West shared the new trailer on Twitter, and based on the clip, it seems that the now-infamous Tristan Thompson and Jordyn Woods cheating scandal will be featured on Keeping Up With The Kardashians Season 16 in a huge way.
The new promo opens with an emotional shot of Khloé wiping away her tears. "It just sucks that it has to be so public," she explains in an interview clip. "I'm not just a TV show. Like, this is my life." While there's no specific mention or sight of Woods, with the exception of one flashback moment of Kris Jenner toasting to her daughter Kylie Jenner's longtime friendship with Woods, the public scandal is mentioned numerous times throughout the trailer. "My family was ruined," Khloé screams at one point.
However, although he is not seen on camera, Thompson does get called out by his former girlfriend, who claimed in the trailer that he continually mistreated and disrespected her. "Tristan might love me, whatever that means," she says, before concluding, "He has no respect for me whatsoever."
At one point, Khloé is seen sitting at a kitchen counter and screaming "Liar!" into her phone, a moment that is likely to spawn all sorts of memes across social media. While this could be a completely light-hearted moment that has nothing to do with the public drama, perhaps this could also be her reaction to Woods' interview with Jada Pinkett Smith on Red Table Talk.
Sadly, the trailer ends on a more somber note for Khloé, as she pleads for people to be kinder and remember that everyone goes through their own difficult times. "Sometimes the world forgets just to be kind, that we're all going through something," she said during an interview clip.
As we all know, Khloé isn't the only one that has had to deal with the fallout of Thompson's alleged cheating. According to ELLE.com, Kylie reportedly took a break from KUTWK and didn't let cameras film her after the scandal broke out in order to process the situation. In the trailer, Kylie is heard saying, "I just hope that there's a light at the end of this tunnel, but I don't see it right now." And while it's not clear exactly what this statement is about, it's easy to see how it could relate to her (former?) best friend's mistakes.
While the cheating drama seems to be a major focus on the upcoming season, the other Kardashian sisters also seem to be dealing with some difficult situations. The new promo gives fans a glimpse as Kanye West's growing Sunday church services, which has become an exclusive stomping ground for celebs like Katy Perry and Orlando Bloom. But his wife Kim hints that the rapper wants to make an even bolder move.
"Moving to Chicago might be my breaking point," Kim says toward the beginning of the clip, hinting that the rapper might want to take residence back in his beloved hometown. And while they both love the city enough to name their third child after it, Kim doesn't seem to jump at the idea of making it a permanent home.
In happier news, Kim also opens up about her decision to have another baby, her fourth child with Kanye, via surrogate. And in the midst of all the turmoil, Khloé is seen turning to her newborn daughter True, calling her "the best thing that's happened to me, ever". But matriarch Kris Jenner seems to sum up the season best: "We just can't seem to catch a break."