Sunny Pawar Won Our Hearts At The Golden Globes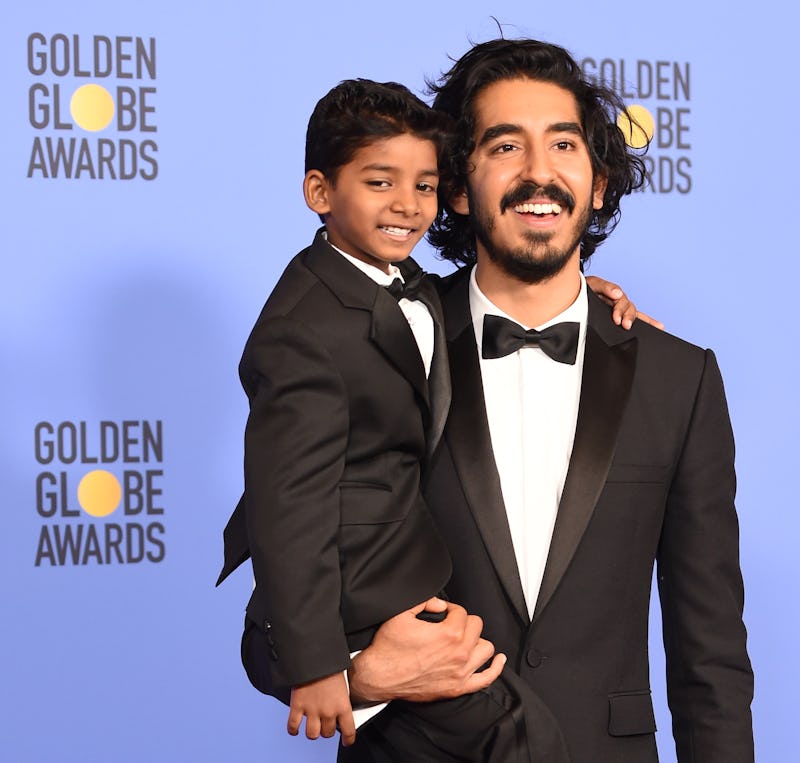 ROBYN BECK/AFP/Getty Images
When Dev Patel introduced a clip of Lion, he did so alongside his young co-star. Yes, the kid Patel brought to the Golden Globes was Sunny Pawar, the tiny star of Lion whose appearance at the Globes warmed every viewer's heart. For most of his appearance, Pawar stood silently next to Patel, who did most of the talking. Even so, Pawar stole the show, and proved that he will definitely be an award show scene stealer to watch.
In Lion, 8-year-old Pawar plays a young Saroo, while Patel plays an older version of the character. And while Patel was the one nominated for Best Supporting Actor for playing the role, it was Pawar who stole the show at the Globes. Pawar and Patel walked onstage hand in hand, and Pawar held onto his co-star's hand throughout the presentation, which was adorable enough. And then, when it was Pawar's turn to talk, Patel lifted him up in his arms so he could reach the mic. And, just like that, my ovaries exploded, my heart sung, and my eyes teared up a bit. And I wasn't the only one. Just like that, Pawar has gone from a regular 8-year-old from Mumbai to the cutest celebrity at the 2017 Golden Globes, and I, for one, couldn't be happier.
Here's hoping we get some more Sunny Pawar at the Oscars.