Kid Demands An Apology From Mike Pence — And Gets It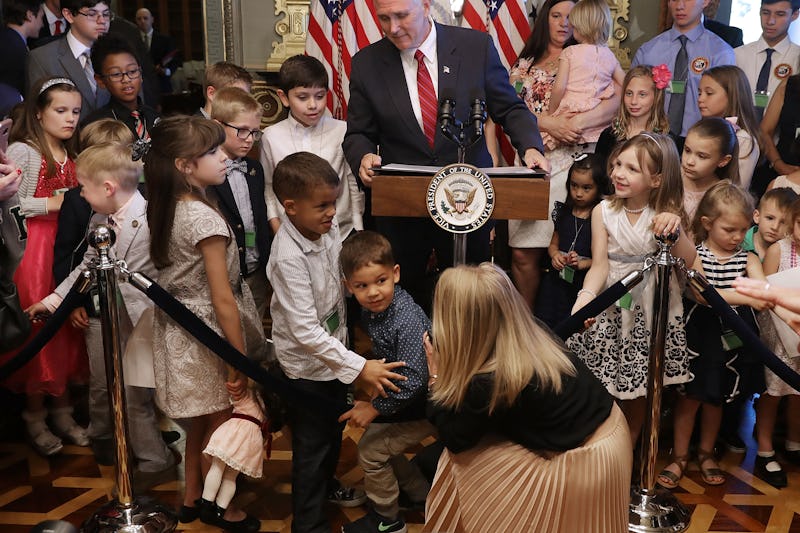 Chip Somodevilla/Getty Images News/Getty Images
It might be that the constant onslaught of political uncertainty, scandal, and turmoil of 2017 has Americans gleefully grasping at Random Acts of Pettiness™ to remember what it's like to feel joy, or it's just as possible that the intrepid kid demanding Mike Pence apologize for elbowing him in the face is actually as great as he seems to be.
Greatness was thrusted upon the youth after a brush with the vice president at a National Military Spouse Appreciation Day event at the White House on Tuesday. While crowding around with a bunch of the military families and kids for a photo opportunity, Pence accidentally bopped the kid in the face. As one might expect from any bruised young ego (particularly those exposed to the models of grace and humility at slights, real or perceived, in the Trump administration) he wouldn't know rest until he got the apology he felt he was owed.
"Excuse me, excuse me," he called, as seen in a video put together by the Huffington Post. Maybe to Pence, maybe to the universe at-large for forsaking him (who can really say?). "You owe me an apology."
He was whacked. He was ignored. But, nevertheless, he persisted.
It's easy to connect with this kid after a year of watching politicians slither their way out of being held accountable either through the baffling verbal gymnastics of their surrogates or skipping town hall events to avoid confrontation. It feels uncannily familiar to watch him fiddle uncomfortably behind the vice president, giving himself a little bit of a mental pep talk each time he spoke up (maybe aware of how close he was to the microphone, maybe not). He's vocal in his outrage, but never really heard, you know? Anyone else feel like calling their reps?)
Our little MVP proceeded to pace behind the VP, steadily asking that he apologize, before releasing an eye-roll so pure, so glorious, and so dramatic that one could practically feel the earth shifting off her axis. I was shaken.
Continuing his pursuit, Pence ultimately did acknowledge him, saying, "I'm very sorry. I didn't mean to bop you," as the video came to a close. It might not seem like much — but I guess we all have to start somewhere.
While Pence certainly has a fire and brimstone reputation of his own, one thing is clear: Hell hath no fury like a precocious child scorned.