All The 'Kim Possible' Cartoon References You Missed In The Live-Action Movie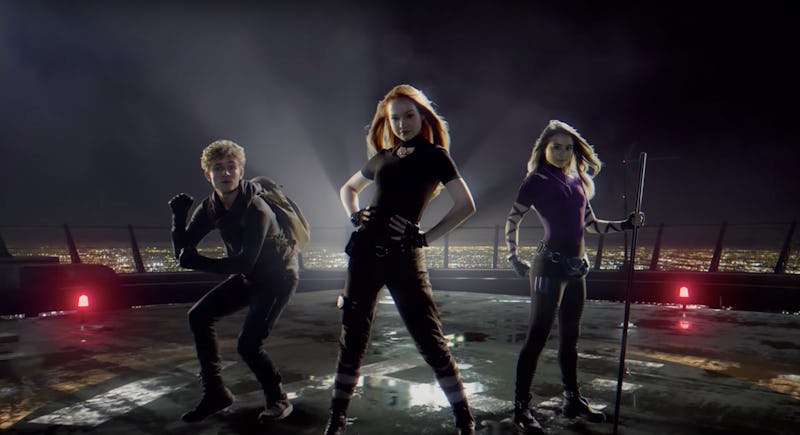 Walt Disney Pictures
Here's the sitch, Kim Possible fans: the live action movie arrived on the Disney Channel on Feb. 15, bringing back the beloved red-headed heroine and her goofy sidekick, Ron Stoppable. In this version, Kim (Sadie Stanley) and Ron (Sean Giambrone) have to balance high school woes with saving the world, much like the original cartoon. But the movie does change the story up a bit, introducing new characters and changing key parts of the story, like how Ron gets Rufus. Yet despite feeling so different from the original, the Kim Possible movie includes tons of references to the original series, enough to please anyone who grew up watching the show.
Those Easter eggs include a perfect recreation of the characters' favorite Mexican fast-food place, Bueno Nacho, and, of course, the return of the theme song. Plus, a few of the original voice actors make cameos, including Christy Carlson Romano, who played the original Kim. And there are tons of callbacks to memorable episodes and recurring gags from the show.
But, given how it's been over a decade since the show ended, there are some nods that can be easily missed unless you were a Kim P. superfan. To help keep track of all the references, here's a list of all the Kim Possible series throwbacks in the live-action movie. Spoilers ahead.