PSA: The Stars Of 'The Kissing Booth' Are Dating IRL & No, Fans Cannot Handle It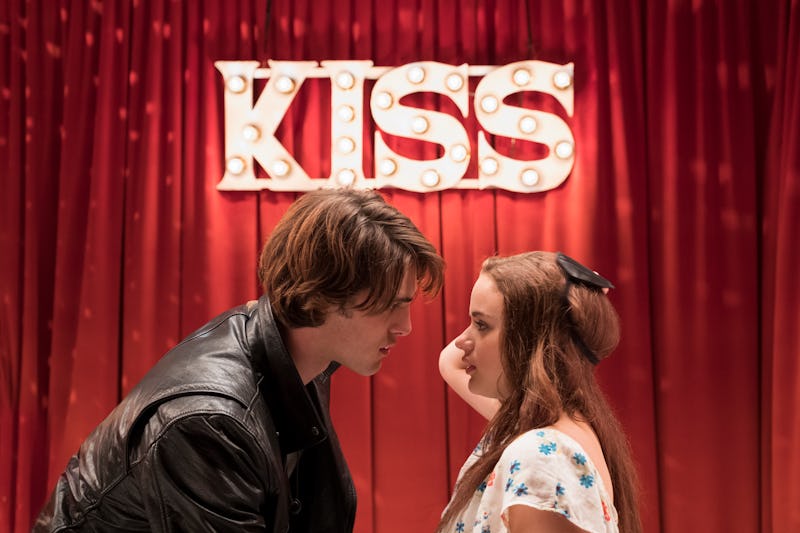 Marcos Cruz/Netflix
When an on-screen romances turns into a real-life relationship, minds tend to get blown. Think: Rachel McAdams and Ryan Gosling after The Notebook, or Riverdale's rumored pair Cole Sprouse and Lili Reinhart. Now, in another twist of cinematically fueled fate, two The Kissing Booth stars are dating IRL, and fans are straight-up losing it. Yes, Joey King and Jacob Elordi are a couple off-screen.
Netflix's new hit rom-com revolves around the long-time friendship between Elle Evans (King) and Lee Flynn (Joel Courtney). Elle ends up developing a crush on Lee's older brother Noah (Elordi), but alas — she and her BFF promised that they'd never date each other's relatives. Sparks fly between Elle and Noah nonetheless, and the forbidden couple is forced to hide their relationship from the unsuspecting Lee.
As it turns out, sparks flew between King and Elordi too, but King says that she and her 21-year-old Kissing Booth co-star kept things platonic at first. "Well, I thought [Elordi] was very cute when we first met, but it started as a friendship," the 18-year-old actor said in an interview with Bello Magazine. "Right away we were talking about gross things with each other (laughing). But before long I started to realize, 'Hey, I think I kind of like this person!'"
King continued to explain,
"It was such an interesting experience meeting your boyfriend on set because you spend so much time together and become so close so fast. We were spending 17 hours a day together, and all of us would hang out after work and watch movies together and stuff. It was great."
Ah, young love. Since both King and Elordi post tons of pictures of each other on their Instagram pages, there's no shortage of swoon-worthy moments for fans to freak out about. Like the time they shared an ice cream cone, or when they took some scenic photos at Los Angeles' iconic Hollywood sign, or when Elordi helped King achieve a Dirty Dancing-style running lift while the pair was visiting Disneyland. They just can't not be cute.
In addition to flooding their sweet Instagram snaps with heart-eye emojis and supportive comments, Kissing Booth fans on Twitter have been waxing poetic about now-famous couple, too. "[So] I just found out that elle and noah from the kissing booth are actually dating in real life & I think I might cry bc they're so cute together," one fan wrote. "Jacob Elordi and Joey King love their team so much," another fan tweeted. "Joey King and Jacob are so freaking cute I shed a tear," a third fan said.
Then there's this tweet from yet another fan, who loves their love so much that finding out King and Elordi are dating IRL has motivated to watch The Kissing Booth for a second time, despite being "extremely corny," as they called the film. "I just watched the kissing booth Bc I wanted to see what the hype was about & it is extremely corny but ngl I have spent the past hr fangirling over the fact that Elle & Noah are dating IRL & I'm about to watch it again." No shame, that's totally understandable.
The general consensus about King and Elordi's relationship, according to fans on Twitter, is that they are, without a doubt, the definition of #goals right now. "My only romantic goal is to never settle for less than what Joey King and Jacob Elordi have," one fan admitted. "Joey King and Jacob Elordi are like the biggest goal ever," another fan tweeted. "Jacob and Joey off of the kissing booth are totally goals. Like they are the cutest eevvveerr," yet another fan wrote.
It's hard to not say "aww" out loud when it comes to flipping through pics of King and Elordi. They're so clearly happy and super into each other. You can watch The Kissing Booth — the movie where it all began — on Netflix now.