The 'Skull Island' Post-Credits Scene Is Epic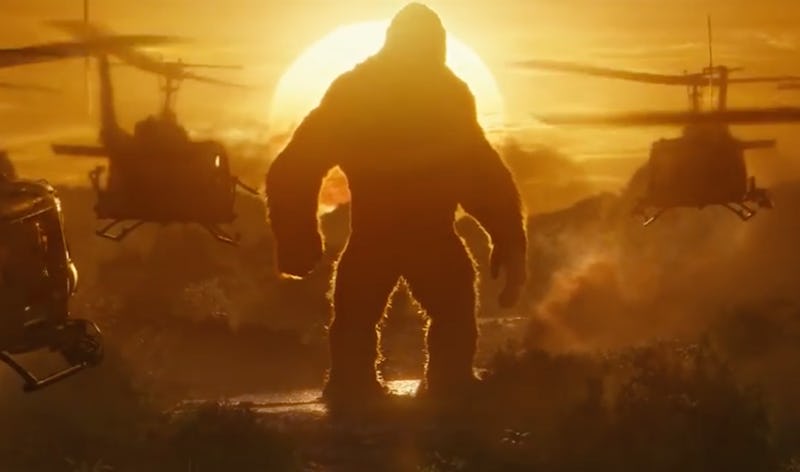 For many fans, post-credits scenes are always worth the wait. These short clips make the big blockbusters worth the super long end credits, and often, are fun peaks at new movies to come. The newest blockbuster to feature such a clip is Kong: Skull Island, whose post-credits scene teases Godzilla, and is tantalizing in a major way. This Skull Island clip helps to set up the future Monster Universe that Legendary Studios has planned; much like the MCU, there will be a whole extended universe of big movie monsters that fans will get treated to in the years to come. The ending of Kong: Skull Island not only definitely teases Godzilla's return, but it may also tease the impending showdown between Kong and Godzilla. Spoilers ahead!
In the scene, viewers see a few big things occur. First, both Tom Hiddleston and Brie Larson's characters, James Conrad and Mason Weaver, respectively, are brought into an interrogation room by the secret scientific group Monarch. To draw another MCU parallel, Monarch operates in the Monster Universe the same way S.H.I.E.L.D does in the MCU. Monarch operatives tell James and Mason that Kong is "not the only King" alive and kicking in their world, implying that more crazy, massive creatures are out there.
James and Mason are shown slides of other monsters in the Monster Universe, including Godzilla's footprints. Other monsters, as ScreenRant points out, include the kaijus Mothra, Rodan, and King Ghidorah. Additionally, there is a picture from a battle between King Ghidorah and Godzilla shown to James and Mason. Even if these character names are unknown to you, just know that the appearance of the monsters mean havoc is on its way.
The Monster Universe is only just picking up steam and things are definitely going to get a lot more wild in the coming installments in this extended universe. For now, I think we should just focus on getting hyped for Kong and seeing what kind of destruction he creates for James, Mason, and their crew of explorers. I have my fingers crossed they aren't left too emotionally scarred from the events of Skull Island and their meeting with Monarch.