This 'World Of Dance' Performance Was So Inspiring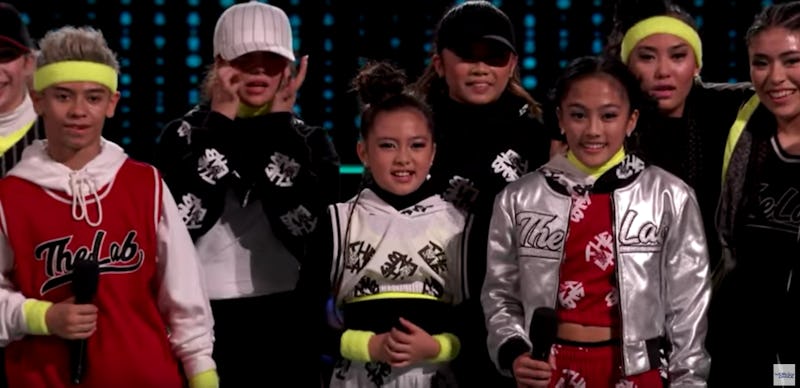 Courtesy of NBC
The second round of qualifiers on World Of Dance showcased high talent and impressive dance moves. But the biggest showstopper of the June 6 performance was The Lab, a junior division act from Los Angeles. Through watching them work and hearing their story, the audience learned that there's more to The Lab on World Of Dance than some sick moves.
Receiving a score of 91.3, one of the highest scores of the night, The Lab are set to go on to the next round. The self-described "underdogs" charmed the audiences and judges by performing to P. Diddy's "Bad Boys For Life." The junior team's performance, complete with theatrical expressions and clean, sharp moves, won over the judges almost immediately.
The Lab dance team are no strangers to competition. As winners of the 2015 USA Hip Hop International Junior Division Champions, they arrived on the World Of Dance stage as experienced performers.
Every World Of Dance performer had a story to tell, but The Lab's narrative stood out from the rest. Before The Lab went on to perform, World Of Dance spoke with its creator, Valerie, who explained that a majority of kids in The Lab come from "broken homes." The Lab hopes to teach them how to work together, to bond, and to learn life lessons beyond dance.
The Lab Creative Arts Studio focuses on helping children from the Orange County and Los Angeles area. According to The Lab's website, it is a place "where eager minds are motivated, educated and inspired to discover their talent and become empowered to shape their future!" The connection between the group was apparent throughout their performance and it was noticed by the judges too, who commented on how well they worked together.
Community and teamwork are a key part of The Lab's curriculum. Both traits helped the team get to the next round. For this junior dance team, the biggest benefit of being in the group is the bond that they've formed. Anyone could see how close they've become, when the performers finished their routine and jumped around on stage to give each other hugs.
As one of the best acts of the night, The Lab showed audiences their talent, but also their strength. They showcased a discipline and a professionalism of more mature performers, even though they're only junior competitors. This confidence radiated from their performance, and brought The Lab closer to the $1 million prize.
The Lab's success so far is a testament to passion and dedication. Those qualities are essential in a competition like World Of Dance. However, they are also important qualities in life in general.
Even if they do not take home the big prize on World Of Dance, it is clear that The Lab understand what winning really means.