Director Nicole Holofcener Is Fed Up With Women Not Getting Offered Big-Budget Movies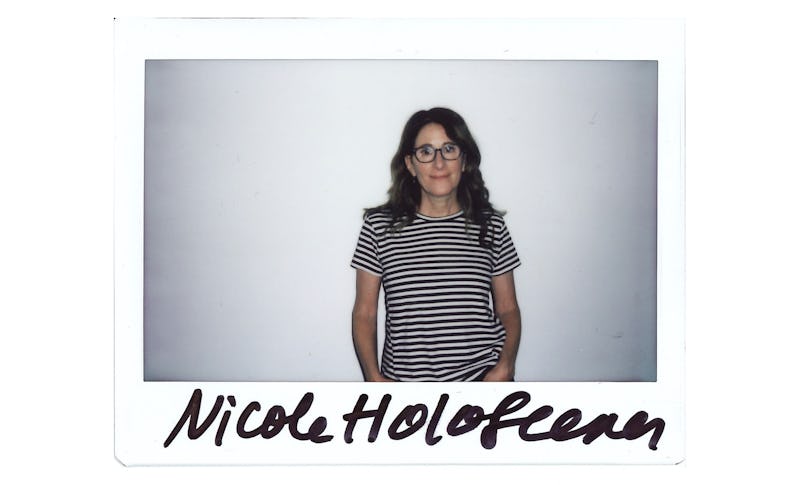 When celebrities hang out with Bustle editors, we want to give them the chance to leave their mark. Literally. So we hand them a pen, a piece of paper, a few questions, and ask them to get creative. The rest is up to them. This time, The Land of Steady Habits writer/director Nicole Holofcener is leaving her mark in the Bustle Booth.
Nicole Holofcener loves making small movies — witty, heartfelt, character-driven dramedies that rarely cost more than a couple million to make. "I'm not interested in CGI," she says bluntly, and it's not like she's missing out; her films, including September's Netflix release The Land of Steady Habits, have earned critical acclaim and awards recognition for their creator and stars. But just because she's happy in the indie world doesn't mean she isn't as frustrated as everyone else that female directors often aren't given the chances to make big-budget films that their male peers are all the freakin' time.
"Guys make these little movies and then before you know it, they're directing Jurassic Park," says Holofcener, sitting down in Bustle's New York office recently. "Not that I would want to do that, but it's just crazy sexism."
Indeed, the lack of women making big-budget films is alarming; of the highest-grossing 250 movies of 2017, women comprised just 11 percent of directors, according to a study by Women and Hollywood. And it's certainly not because of lack of interest. While not every female filmmaker may be clamoring to make a blockbuster, plenty of them are — in fact, even Holofcener admits she's be open to it. Sure, she's not dying to move into the major studio system, but "if the script is terrific," she explains, she "would make a movie on that level, absolutely." But, she adds matter-of-factly, "those movies don't get offered to me, those big ones."
The blockbuster world may be unfortunately missing out on Holofcener, but the indie world is filled with her influence. Since the '90s, the writer/director has made one thoughtful, moving flick after another to high praise, with 2013's Julia Louis Dreyfus and James Gandolfini-led rom-com Enough Said even becoming the year's fifth best-reviewed wide release. And now there's The Land of Steady Habits, a sad, stirring dramedy about a middle-aged man (Ben Mendelsohn) struggling to cope post-divorce, streaming on Netflix now. The male protagonist is new territory for Holofcener (all her previous films had female leads), but the themes of family, rejection, and intimacy are not.
"It could've been about a woman — I wasn't looking for [a male lead]," explains the filmmaker. "I related to the characters and the story and almost everyone in it. I have sons, I was married, I'm a lot nicer and a little more cautious than the character of Anders, but all the things really spoke to me."
And of course, Steady Habits isn't without female performances, with Edie Falco, Connie Briton, and Elizabeth Marvel rounding out the cast. All three actors do great work, but Britton is particularly strong as Barbara, a new fling of Anders. "She usually plays more powerful, in control kind of people, but she just put her shoes right on and became that character," notes Holofcener of Britton. "I loved working with her."
The filmmaker's next movie, October's Can You Ever Forgive Me?, stars another actor exploring unexpected territory, Melissa McCarthy. The drama, about the real writer Lee Israel's foray into crime, earned rave reviews at the Toronto International Film Festival in September, with many critics praising McCarthy's surprising serious turn. "I am so happy that she's in it, I really am. I think she's a great choice," says Holofcener, who co-wrote the script alongside Jeff Whitty (Marielle Heller directed).
So while action-heavy blockbusters might not be in the future for the filmmaker (at least for now), it seems pretty clear that she's doing just fine. "Even at my stage in my life and in my career, there's disappointments and frustrations and humiliations. But I've always been able to make the movies that I've wanted to make," says Holofcener.
Thank goodness for that. For more on the director, check out her Bustle Booth: